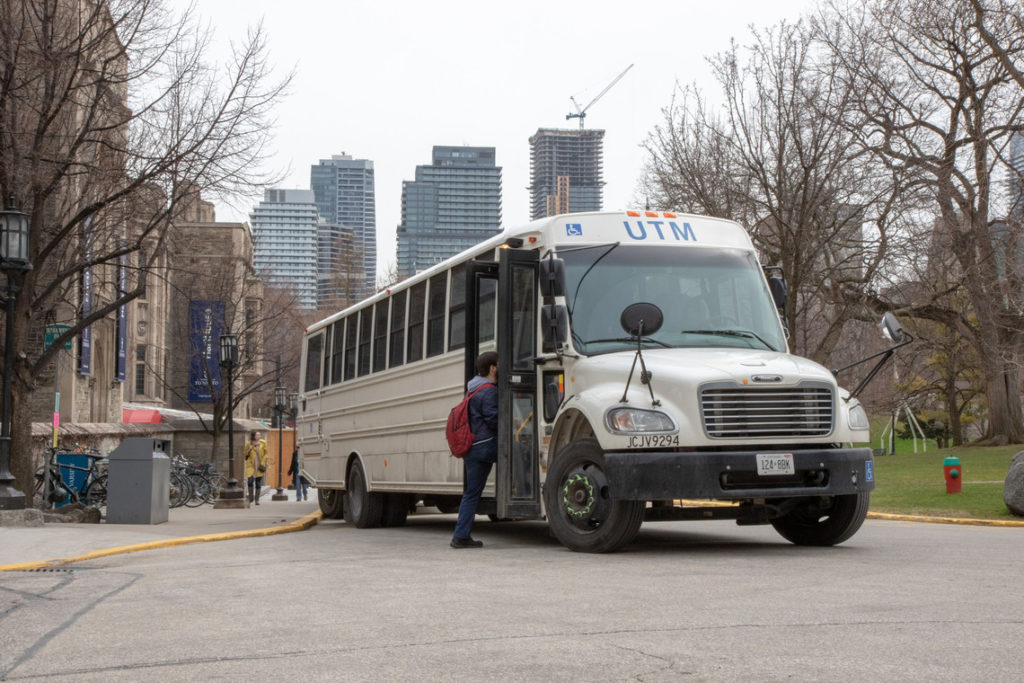 Students of the University of Toronto often travel between their main campus and another University of Toronto campus. While some might do these intercampus commutes because they have obligations at both campuses, others might find this a convenient way to travel from one city's campus to another, without having to switch between too many other forms of transportation along the way. Intercampus commutes are the way to go!
Here are the only ways you can effectively travel between the University of Toronto St. George campus and the University of Toronto Mississauga campus:
1) Shuttle Bus
A popular way to travel for intercampus commutes is to board the Shuttle Bus. The Shuttle Bus actually connects UTM to UTSG, and UTM to Sheridan College. This can be especially useful if you live in Mississauga or neighbouring towns and need a way to get to either of these campuses directly. As for the UTM to UTSG route, you will be happy to know that it takes you directly to the core of the downtown campus at Hart House Circle. For official students of the University of Toronto Mississauga campus, the Shuttle is free of charge to use at your discretion. However, if you're an official student of the University of Toronto St. George campus, you will have to pay $6 per trip ticket (that's $12 there and back).
An alternative to purchasing tickets would be a Shuttle Bus Pass which costs $650 for the term, but make sure you really plan to use the bus frequently before you buy this pass. You can purchase tickets at the Student Centre on the UTM campus or at the front desk of Hart House at UTSG.
Fast facts for boarding the Shuttle:
A trip from UTM to UTSG, or the reverse, will take anywhere from 35 minutes or more. During quieter times of day, the trip is definitely within the 25-35 minute mark. But during the morning rush hour, and the late afternoon rush hour, it could take more than 50 minutes to arrive at your campus destination. The worst-case scenario is a two to three-hour journey (yes, it can be that treacherous), which is most common during the afternoon rush hour. It is best to get there ahead of the rush!
Arrive ten minutes earlier to line up for the bus. The shuttle line will start outside the building. So if you are indoors and don't see a lineup of people, look around. It can get really crowded in the mornings and late afternoons.
The bus policy is that you should not be eating on the bus, especially if it's a hot meal. The driver will tell you to put it away. Be courteous to others and do not leave a mess, because the policy will likely become stricter for everybody.
Always bring your student ID if you're a UTM student. If you forget it somewhere, there is no guarantee that the bus driver will wait for you. Buses must leave when scheduled!
If you're boarding the bus midday, you'll have a better chance of choosing a window seat, so you can enjoy the views of the city.
Warning: sitting at or near the back of the bus will guarantee that you'll spring up into the air when the bus drives over dents or bumps in the road. At speeds from 50 km an hour to 110 km an hour, you can be lifted from your seat as if you're going to hit the ceiling. Hold on tight!
2) Bus Route Services
Search for a city bus route service that can bring you closer to your University of Toronto campus. This will depend on where you're travelling from. There are city bus routes available through Mississauga's "miway" service, GO Bus, and many more. UTM Students have access to the UPass, allowing for unlimited fare-free rides on Mississauga's Miway system. Nice!
Some bus transfers may not be acceptable. For example, if you're travelling from Mississauga Transit to Oakville Transit, your transfer will be accepted. However, not from Oakville to Mississauga.
When taking the GO Transit Bus, register for a GO Student Identification card and validate it at any T-Card location.
In certain cases, your GO Station ticket will allow you to ride certain buses for a discounted rate. For example, presenting your valid ticket to the bus driver may allow you to ride the bus for less than a dollar. (*Only where applicable, and subject to changes).
If you live in the GTA and want to use Toronto Transit methods, such as the subway train or bus, it is highly recommended that you sign up for a monthly Metropass with a student discount. Valid identification and verification will be required.
3) Parking Permits
For students who are driving, there are some important things to know when it comes to finding a parking spot. You can purchase a parking permit at both campuses if you like. A parking permit can be beneficial for students who are primarily using their vehicles to travel to and from campuses on a regular basis. Here are some important things to remember when dealing with parking at the University of Toronto:
If you are planning to drive once a week (or a few times a month), a parking permit may not be necessary. 
Rates for parking permits will depend on how many months you want to purchase a pass for. Rates may also fluctuate depending on whether or not you're a student, faculty member, or staff member.
For UTSG Students, there are a lot of parking lots scattered around campus.
There are student permits, VIP permits, and varying parking rates throughout campus. It is best to visit transportation.utoronto.ca to check for the most up to date costs.
Have fun on your intercampus commutes! If you're looking for more, check out Surviving The GO-Train Commute to The University of Toronto next!