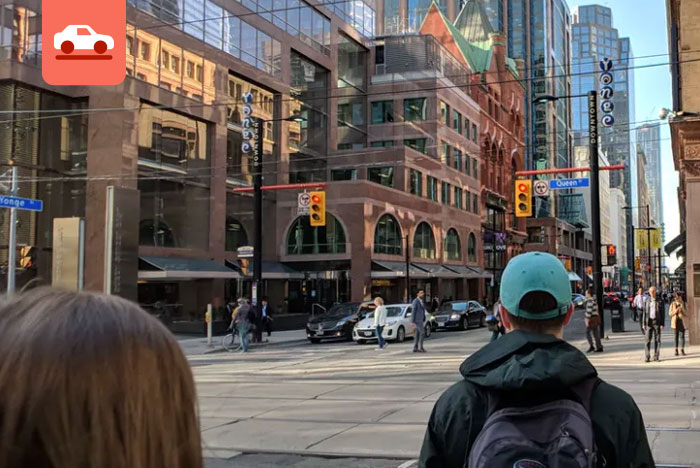 If you're a student at the University of Toronto St. George campus who has to commute to Union Station on a regular basis, we applaud you for dealing with all of that madness. A lot of students transfer from car to bus to train to a subway train. Then they repeat the same process backward to get back home. During the morning and evening rush hours, you've got to deal with massive crowds of people that make the train reach maximum capacity. Furthermore, there may be a service delay. It's even more annoying to pay for a $20 day pass ticket only to find there are no seats left. So, you have to stand all the way. Then there's the underground train route, which can be a real pain to escape during rush hours. Have you thought about taking pedestrian routes?
Moreover, if you want a change that also adds cardio to your day, there are a few pedestrian routes you can take. Especially if you're tired of the congestion and crowds. Try these pedestrian routes next time you're walking to and from Union Station. And save a lot of your money in the long run!
1) Walk the underground PATH network.
The PATH consists of a multitude of connected underground pedestrian routes, tunnels, and walkways. These connect all of the major office towers throughout much of the downtown core, spanning over thirty kilometers of paths. As you navigate your way down one of the many staircase access points to the PATH networks, you'll see a world of underground shopping, food courts, and services. While there is no direct path that carries you exactly into the University of Toronto St. George campus, you can enter and exit at various access points and re-route to University Avenue. Visit the PATH site and navigate the map.
2) Take University Avenue to Union Station or to the University of Toronto.
This walk is 25 minutes if you're walking at a normal pace, but can take about 15 minutes if you go a bit faster. You'll experience one of the busiest main streets in the downtown core, walking past several landmarks like City Hall and the Four Seasons Centre for Performing Arts. You'll pass by the most renowned hospitals in the country, and several research centres. University Avenue is a really busy boulevard though. So pay attention and watch where you're walking.
3) From King's College Road, take McCaul Street down to Queen Street, and then re-route to Union Station.
McCaul Street is much quieter during rush hours, as people don't want to walk an extra minute or so to get to another path. On McCaul, you'll notice that you're near the back of a major hospital, close to the University of Toronto Exam Centre. You'll come across small restaurants and student hangouts as you approach OCAD University and the Art Gallery of Ontario. You'll see the Grange, a popular place among OCAD students, as well as Above Ground Art Supplies. By the time you reach Queen Street, make a left to access University Avenue.
4) From St. George Street (at the intersection with College Street), walk to Beverley Street.
You will see lots of houses on this street, making it a calmer route when it comes to vehicle and pedestrian traffic. Also, you might notice lodges and bed and breakfast places on this route. When you hit Dundas Street, you can keep heading south or follow the AGO building towards University Avenue. If you continue down Beverley, you'll see the back of the OCAD building and a little green space: Grange Park.
When you reach Queen Street, turn left towards Union. Additionally, Queen Street is a popular district for shopping. It's home to many retail fashion stores and brands. There are also interesting cafés and pubs that University of Toronto students go to, including the Rex Jazz, Blues Bar, and the Black Bull Tavern. It's good to know where these places are!
5) If you finish classes on the furthest west side of campus, dart down Spadina Avenue and get onto Front Street towards Union.
While this route may take a few minutes more than University Avenue, it's worth it if you want to see the city and familiarize yourself. Spadina is not always the cleanest street to walk on because of the busy markets and pigeons, but it's better as you head south. There are unique storefronts, cafés, and businesses along the way. Once you reach Front Street, turn left for the Metro Toronto Convention Centre, and get a cool view of the Rogers Centre and the CN Tower.
6) If you're feeling really ambitious, at the intersection of University Avenue and College Street, walk three minutes east past the MaRS Discovery District until you hit Bay Street.
Bay Street is an interesting route, as it is home to the largest office district of Toronto. You'll see the Ted Rogers School of Management at Ryerson University, and the back of the Eaton Centre Shopping Mall. Once you see Nathan Phillips Square, you're over halfway to Union Station. When you reach Front Street, simply turn right. This route will take 30 minutes, but if you're increasing your pace, it can go a lot quicker.
Have fun on your commute paths and pedestrian routes!