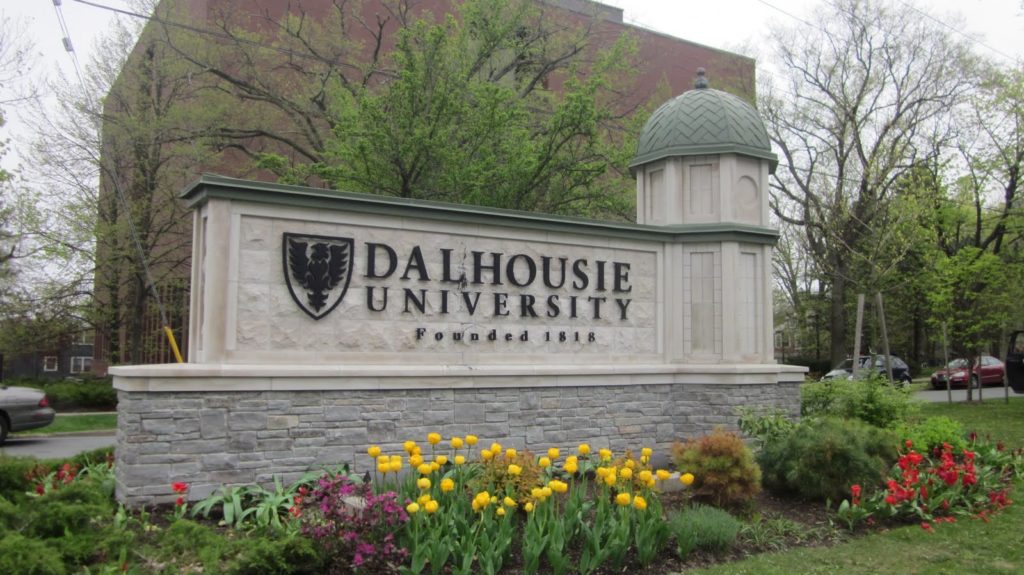 Short History
Dalhousie University is overflowing with stories to tell. In 2018, the university celebrated its 200th anniversary. Dalhousie University which at the time was called Dalhousie College was established in 1818 with the intent of being a non-denominational college that would allow lectures to be open to students regardless of religion or nationality. But not open to students who were women or black, which came much later. The school closed shortly after it was established. However, in 1863 when it reopened for the third time, Dalhousie was officially given the title of University. In 1866 the first degrees were awarded to 28 members of the student body. In 1881 women were admitted to Dalhousie university with equal access to scholarships and awards. Easily accessible sources do not mention whether or not the cohort of women first allowed into the university was only white women.
In 1885 Margaret Florence Newcombe became the first woman to graduate from the university, earning a Bachelor of Arts degree. In 1896 James Robinson Johnston became the university's first black graduate.
The original college was once found where the current Halifax City Hall is located. After move-in 1886 to the Carelton Campus, Dalhousie University has been expanding ever since.
Fake News?
The https://dalgazette.com/ is the main student newspaper makes the claim to be the oldest student-run newspaper in North America. They're followed closely by The Harvard Crimson which published its first paper in 1873 while the Gazette first began publishing in 1868.
The closest thing to a time machine
Dalhousie University has kept an archive filled with information related to the University's history. This information is available for all those interested to take a look at. There are collections of newspaper scrapbooks that documented the Great War, copies of The Gazette and other snippets of history. Digitized versions of older Yearbooks are also found in the archives. Scrolling through the pages of the yearbooks you get to see the faces of students that once also called themselves Dalhousie University students.
Notable Alumni
Graduates of Dalhousie University have done so many remarkable things you can go on forever writing about them. These are small selections of notable alumni of this university. The 11th, 16th and 18th Prime Ministers of Canada all graduated from Dalhousie. Their names are R.B. Bennett, Joe Clerk and Brian Mulroney respectively. Continuing the legacy of Prime Ministers, Frank Bainimarama was the 8th Prime Minister of Fiji. The school has produced 91 Rhodes Scholars and a Nobel laureate. This feat was accomplished by Arthur B. McDonald who in 2015 received the Nobel Prize in Physics.
Traditions Being Upheld
With such a long and rich history it was interesting to look at any traditions current students are creating that Dalhousie students of the future will look back on.
The current students at Dal mention hearing a lot of ghost stories. You should never walk on the crest in the lobby of the Henry Hicks building. This is said to bring bad luck and you won't graduate in 4 years.
Some students touch the statue between the Arts Centre and the Rowe Building for good luck before a midterm.
A more modern tradition would be getting a picture with the Dalhousie University sign on University Avenue during orientation week.
If you're heading to Dalhousie University soon, do you plan on following any of these traditions?
Picking Courses soon? Take a look through https://campusguides.ca/2021/09/03/top-professors-at-dalhousie-university/ to find the best Professors for all your classes!
If you enjoy this information and want to see more helpful resources, scholarships, and internships, consider signing up and getting opportunities sent right to your inbox.
https://forms.yconic.com/s/yconic-Sign-Up-Form/tt-a79e48?ref=campusguides