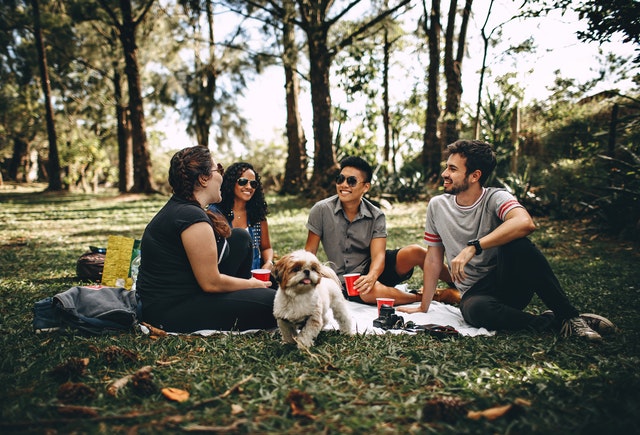 "What can we do for free on or near campus?"
Many students ask this question because student budgets are REAL. Tuition costs and living expenses add up, so here is a list of free student activities at Dalhousie University that you can enjoy while sticking to your budget!
NOTE: Due to COVID-19, some of these facilities and services may not be operating during normal hours. Please contact them ahead of time and be patient. Thank you.
Downtown Activities
There are tons of free activities in downtown Halifax. For example, you can explore the city and check out the various murals. Visit the Halifax Citadel — a national historic site. Watch the firing of the cannons on Citadel Hill or have a picnic there. Additionally, go for a walk along the downtown boardwalk. During the holidays, there are beautiful fireworks displays on the boardwalk too.
Explore Halifax's Parks
Check out Point Pleasant Park, which offers skating, or walk the trails. It is a large, mainly forested municipal park and contains the Prince of Wales Tower. This is the oldest Martello tower in North America. If you don't feel like walking, then bike the paths.
Visit Victoria Park — an urban park on Spring Garden Road. This is across the street from the Halifax Public Gardens and is full of monuments and statues. Explore the winding river, deep-sided gorge, beautiful forests, and cascading waterfalls.
Halifax Public Gardens
Spend a Spring or Summer afternoon walking the Halifax Public Gardens and all of its wonderful features including the intricate main gates, upper and lower bridges, garden beds, statues, fountains, bird enclosure, bandstand, and geometric beds. There is also an on-site cafe so you can grab a hot beverage or a snack while you enjoy the scenery.
Dalhousie Art Gallery
Check out the exhibitions, events, and programs that are freely available for students who attend Dalhousie University. The Dalhousie Art Gallery is currently closed, but will be reopening on September 16.
Dalplex
As a Dalhousie University student, you'll want to check out Dalplex – Dal's largest athletic facility. Membership is included as part of your tuition fees, so take advantage of it. Try a fitness class, the gym, or the swimming pool to find what motivates you.
Emera Oval
Lastly, a few blocks from Dalhousie University is the Emera Oval. This is an outdoor skating rink in the Winter that is maintained by the city. However, in the Summer, the city turns it into a roller skating rink. Most importantly, the rink is free to use if you have your own skates. Rentals cost a fee.
Sum Up
There are loads of fun, free student activities at and around Dalhousie University. You simply need to explore them in order to find something that you enjoy!
Are you looking for more articles on Dalhousie University? Then read about where to get your Coffee On Campus next.