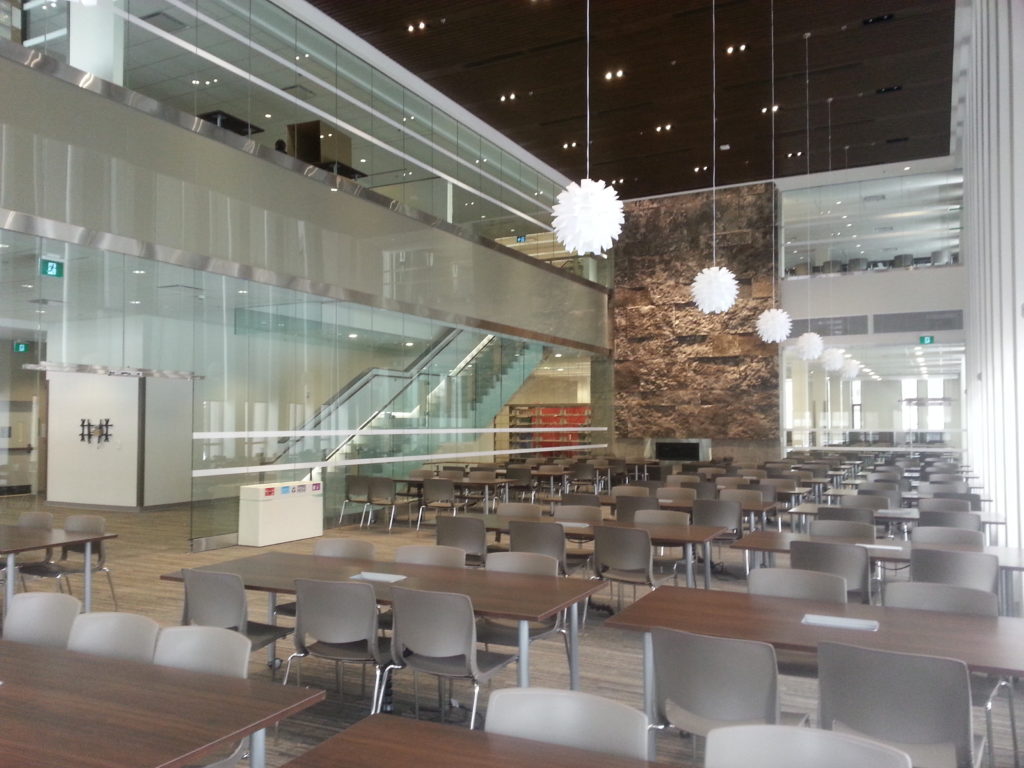 The University of Toronto St. George campus has a variety of unique libraries and spaces suitable for all types of study. Please note that this list will discuss a few libraries that specialize in research databases primarily in the humanities. Whether you are searching for a pleasant silent zone, a group study area, or a location with extended hours, there are many accommodating options to explore around this campus. So check out the unique libraries at UTSG!
1) Robarts Library (The John P. Robarts Research Library)
Often, the first library that comes to mind for its iconic architectural presence on the University of Toronto St. George campus is Robarts Library. It definitely stands out among its neighbouring settings. You will likely do much of your research for arts, humanities, governmental statistics, and social science-related topics at Robarts. Not only is it a central hub, but there are many levels and branches to the building, including the Thomas Fisher Rare Book Library, reading rooms, computer rooms, a food court, classroom spaces, and study spaces. There is one particular wing of the building on one of the mid-level floors (hint: directly south of Innis College) which has unique comfortable seating booths ideal for group study (a lesser-known area that I will let you discover during your own exploration).
Please note that desk space with device charging options will fill up fast throughout the entire library during the busiest hours.
Robarts offers extended hours to students past 10 PM, so bring your identification if you plan on studying overnight. The building will be locked from the outside at night. Also, please visit the University of Toronto Libraries website for official and extended hours.
2) The E.J Pratt Library
Secondly, located slightly to the east of Queen's Park, this library offers collections in classics, history, philosophy, political science, and religious studies, to name a few. This location is popular for a more comfortable setting in comparison to Robarts Library, offering more silent zones, study carrels, and group study rooms (which can be scheduled via the online booking system). Extended hours go to 11:45 PM. It is a great library to visit if you have classes on the east side of campus.
3) The Bora Laskin Law Library
Thirdly, with an architecturally impressive interior and exterior, the Bora Laskin Law Library is a beautiful place to study on campus. A newer facility with a professional atmosphere, it is an ideal place for students looking to do their studies or work individually. Located at the northern end of campus at the Faculty of Law, this is an excellent location for quiet study. Furthermore, study rooms are prioritized for Students of Law. So, please be respectful of library rules and visit the University of Toronto Libraries website to view updated hours.
4) The John W. Graham Library (Trinity College)
Lastly, located in the Munk School of Global Affairs, this beautiful library emits an aura of academic energy. It has a rich history and has undergone some modernizing renovations, while still preserving much of its charm. Studying at the John W. Graham Library will provide an authentic, wholesome experience. Among its strongest collections include topics of international relations, theological disciplines, and ethics relating to the Anglican Church. The library offers extended hours (until 11:45 PM), but please visit the Trinity College website for further details.

In conclusion, hopefully this inspires you to venture around campus and find your favourite unique libraries! If you're looking for more information, then read 8 Places For Quiet Study at The University of Toronto St. George Campus next.