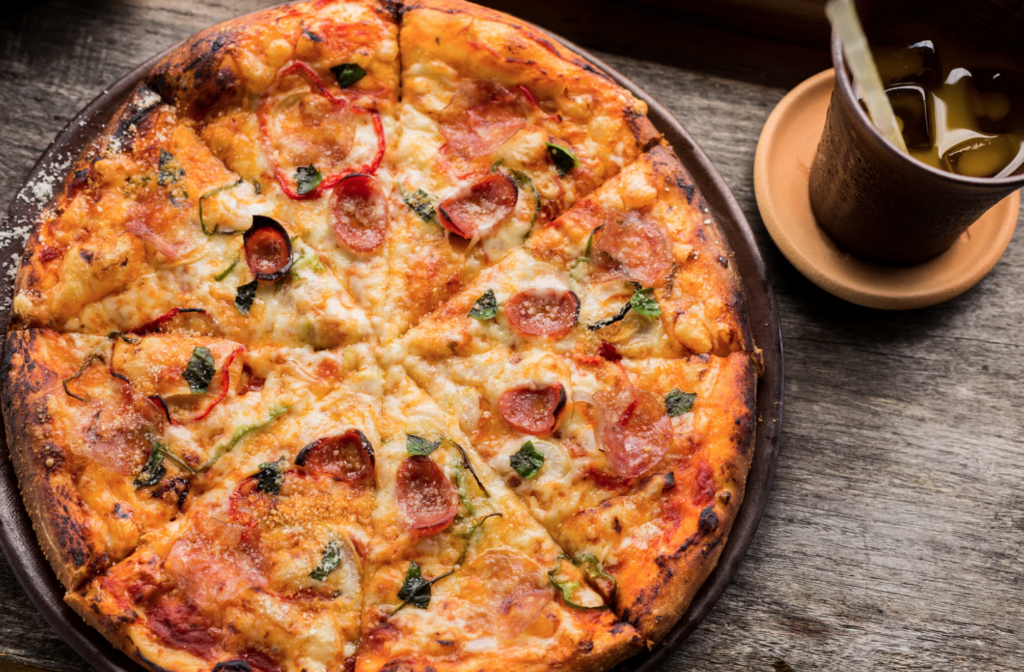 While it's important to eat healthy, especially as a student since you'll need to nourish your energy and thinking capacity, it's also okay to occasionally enjoy pizza. Or maybe you're having people over and are thinking about ordering food. Here are the most convenient places to order from near the University of Toronto St. George campus. Therefore, make sure you try them out the next time you're craving pizza!
Papa CEO
Grab a huge slice or a full pizza at Papa CEO, on the intersection of Spadina Avenue and Harbord Street. This location is really close to Robarts Library, and stays open late, even on weekdays. It's right across the street from the Graduate House. They offer a great price and the food is delicious as well. The service is professional and friendly. So if you're studying nearby and forgot to pack a lunch, order one of their slices. Also, it's a very generous slice for the price.
Cora Pizza
For thin-crust, try Cora Pizza, also at the intersection of Spadina Avenue and Harbord Street. The pizza is cheesy and delicious. Additionally, if you love thin and crispy crust, this will be your new favourite place. The price is excellent and the service is exceptional. They sell awesome calzones and offer a variety of toppings. Cora stays open late, which comes in handy because University of Toronto students don't sleep.
Pizzaiolo Gourmet Pizza
Pizzaiolo Gourmet Pizza has one location at the intersection of Bloor Street and Spadina Avenue. It is a restaurant chain and their prices are mid to high. However, if you want a slice and a drink, the price is fair. Try their Capone pizza if you're hungry or order a full pizza for a party. When it's fresh out of the oven, it's even more delicious. You won't want any other pizza after trying Pizzaiolo because it is that good.
Fresca Pizza
Try Fresca Pizza on College Street, a five-minute walk from the Bahen Centre. The food here is fantastic, and you can order a slice or a pie. The pizza is thin-crust, crispy, and delicious. The prices are reasonable and this family-owned joint works very hard to make your experience wonderful. If you're having a small party, try their walk-in special or call in to see what other specials they have.
Pizzeria Via Mercanti
Pizzeria Via Mercanti is an awesome place for classic NY style pizzas. They've got a few locations throughout Toronto, but the closest one to UTSG is in Kensington Market. If you're closer to the east end of campus, visit the other one beside Sick Kids Hospital. They sell delicious wood-fired pizza. Additionally, the whole place gives off a pure feeling of authenticity. Also, try their panini. It may become a favourite of yours! 
Pizza Gigi
Try Pizza Gigi, on Harbord Street, really close to Bathurst. Their sauce is delicious. Prices are great and the service is fantastic. It's one of the best places to order from for delivery and you can also eat-in pretty late.
Mare Pizzeria
Mare Pizzeria in Kensington Market has excellent prices for pies, sandwiches, and more. The ingredients are super fresh. Moreover, you can choose from meat and vegetarian toppings. Basically, you will love the quality so much that you'll become a loyal customer for sure.
Levetto
Levetto on Spadina Avenue serves a lot of Italian food. Their prices are justified since portions are generous and everything is really good. If you're ever walking on Spadina and getting hungry, order from here and try it out.
There are so many quality places to order from near UTSG. Therefore, be sure to check them all out! If you're looking for more information, check out The Best Places To Get Coffee and Treats From The University of Toronto next!