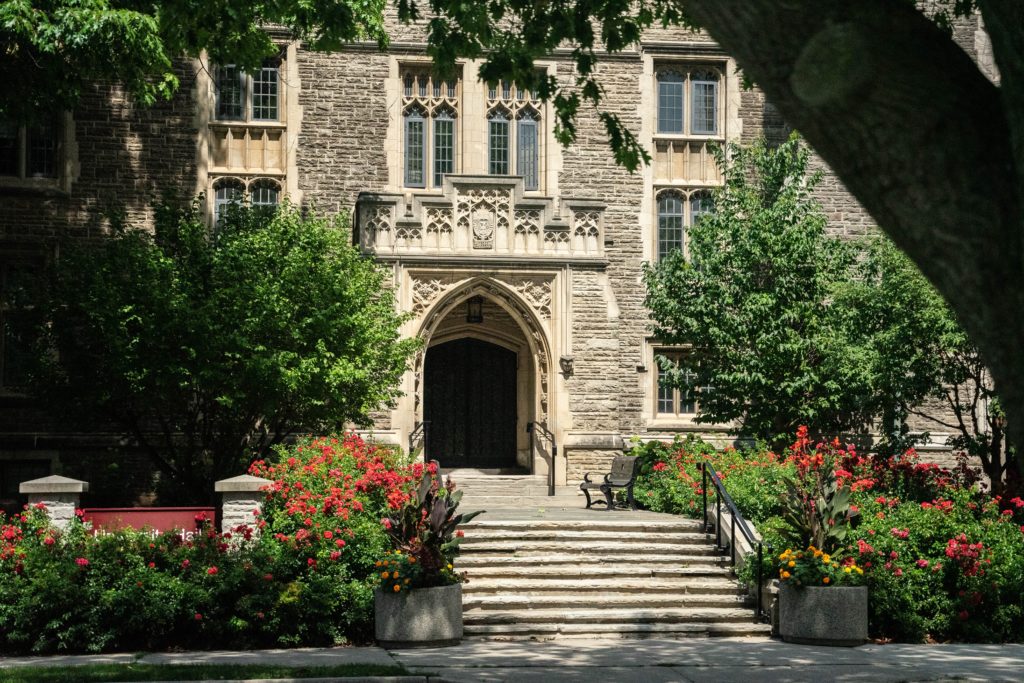 Thinking about going to McMaster? Here's why we're not surprised.
On top of being one of the most research-intensive schools across the globe, McMaster holds a reputation for producing some pretty cool peeps. You know the Arkells? Yep, those dudes not only went to McMaster but actually named their band after the Arkells street in Westdale Village.
Let's not forget about Melissa Andre, a 2007 McMaster graduate best known for her experiential installations she's created for brands and celebrities like Drake, Victoria Beckham, Louis Vuitton, DJ Khaled, Google, Reebok, and Instagram. No big deal, right?
The point is, McMaster is not only known for the Canadian icons that have studied there. Students from across the globe celebrate the school for its unique and forward-thinking programs, many of which you can't access anywhere else!
So, if you want to set yourself apart from the crowd, consider these programs:
Health Sciences BHSc (Honours)
Most people can agree that McMaster's Health Science program is particularly prestigious and hard to get into. Obviously, given its dwindling 10% acceptance rate (yikes).
According to McMaster's website: the BHSc (Honours) Program is the only program in Ontario that pulls from a variety of specific fields like clinical departments of Medicine, Pathology & Molecular Medicine, Psychiatry & Behavioural Neurosciences and Clinical Epidemiology & Biostatistics.
Think you've got what it takes? Here's what you'll need to know before applying.
Required Courses:
Completion of High School Diploma plus six Grade 12 U/M level courses including:
ENG4U
One of MHF4U, MCV4U or MDM4U
SBI4U
SCH4U
One non-math; non-science; non-technology 4U/M credit
Application Deadline: January 15, 2021
Supplementary Application Deadline: Due early to mid February. Please visit bhsc.mcmaster.ca for details.
Supporting Documentation Deadline: April 1, 2021
Anticipated Admission Range: A minimum of 90%. Admission is by selection.
Admission Decision Timing: Decisions will be released in early May.
Target Enrolment: 240
For more information on the application process, visit McMaster's website here.
Justice Political Philosophy and Law (JPPL)
What is McMaster's Justice Political Philosophy and Law (JPPL) program? We're so glad you asked!
Basically, JPPL is a relatively new addition to McMaster's Philosophy department that is meant to help you understand the ins and outs of legal institutions that shape our social world, and the political and moral theories that address the value and justice of these institutions.
In other words, no, it is not like Political Science.
Plus, McMaster is the only school in Ontario that offers this specific program led by professors who studied at top tier Ivy schools like Oxford University.
Here are some of the application deets.
Admission Requirements:
Students must complete a supplemental application for admission that is available on the Program website (jppl.humanities.mcmaster.ca, due April 30).
Students must complete 18 units from the Interdisciplinary Core Course List, at least 3 units in each of the three categories: Policy and Law, Political and Moral Philosophy, and Human Rights and Global Justice. The remaining nine units may be from any of the three categories.
Upon completion of 60 units of work and with the approval of the Department of Philosophy and the Office of the Dean of the Faculty of Humanities, one or both terms of Level III may be replaced by courses of study at a designated university abroad.
If you're still not convinced that JPPL is an awesome thing to study, check out our article How to Get Into the Justice Political Philosophy & Law Program at McMaster.
For more information on the program and application process, visit McMaster's website here.
Physician's Assistant (PA) Education Program
What does it take to become a PA through McMaster? Lots. Of. Hard. Work.
Basically, McMaster's Physician's Assistant (PA) Education Program offers a two year course of study, delivered over a 24 month period beginning in September. Year 1 covers mostly clinical science courses in the first twelve months. Year 2 covers clinical training in the latter 12 month period.
Why is this program special? Because there are only three PA programs in Canada.
Manitoba Masters of PA Studies
McMaster University PA Education Program
PA Consortium (University of Toronto/NOSM/Michener)
Here are the admission procedures in a nutshell:
For more information on the program and application process, visit McMaster's website here.
Masters of Engineering and Public Policy (MEPP)
McMaster is one of the only top Canadian universities that offer a highly niche program that combines the fields of Engineering and Public Policy. Not to mention, McMaster is one of the leading engineering schools in North America thanks it's top notch faculty.
Basically, engineers and scientists today are tasked with designing systems and innovations that provide goods and services to society in a way that is safe and environmentally friendly. So, it only makes sense that the next generation of engineers are able to combine their technical skills with a general understanding of public policy and their responsibility to maintain our sustainable technological, social, ecological and economic systems.
That is why McMaster offers a Masters for Engineering and Public Policy (MEPP):
Application Checklist:
Click here to open your application with McMaster University
Pay the application fee ($110)
Register for your online interview on Kira Talent along with payment ($60)
Gather the required documents

Your current resume or CV including academic and professional experience
Your clearly written Statement of Interest (This is a letter explaining your interest in the program)
Recent IELTS or TOEFL scores (within the last 2 years) required for international students. Minimum IELTS score 6.5 overall (minimum requirement 5.5 in reading and writing and 6 in listening and speaking). Minimum TOEFL score is 88. Note that if your medium of instruction was English and this is documented on your transcripts, you do not need to submit an ELP test.
Transcripts from all post secondary institutions you have attended
Complete Contact information for 2 Academic References (to be included in the on-line application).
Only submit your application once all the above documents have been uploaded and you have provided contact information for your references
Complete your online interview on Kira Talent after you have submitted your application. (Step 3 must be completed in full.)
You will be contacted if there are any issues with your application. Please do not email about the status of your application. You will be contacted with a decision whether your application is accepted or rejected.
Once you receive an offer and have accepted it, you are required to pay a deposit of $500. (This is non-refundable if you withdraw your acceptance or do not attend.)
For more information on the program and application process, visit McMaster's website here.
School of Interdisciplinary Science (iSci)
Last but definitely not least, we have McMaster's School Of Interdisciplinary Science (iSci).
While you may be tempted to think this is just a boujee name for another general science program, you would be mistaken! What sets McMaster's iSci program apart from the rest is the focus on research and group-based learning. These group-based projects are highly relevant to real world issues such as space exploration, climate change and more. And to tackle these areas, you'll need to take a more holistic approach which integrates concepts from the biological sciences, chemical and physical sciences, earth sciences, mathematics.
So basically, McMaster's iSci gives you a solid foundation of knowledge that is not only directly related to the workplace but also essential to combat pressing issues in the social and economic world.
Here's what you'll need to know:
McMaster's Honours Integrated Science program or iSci limits enrollment to a maximum of 64 students per year and admission is by selection.
Achieving the published minimum GPA requirements does not guarantee admission.
A mandatory Supplementary Application must be completed by all applicants. You will be required to provide additional information on the Application, which will be reviewed by the iSci Admissions Committee.
The 2020 Supplementary Application will be available November 30, 2020. The application will close February 1, 2021.
For more information on the program and application process, visit McMaster's website here.
So folks, these are just a few of the many promising programs McMaster offers. But, they're not available to just anyone! You'll need to really prove yourself and your potential if you want to get accepted. You know what they say, if you can walk a little faster you can go to McMaster!
Looking for more insights? You should read How McMaster Students Can Be Healthy on Less Than $50 A Week next. Empower your academic journey with scholarships and insights. Become a member Here.