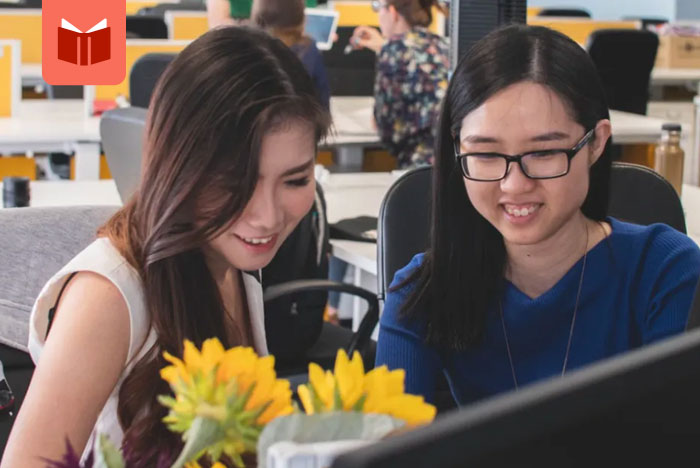 No matter which program you're taking at the University of Toronto St. George, there will always be a course, a tutorial, or a practical that requires you to prepare in a collaborative way. Group study can be stressful. Especially since everyone's grades are at stake and depend on the overall effort and ethic of the students in your group. One major factor that affects group collaboration is finding a time that works for everyone in the group as well as a location.
You will likely be looking for substantial desk space to lay out everyone's work, adequate seating, and simple comfort. It might not always be a convenient place, but that's part of the necessary sacrifice. Here are the best places to work together on your assignments at UTSG.
1) Book a group study room at Robarts Library.
Robarts has several floors with designated rooms for groups who need a quieter area that's separate from ordinary library space. Here, students can chat at a reasonable volume and collaborate on their work at a table. Robarts Library offers over 50 rooms, but only 25 are available for booking. Study rooms on the ground floor and floors 9 to 13 can book in advance. However, these rooms can book up quickly at peak times such as mid-afternoon. So, be sure to check available time slots beforehand. Some rooms also have a monitor if you require a screen.
Make sure your group has at least three people because smaller groups may be asked to leave. In general, Robarts is central to campus. Therefore, it's a popular location for students to study and work. If you are just hoping to find a spot based on a first-come-first-serve basis, it may be difficult to locate a free spot.
2) Group study room at the Eberhard Zeidler Library at the Faculty of Architecture.
The library has only one group study space, so there is a chance it may be frequently booked up. It is a comfortable, quiet place to study and work in comparison to that of Robarts. Please note there are no chalkboards or screens in this room. Additionally, the building is located on the west side of the campus. It's also a three-minute walk from St. George Street.
3) Group study room at the Gerstein Science Information Centre.
This location has nineteen separate rooms available for group study. Many of which are located in the basement, on the main floor, and on the second floor. Whiteboards and chalkboards are in most of these rooms. Also, one single room offers "practice presentation" technology. You can book this in advance, but there is no guarantee that you will receive the tech room.
4) Group study room at the Music Library.
There is only one study room available, but you can book in advance. There are no places to write on the wall or use a screen, so come prepared. Additionally, it is not very large. The room can hold 3 to 4 students maximum. Any number greater than this would be cramped and uncomfortable.
5) A study room at the OISE Library.
The OISE is located on the north side of campus, on Bloor Street, and is a two-minute walk from Varsity Stadium. There are only four study rooms available to the University of Toronto students located on the Concourse Level, and the rest are designated for OISE members, alumni, and activities. For the Concourse rooms, there are no large screens, just power outlets, but there is a fair amount of table space if your group consists of four or more. You can book in advance. In terms of comfort, the chairs are soft and have wheels, which is a nice feature.
6) Book a study room at the John M. Kelly Library at St. Michael's College.
These rooms are not soundproof, so you'll have to be extra careful regarding noise levels. All rooms here operate on a first-come-first-serve basis, except for the room that offers "practice presentation" technology. All rooms are on the second floor and have electrical outlets, but only three have chalkboards (if this matters). If you plan on studying or working at this library, you should have more than two group members to secure a spot in one of the study rooms.
7) Group study room at the John W. Graham Library at Trinity College.
There are four rooms available, but if you're not a Trinity or Wycliffe student, you can only book two of four rooms. However, you can book in advance. This library is central to campus, and about a five-minute walk from Robarts Library.
8) Book a group study room at the E.J Pratt Library, located east of Queen's Park.
If your group consists of five or more people (and yes, it has to be five or more), this is the place. There are only four rooms, each has a long table and several seats. Two rooms are on the first floor, and two more are on the second floor. But only one single study room can be booked in advance (oh no!). The three remaining rooms operate on a first-come-first-serve basis, so if you really need to get your assignment done, be there before the afternoon rush when students leave their classes for the day. The E.J Pratt Library is a comfortable place overall, and there is a lot of space beyond the group study rooms if you can study or work quietly together.
9) As a final resort, you could meet at the University of Toronto Mississauga.
Take the intercampus bus during the calm hours of the early afternoon to avoid traffic cutting into your valuable work time. There are thirty study rooms available at UTM, 19 are located inside the main library, and 11 are located in the UTM Instructional Centre. You can book in advance. There are whiteboards, good tables, and comfortable chairs with wheels.
10) Study spaces at the west wing near the west entrance of Sidney Smith Hall.
While there are no designated study rooms, this area operates as a common space. There are long tables and chairs. It's a good spot to go if you have a big group and don't mind the café level noise (it's not a library, so no one has to be silent). It's a good option, but make sure you go when it isn't so busy.
Good luck with your group study, assignments, and projects!