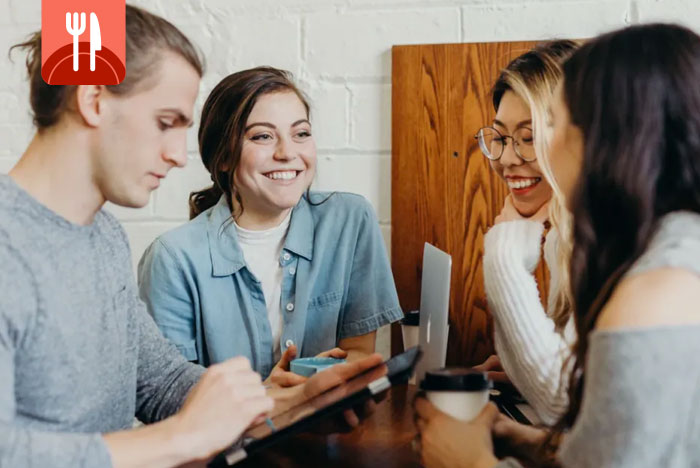 For students of the St. George campus downtown Toronto, there are so many places and things to experience when you're navigating the city life. Don't stay indoors studying. Take some time away from your books and go exploring, whether it be independent or with your pals! There is something for everyone. A good place to start would be on the intersection of College Street at Spadina Ave because Spadina Ave is essentially the border street of the west side of campus, near a lot of popular attractions. So, here is a list of things to do while you're near Spadina Ave.
1) Enjoy delicious bubble tea, from Answer Tea Toronto.
This adorable storefront provides a refreshing drink, a comfortable atmosphere, and a sweet interior design as you relax and chat with your friends. Additionally, they serve excellent milk tea, so try it out someday.
2) Discover some old school, rare video games at A & C Games.
This shop is dedicated to selling nostalgic games and consoles, so be sure to visit if you want to experience a flashback to the retro days of gaming. The shop is fantastic and organized, and the staff is wonderful. They also offer repair services and facilitate video game trading.
3) Eat at a chill restaurant with good food and drinks by visiting the Red Room.
This hangout serves everything from drinks, to breakfast, to late-night cravings. Basically, you'll have a fun time while being easy on your wallet, too. It's a good spot to meet up with your friends or do some reading if you'd like. Red Room has a delicious menu and excellent service, so you will definitely enjoy your time.
4) For fantastic Northern Chinese cuisine, try 98aroma.
The atmosphere is casual but elegant. Also, it really comes to life at night. So, go enjoy delectable dumplings, noodles, and stir-fries.
5) If you want to add to your vinyl collection, visit Play De Record.
This is a record store that also sells DJ and production equipment at a reasonable price. They have an excellent selection of classic vinyl, so if you're looking for unofficial releases or extended editions from your favourite musicians and producers, this is the place to be.
6) Go to Canton Chilli to enjoy some Indian infused Cantonese food.
This restaurant offers huge portions for a great price, and is a good hangout if you have a hungry group of friends with you. Some students recommend the chilli chicken and the spicy beef if you can handle the spice. Sounds good!
7) Visit Spot Crepes & Tea for a fast order of crepes and… tea!
Grab a seat and enjoy fruity tea as you wait for your fresh crepe with the toppings of your choice. This little shop will satisfy your sugar cravings and is open late.
8) For donut lovers, there's always the Krispy Kreme Café.
This place sells a variety of sugary donuts that come in all shapes, sizes, and glazings. If you're thinking of getting a donut here, be careful. Rumour has it, it's difficult to eat just one. The donuts are soft and tasty, but your brain might be so distracted by the sugar rush that it won't know when to stop! This donut shop is good for takeout if you're hosting an event at your place or for your student group.
9) For an experience of jazz, roots, and blues performances, try Grossman's Tavern.
This venue has a bar, a menu, and games to play while you listen to some live bands. Cool stuff!
10) If you are looking for Italian food, visit Levetto.
Everything is a good price. Additionally, the atmosphere is comfortable and friendly. Students recommend trying the pizza and the carbonara. Takeout options are also available, and the portions are generous. It's always better to come in and enjoy a hot plate of pasta instead.
11) Check out the popcorn store known as the Toronto Popcorn Company (at the edge of the Kensington Market).
Imagine a candy store, but instead of candy, it consists of various popcorn flavours such as caramel, vanilla cake, and spicier types. The popcorn is freshly popped and warm. Also, try a sample before you buy it.
12) For homemade ramen, try Homemade Ramen.
This restaurant specializes in handmade noodles, sandwiches, and appetizers. The portions are said to be quite generous, and the beef is especially delicious. Furthermore, it's a good spot to go on a date.
13) An epic record store called Sonic Boom is the place to go for big tunes.
Browse new and used records, CDs, movies, and merchandise. You might end up spending a few hours in here looking at the vast selections they offer.
14) For a good cup of espresso, try Dark Horse Espresso Bar.
They have free wi-fi and delicious baked treats. Grab a seat beside the brick walls of the hip interior design. Sit in the social spot which is louder. However, there are quieter spaces to take a seat independently if you prefer that. This is a great location for a meetup or a date in the afternoon.
Finally, have fun on your adventures downtown on Spadina Ave!