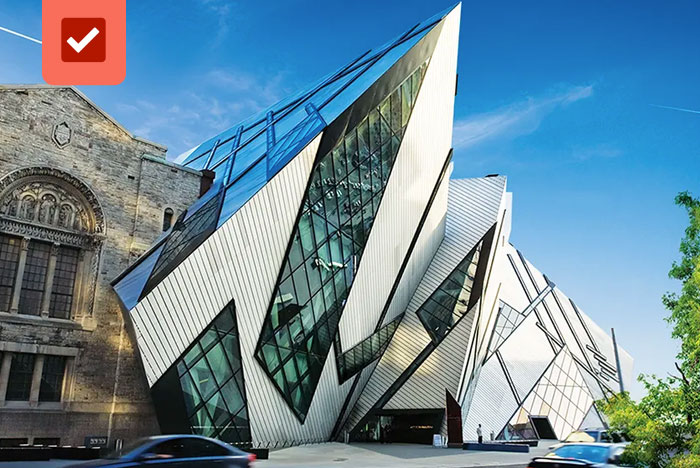 A lot of downtown Toronto museums offer free admission to the University of Toronto students during the week (within specific hours). So, you should make the best of this major perk during your university experience. Check out the following Toronto museums the next time you're looking for something fun to do:
1) The Royal Ontario Museum.
Located at the most northern edge of the St. George campus, the Royal Ontario Museum (ROM) is a spot that every student will visit at least once. It could be part of a history class requirement or out of general interest. If you're enrolled in any art and architecture history classes, you will be asked to visit the ROM for assignments. And you should be glad! The museum has an extensive archeological and fine art collections. They proudly display popular exhibits consisting of natural history, arts, and culture.
Furthermore, at the ROM, you'll find everything from dinosaurs to ancient civilization discoveries. Come and see the precious gems and stones of the earth, or explore the gallery of biodiversity. What's great about the ROM is that current full-time University of Toronto students can enter for free on Tuesdays. For more information, visit the ROM today.
2) The Art Gallery of Ontario.
Located beside the Ontario College of Art and Design. It's only a five-minute walk from College Street. If you are a student under the age of 25, you can visit AGO for free on Wednesdays from 6 PM – 9 PM. However, avoid bringing your backpacks — they will be placed in the coat check before entrering. At 3 PM on Tuesdays – Fridays, you can also participate in programs such as tie-dyeing and sticker making. It's a nice way to relax. Additionally, it is completely free as long as you present a valid T-Card. Come and see their renowned collections gallery or their latest exhibitions! Visit AGO exhibitions to see what's on now.
3) The Bata Shoe Museum.
Located at the northern side of campus and a four-minute walk westbound from the ROM, the Bata Shoe Museum is a charming place to appreciate thousands of shoes and shoe-related displays. With your T-Card, you are eligible to enter at a discounted rate. However, on Thursdays, participate in their "pay what you can" admission rule. This will grant you access to all of the museum's exhibitions.
Shoes are a part of your journey. And they carry a personal style, flair, and sole. There is a lot to learn from shoes, and their technology has evolved over the years. As well as the greater societal implications shoe design reflects, such as values and attitudes. It all started decades ago when Mrs. Bata needed a bigger space for her growing collection. And, so, the museum lives in the beautiful building designed by Moriyama and Teshima Architects. Come and experience the world of shoes to appreciate the importance of its research at the Bata Shoe Museum!
4) The Gardiner Museum.
Located across the street from the ROM, the Gardiner Museum offers free admission every Wednesday from 4 PM to 9 PM to the general public. And free admission every Tuesday for students with a valid T-Card. Get inspired by the craftsmanship that goes into ceramic work. You learn to appreciate the innovation of clay. So, go to experience a new perspective on history and the stories that are communicated by clay. Visit them online to find out more about their on-site workshops such as making pottery.
5) The TD Gallery at the Toronto Reference Library.
This site educates the public on the importance of books through art, printing, and conservation. You can appreciate the fine collections of rare books in history and experience the great artistry that went into their creation. Not only are there books. Talented local artists display their work at several locations, many of which are showcased in their exhibitions. So, come appreciate the work of local artists! Alternatively, to submit your own work, visit their website for more information.
6) The Art Museum at the University of Toronto.
Right in the centre of the downtown campus, this gallery displays permanent Byzantine and Canadian collections, alongside exhibits. The Justina M. Barnicke Gallery is a part of the collaboration known as the Art Museum at the University of Toronto. Also, this gallery showcases Canadian artistic contemporaries and a collection of historical works. There is always a new exhibit to see, so stay updated by visiting their website.
7) The Gallery Arcturus.
Located east of University Avenue, this gallery exhibits work that responds to a theme. It is also communicated through form, sculpture, and art that is created at the location itself. The experiences of the artist may be interpreted in various ways, and there is a critical process that must occur in artistic works to facilitate communication through the medium so others can also understand the emotion and message that the artist is portraying. Visit the Gallery Arcturus for more information.
Hopefully, you visit all of these Toronto museums during your time here. There's so much to see. Have fun as you explore these amazing Toronto museums!