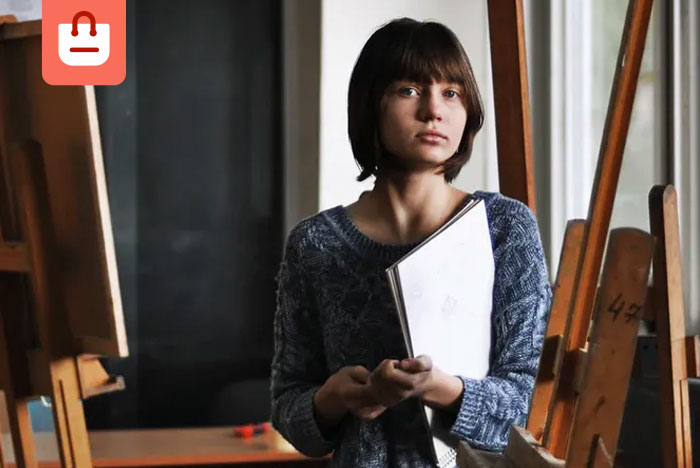 Architecture means serious business at every level of the journey. Every detail matters. The amount of thought and attentiveness put into your work can be the difference between an excellent project and a low grade. During your architectural studies, theory and representation are major facets of how your coursework and grading are structured at the University of Toronto. It's important to gather all the tools necessary for success. Here is a list of supplies for architecture students, whether you're drafting or performing digital design methods.
1) Invest in several sizes of sketchbooks or drawing paper.
If you already know which type of paper you like for general sketching, then buy at least one that can be carried for daily use. It is practical to communicate your ideas using a fast sketching method, even though the digital methods are a big part of the curriculum. While most of your architectural work is performed on a computer, a sketchbook is useful as a place for conceptual work and figuring out what you're going to do next.
Be mindful of the number of sheets you are buying, as well as the quality and type of paper. For example, if you enjoy sketching with graphite pencils, opt for options that offer a smoother surface. Do not buy a really cheap sketchbook because you might not enjoy working in it — you'll notice the effects of the paper quality.
Have at least one sketchbook for general rough sketching. And another for more serious work. Ask yourself what size paper you prefer to place your more detailed, finalized drawings on. Whether you choose to implement elements of hand drawing into your work or display your design process, it is entirely up to you. If hand drawing, sketching, or drafting is a big part of your process and\or work, consider investing in an additional sketchbook (A4 size or greater). If tracing paper helps you in the drafting process, you might want to buy a package as well.
2) Invest in a solid set of mechanical pencils, pens, and fine tip markers.
Optional: if you love colour beyond the black, white, and grey tones, find a good set of quality coloured pencils. For example, Staedtler is a good brand for leads, lead pencils, and fine tip markers. If you're looking for good quality fine tip markers (0.5 and up), buy a set of those or purchase them individually.
Be careful. Some supply stores (such as Deserres), are more expensive than others. Look for quality above all else, because you want them to last long and present well on paper. For example, stay away from Sharpies brand fine tip markers. The ink will often run through the pages, and the marker will be sensitive to the slightest pressure changes, resulting in uneven linework. A mistake like this will be a major one when it comes to presentation and clarity for architecture students.
3) Two sizes of cutting mats.
One for your larger model building, and one that is for quick model building (easier to carry). As a general rule, the 12" by 18" mats are used for smaller projects, and you should buy one of these to begin. Anything larger can greatly benefit you as projects require more cutting space. The self-healing cutting mats (yes, that is sometimes what they are called) are what you need to buy. Find these at every art supplies store, such as Michaels. Also, buy a set of Olfa knives with disposable blades. It is important to change the blade every so often so that you get a crisp, clean looking edge on your projects.
4) Glue it all together!
In terms of adhesives for physical model building, architecture students should invest in different types of glue. Depending on how fast you need it dry and how strong you need it to bond to a surface. For projects that require gluing a foam board or light, thin sheets of wood, add Weldbond glue to your list. It will take time to dry and cure. But if you do this properly without interruption, it will produce a solid bond. For something that needs to dry quicker, add superglue to your list.
If the materials you are using are thicker and heavier, add more glue. An unwritten rule, which is not recommended because of the mess it could make, would be to buy a hot glue gun. With proper practice and caution, you can glue things seamlessly without making it obvious that you've used hot glue. Lastly, be careful when using superglue and hot glue near your skin, hair, clothing, and materials.
5) Variety of materials.
You will need a variety of materials to create your models, whether it be for preliminary sketch models or final projects. This does not mean go ahead and use cereal boxes for your "rough draft" models. Always use something that looks good and prepare it well. Even if it is in the preliminary stage. Bristol board of varying textures and foam boards of varying thicknesses will be your best friend when it comes to preliminary sketch model building and finalized model building. You can find them at stores like Michaels, Curry's, and other architectural supply stores recommended by your faculty.
Basswood, balsa wood, and corkboard can be used in your finalized projects. They also create interesting topographies. For experimental model building, you can buy foam core, chipboard, matboard, or even clay for quick cutting and shaping. Cardboard, plexiglass or thin translucent plastics can enhance your finalized models as well. Furthermore, you won't know what you prefer unless you test it out yourself.
6) A kit of rulers and T-squares.
Ideally, one T-square should be large, and the other should be about the size of an ordinary ruler. You should have a metal ruler, which will guide your cutting knife along smoothly without getting caught or cutting the ruler itself. Buy a small ruler for quick sketching at a small scale.
7) If you don't own one already, invest in a reliable computer.
Some students even go to the length of having a solid desktop computer, as well as a laptop to take to class. The make and model of a computer will largely depend on personal preference, ability, and programs.
8) Buy and download the Adobe Creative Suite.
You should specifically have a fully functional version of Photoshop, InDesign, and Illustrator. Photoshop will be used for your renderings. InDesign and Illustrator help you with the layout and presentation of portfolios and projects. Other Adobe Creative Suite software apps are also available at a discount for students. Software will be a big part of your budget for the rest of your architectural career. Many architecture students mention using cracked versions of the software, without paying a fee. But overall, it is best to pay for the real thing so you have a smooth experience. It is also an honest and correct thing to do!
9) Useful books work as a guideline for your work.
Whether you're an upper-year student or starting out, get a copy of Design Drawing by Francis D.K Ching. Another few books by this great illustrator to refer to would include Architectural Graphics and A Visual Dictionary of Architecture. In fact, have a look at all of his books to understand the language of graphics in architecture.
10) Invest in earbuds or headphones to get in the zone of inspiration and workflow.
A great set of functional, comfortable, durable, and affordable earbuds that I recommend are the Endurance Run Fliphook and Sweatproof earbuds by JBL & Harman. You can find them at most tech stores, and they will last you a long time. They're good for any setting, too. (*This is not a paid endorsement.*)
Best of luck to you architecture students in your architectural endeavors!