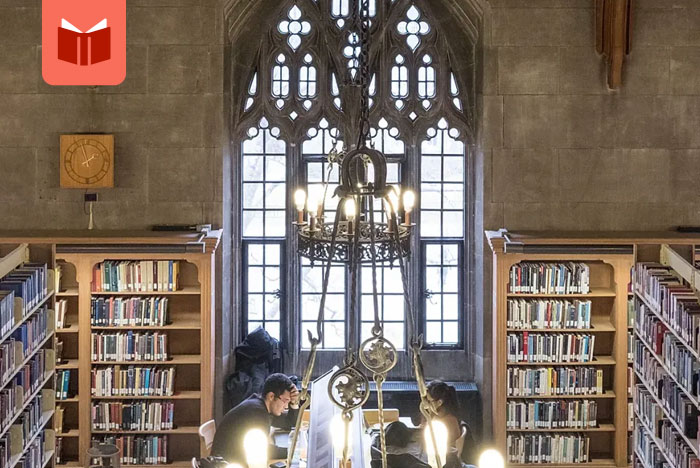 Before you read any further, please note that we will only be discussing libraries on the University of Toronto St. George campus. There are various libraries downtown and some are more crowded. While the program you're in may influence which libraries you study in, it's the course-related assignments and research that can bring you to a particular library (specializing in the information and databases that you're looking for). With such a large campus, it is important to know where to go.
You can always visit the website to make the most of your resources. Librarians at the University of Toronto are happy to assist you. They are available in person, online via the Ask Service throughout certain hours of the day, or by email/phone if you have an urgent question.
Be sure to visit the following libraries on campus:
The Architecture, Landscape and Design Library (The Eberhard Zeidler Library)
Located inside the Faculty of Architecture, Landscape, and Design, this library is your number one place to visit if you're looking for information on architectural works. If you receive an assignment requiring thorough research on these topics, check out this library ASAP. The books you need may be in popular demand by students in the architecture program. There are also some comfortable places to sit in the magazine room and on the lower floor. Additionally, the Daniels Building is an inspiring place to study and research.
The Astronomy and Astrophysics Library
This old library is beloved. It's full of research and discovery of the Department of Astronomy and Astrophysics. If you are taking a course involving these topics, this should be your first stop. Also, it has many spots for desk study.
The Milt Harris Library (Rotman School of Management)
This library is popular among Rotman students as they navigate through their business curriculum, research, and educational endeavours. If this is your first time, ask a librarian to direct you to business-related study resources you didn't know about prior. There are also several spots to comfortably study at a table.
Capital Projects and Planning at John P. Robarts Library
If you are taking an advanced course on planning, this may be the library for you. The resources available are extensive, so be sure to ask for help or direction (this is part of a big library, after all). Robarts has several floors, rooms, and spaces for a unique study experience. Therefore, it will be up to you to explore and see what you find most comfortable and convenient to access.
The Dentistry Library (Harry R. Abbott Library)
If you are trying to work in the field of dentistry, this is the best resource on campus. It is home to the largest collection of oral health and dental health in all of Canada.
The Department of Art Library
This library will be a major facet to you if you are taking courses in artistic or visual studies. It's full of resources on catalogs and exhibitions over the years and from various countries. More importantly, it's quieter so you can get loads of work completed without disruption.
The Earth Sciences Library
For courses that focus on botany, forestry, or geology, this would be a good place to conduct your research. With open communal study space, it may be a good place to get to work as well.
The East Asian Library (Cheng Yu Tung)
If you are researching East Asian studies, visit this gem. It's located on the eighth floor of Robarts Library. There are many comfortable and quiet places to study here. And, it's a nice change to the rest of Robarts' typical noise levels.
The Engineering and Computer Science Library
For your research and collections needs in engineering and computer science. This library is located inside the Sanford Fleming Building.
Gerstein Science Information Centre
Known as the largest health science academic library in the country, this library is very popular for research in the sciences and health sciences. It is also a popular spot for studying in general, but it is not quiet. However, if you're in a health sciences program, you'll definitely find yourself here more often.
Hart House Library
This library consists of a non circulating collection. However, it is an excellent spot for general research and study. Students usually come here for the study experience because it is so architecturally gothic.
The Information Commons at Robarts Library
This will likely be an important place for your studies, particularly in the field of the humanities. It is an information hub where you can quickly get help in-person or use one of the many desktop computers to search through databases. Print and photocopy equipment is here as well. However, it is very noisy and not a recommended spot for individual, thorough study.
Innis College Library
If you are taking a course in urban studies or environmental studies, you should begin here at Innis. Also, Innis is home to information on cinema studies. In general, it is a decent place to research and study quietly.
The Institute for Christian Studies (Knox College)
Located in the basement of the beautiful Knox College, this library will become one of your favourite spots for inspirational research. You will discover tons of information on topics of Christianity. For a theological history collection, visit Knox College Library Caven, also within Knox.
The Law Library (Bora Laskin)
For all of your law-related materials. It is a wonderful place to study because it is quiet and spacious all at once.
Mathematical Sciences Library
For all of your math needs.
Music Library
If you're enrolled in programs or courses involving the study of music, you'll find useful information here. Similarly, it is a peaceful library to study and conduct research.
The OISE Library
Extensive resources on education can be found here, but please note it is often busy.
The Thomas Fisher Rare Book Library
Home to special collections, manuscripts, and books, this library is located inside a branch of the Robarts Library building. It will be a unique experience where you'll find inspiration to conduct research for any project!
Trinity College Library
This library is a great resource for studies on humanities and Anglican theology, as well as being an excellent spot for a comfortable, quiet, and inspirational study. Alternatively, University College Library or the E.J Pratt Library are other options if you are looking for information on topics of humanities, as well as social sciences. Overall, Trinity is the most aesthetically pleasing experience.
Victoria College Library (Emmanuel College Library)
Lastly, for topics on theology and religion, this would be an ideal place to visit. It is also a beautiful, quiet library.
Not all libraries on campus were mentioned, so be sure to explore the University of Toronto libraries and find out which ones suit your research and study needs!