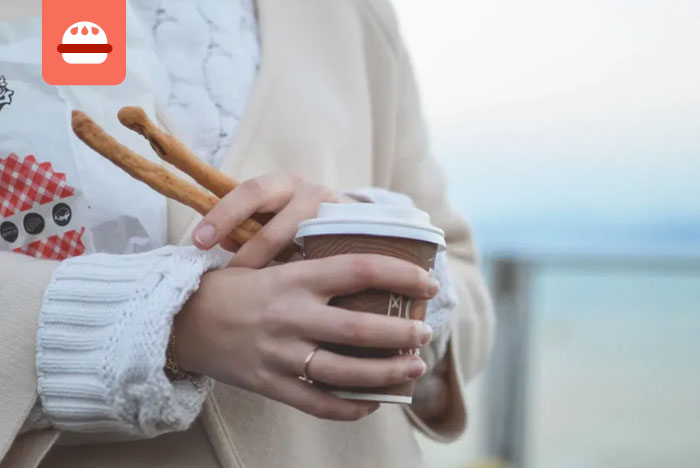 It is wise to pack your own meals for the day, but as much as you plan ahead, sometimes you forget or don't have time to prepare. The University of Toronto St. George is a large campus with many buildings and food options for hungry students. After a long day of lectures, work, or tutorials, you're probably going to be hungry at some point. The question is, where to go?
This is an especially difficult question to answer for students who have classes that occur in the evening and well into the night, as many places on campus will be closed by then. So know what's open near you and until what time. Please note that some of these options are not the healthiest choices, but they are available nearby.
Here are the top places to grab a fast bite at the University of Toronto:
1) The food trucks outside of Sidney Smith Hall.
During your walks along the bustling St. George Street, you may notice several food trucks outside of the Sid Smith Hall building, particularly around noon. The whole area will smell like deep-fried comfort food. While I stay away from the food trucks (it's usually junk food), some of them stay open into the evening hours while cafeterias close around 5 PM. If you're ravenous and don't mind eating something calorically dense, keep cash-on-hand in case you need to visit a food truck. Don't overdo it though!
2) The cafeteria inside Sidney Smith Hall, known as Sid's Cafe.
This is very central, located on St. George Street. Inside, you'll find Tim Hortons, a tortilla place, a gourmet burger place, and more. The Tim Hortons closes at 7 PM, except on Fridays (when it closes at 5 PM). The rest of the cafeteria closes at 6 PM. Aside from the typical pricing at Tim Hortons, prices for everything else (burgers, tortillas) are what you would typically expect nowadays. Additionally, nothing of substantial nutrition will cost under $6. It is a really convenient spot to go if your classes are central to campus and you're hungry.
3) The Grab n' Go food shops throughout campus.
With locations inside Robarts Library, McLennan Labs, The Medical Sciences Building, and Sid Smith, the Grab n' Go is an option for a fast purchase of cold food: sandwiches, coffee, tea, and quick snacks. These locations stay open until about 5 PM every weekday. So, if you don't mind fridge wraps or sandwiches, this is a decent option.
4) Second Cup, Starbucks, and Tim Hortons on campus.
The Medical Sciences building and Sidney Smith Hall have a Tim Hortons if you need a quick rush of sugar or caffeine. Second Cup locations can be found at Koffler Student Services, the Pharmacy building, Rotman, the main entrance of Sid Smith, and Woodsworth College. Generally, Starbucks and Second Cup do not have many hot meal options and their prices are higher. All of these locations typically stay open until the evening hours.
5) Pasta Pappardelle.
For all your pasta needs. With two locations on campus (one in the Medical Sciences Building and one in Robarts Cafeteria), you can choose your own noodles, sauce, and toppings, with meat and vegetarian options available. Overall, these locations serve up an expensive bowl, so be prepared to pay over $7. They close at 3 PM every day in MedSci and at 8 PM in Robarts.
6) So Sushi.
Satisfy your sushi cravings at So Sushi in the Medical Sciences Building. This is a great spot to go for freshly prepared sushi and they're open until 5 PM during the week. Prices are what you expect for a sushi meal.
7) Stone Oven Pizzeria.
Everyone loves pizza, so try Stone Oven Pizzeria. Whether you prefer it by the slice or as a larger personal pizza, Stone Oven Pizzeria has many options. With locations at Robarts and MedSci, you are never too far from a pizza place. Hours of operation vary between both locations. Prices are fair and predictable.
8) Try The Green Beet at Gerstein.
This is one of the only places on campus that stays open on weekends. Located on the lower level of Gerstein Library, it is a place that offers vegan and vegetarian options while encouraging sustainable food, and good practice for the earth. It's a sweet little spot to relax with your friends in a cafeteria-like setting. You can also try Not Just Greens if you're looking for salad options (located next door in the MedSci building).
9) Eat at The Cube at Bahen.
Located inside the Bahen Centre for Information Technology. In this central area of campus, you will find soups, salads, sandwiches, muffins, yogurt, and fresh quick-grab options. They stay open into the evening most of the week, which is handy if you need a fast coffee or energy boost. Keep in mind that prices are on the ridiculous side for healthier items (i.e. salads). Be sure to try U of T's signature coffee brand, Blue Dragon!
10) A good place for Ramen on campus is Ramen Ya.
For a hot bowl of authentic ramen noodles with your choice of ingredients, try this place. Prices are what you expect from a ramen restaurant.
11) The fast-food places near the intersection of College Street and Spadina.
There are a lot of them, and they stay open later than the on-campus locations. If you are hungry for a sub sandwich or a burger, walk five minutes from central campus to this intersection. Most options are greasy, but if you're really hungry, it might be your only option.
Remember to spend wisely when you're hungry. The healthiest choice is to prepare food at home, so try your best to do that instead.