By Yasmeen Alkoka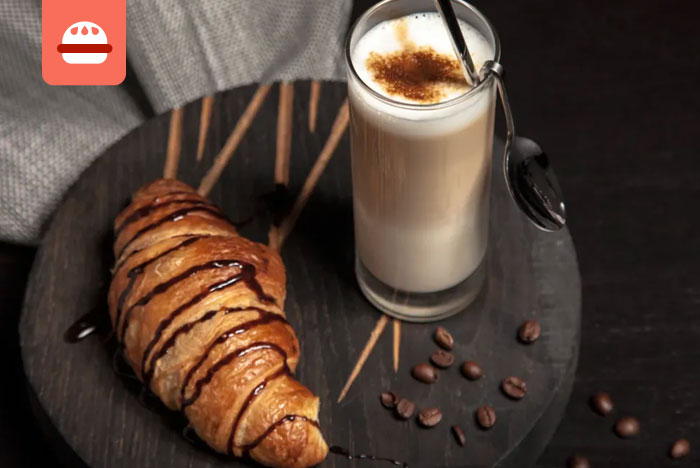 If the University of Toronto Mississauga (UTM) campus is the place for you, then you're going to need a guide on where to find food on campus. Take it from me, a fourth-year student who spends twelve hours on campus every single day. You'd be surprised at how many students don't know about half the food options on campus. Let me be your guide to ensure your tummy is happy and your mind is fueled this year.
BREAKFAST
Ah, yes. The "most important meal of the day." The campus fave is definitely Tim Hortons. Unfortunately, there is only one full Tim's on campus, located in the William G. Davis Building (better known as Davis). If you want any real food from Tim Hortons, be prepared to spend at least twenty minutes in the super long lineup.
If you just want a quick hot drink and a donut or muffin, you can check out the express Tim Hortons: one is located in the Temporary Food Court (known as TFC), and the other one is located in the Communications, Culture, and Technology building (known as CCT). The one in CCT also usually has a few slices of pizza and fridge snacks if you're in a hurry and want to escape the lunch rush.
Let's say you don't want Tim's.
Is there anywhere else to get breakfast at UTM? Why, yes, my friends. The closest option is omelettes and slightly more pricey bagels and muffins at Oooh La La breakfast bar. I have to admit, the omelettes can feel like a really fancy breakfast if you're looking for a change. They're tasty and made fresh on the spot.
Aside from that, you can walk to Oscar Peterson Hall (OPH) and enter Colman Commons for breakfast foods that are usually available until 11 pm. Including scrambled eggs, sausages, tater tots, and toaster waffles. Most people don't know about that one!
If you're a Starbucks person, head over to the library and bear the super long lineups. There is a newer location open in Deerfield Hall too. If you're one of the few who prefer Second Cup, then you'll find one in the Kaneff building.
Pro tip: Every Wednesday morning at 10 am, the student union provides FREE breakfast in the Student Centre. The food options change weekly, but it can be anything from eggs and bacon to french toast and waffles to bagels and muffins. Oh, and don't forget about chocolate milk!
LUNCH OR DINNER
With the new food court in Davis, there are more options now than ever at UTM. What are you craving for lunch/dinner? Maybe Pizza Pizza, Harvey's, Fusion 8, Bespoke, Rotisserie, or Thai Express.
Head over to the Instructional Building (IB) and you can munch on some Subway, Quesada, or Bento Sushi. Walk to Deerfield Hall for some wood-oven cooked pizza or a big box of salad.
You can also find various options at OPH. They have daily lunch and dinner specials, and you can always get a burger or chicken fingers and fries. Sometimes they have fried rice, sometimes pasta, and if you're lucky they'll have tacos.
One of my favourite places to eat is the Blind Duck Pub, located in the Student Centre. If pub food is what you're craving, you can find a long list of options here. My personal favourite is the Duck Fries, which consists of fries, cheese, ground beef, tomatoes, pickles, lettuce, and a yummy sauce. I also recommend the Chicken Caesar Salad and the burger and fries.
Pro Tip: The student union usually provides a FREE late-night dinner during exam season. If you're looking for more free food, check out the various club events on campus. Many provide free food.
Speaking of clubs, if you walk through the UTM Student Centre, you might find students selling food at a table. I've seen Popeyes, biryani, shawarma, and Krispy Kreme donuts (although that fits into the next category).
GRAB AND GO
Snack time! Let's be honest. If you spend a lot of time on campus, you're going to need more fuel than just breakfast and lunch/dinner.
For affordable snack needs, check out the Duck Stop, a little convenience store located across from the Student Centre. They have tons of yummy snacks like chips, protein bars, ice cream, twizzlers, cookies, chocolate, gum, and a whole fridge full of drinks that are probably cheaper than the ones you'll find in the food court at Davis.
Some of the grab-and-go options on campus include the Fair Trade Cafe in the Maanjiwe nendamovinan building (formerly known as the North building), the North Side Bistro in Deerfield Hall, the salad bar and yogurt bar in Davis, and the vending machines in CCT. You can also find pre-prepared meals in the fridges located in the Davis Food Court as well as Colman Commons in OPH.
If you're looking for something to sip on, check out Booster Juice in the Recreational, Athletics, and Wellness Centre (RAWC) right by the gym. For something caffeinated and sweeter, stroll over to Chatime in the Student Centre (same area as the Blind Duck Pub). Or maybe grab the occasional energy drink from Davis or OPH.
As you can see, there are lots of options on campus at UTM to eat and drink. You just have to know where to look.