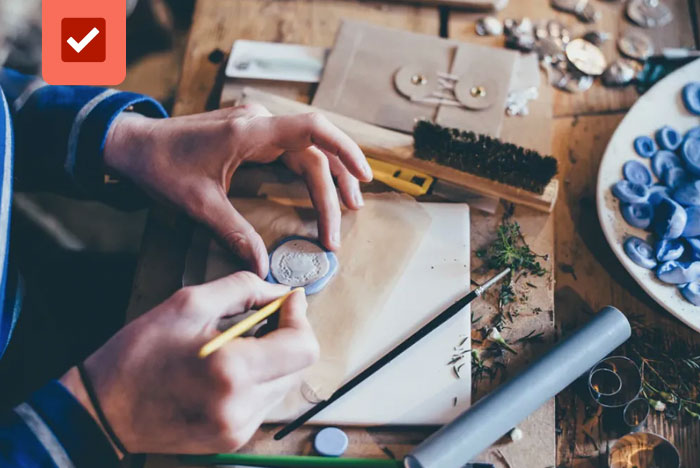 I want to share free and/or cheap non-academic activities you can do as University of Toronto students, just for the fun of it. I know it's hard for you to have fun, meet people and generally do what's happy because it feels like you're unproductive, but that's not true! After all, you are working towards your degree to give yourself a better chance at life, right? If so, it sounds like you love yourself enough to want to invest in yourself. Self-love is important and so is your happiness so why not invest time doing the thing that makes you happy?
5-Buck Lunch
They say the fastest way you can get to a person's heart (your own) is with food. Every last Tuesday of the month, Hart House runs the 5-Buck Lunch for staff and students. For just $5 you can dine in a hall that makes you feel like you're living your childhood Harry Potter dreams.
This program is part of the Drop-in Destress program at Hart House running from 11:45 am – 2 pm. Once you grab a meal you can sit down at any one of the long tables and meet someone new. Occasionally, they host raffles at no additional fees. You can come in on an empty stomach and leave full with a tent you just won (true story)!
Cost: $5
Get Crafty
When's the last time you did arts and crafts? Well, now every Thursday from 11 am – 1 pm at Hart House (also part of the Drop-in Destress program), you can attend Get Crafty sessions for free guided DIY projects. You can try needle stitching, making bath bombs, experiment with cyanotype or partake in making sleeping masks and more. These amazing DIY projects change each week and can sometimes incorporate themes such as mindfulness or sustainability. These are all exciting projects to do and it's great because these sessions are open to all.
Get Crafty is an amazing time to learn, create, meet people, and relax. Anyone (and I mean anyone) is free to join! These sessions also provide you with free tea or coffee and occasionally, granola bars. Nourish your body (kinda) and soul!
Cost: Free
Tip: Let your imagination guide you.
Join Clubs
If you want to relax all while learning about yourself why not join a club? Afterall all, classes will teach you technical things that never really help you develop as a person. The way you can develop as a person is by exploring your interests and finding non-academic activities you are passionate about.
The University of Toronto has so many clubs — from Archery to Anime clubs — it can get really overwhelming to just pick one. The quickest way to get a glimpse of all clubs is during the club fair days. This happens early in the school year. Other times, you can discover them by pausing to read the board in public places like Sidney Smith.
There are tons of groups out there, so depending on what you're interested in, you can search it here. My advice is to use the clubs as an opportunity to explore your interests and find some non-academic activities that help you learn about yourself!
Cost: Depends on the club. Archery cost me $20 for the whole year.
Tip: Explore your interests! I won't become Merida from Brave any time soon, but I learned a few tricks and had fun.
Visit Commuter Lounges
Commuters, do you feel lonely and like you're out of the loop? Why not hang out at commuter lounges. From my experience, these spaces are loud, crazy and basically one of the best places to meet people who actually want to make friends. Sometimes the lounges have events going on like games and karaoke nights. Other times they randomly throw birthday parties to celebrate your birthday, even when it's not, because on that one day it's everyone's 'birthday'!
Commuter lounges are also good spaces to unwind and feel 'at home'. That's why they can come equipped with fridges, microwaves and the basics that can't fit in your backpack.
Cost: It's Free!
Tip: You don't have to be part of a college or university to enjoy its commuter lounge.
Alternative Reading Week
Alternative Reading Week, or ARW as it's more popularly known, is a short term program where you register as a 'volunteer'. During your reading week, your group (along with others) spread out around the city and 'help' these communities. For such a short commitment, you get to do something outside of your academics, go on a trip, and earn a CCR.
You can spend your days showing elderly folks how to use computers, teaching kids how to skate, and more. Different communities invite University of Toronto students so you will be a guest. You can't truly solve a community's problems but you can show your support. This is also a great way to explore different parts of Toronto while doing something meaningful.
Working on a project with your group mates also brings you closer to other University of Toronto students. It's the socializing aspect that we sometimes miss out on.
Cost: Free (TTC and meals are covered).
Tip: Reading week is typically used to finish assignments and study. But work on your time management so you can do it all.
Board Game Cafe
Board games are a fun way to meet students and relax. As such, the board game cafe runs on Wednesdays from 3 – 5 pm at — wait for it — Hart House. It's a great chance to make friends while accusing the other of being a spy. Like Get Crafty, there's also free tea.
At this point, you might not be surprised that Hart House keeps popping up. After all, Hart House was made to house co-curricular activities and act as a place for students to gather.
"The bricks and mortar are but the bones, the community must provide the spirit."

VINCENT MASSEY, NOVEMBER 11, 1919
At this point, it might be worth your time to check out the Drop-in and Destress program at Hart House. And pick out some non-academic activities to dive into!
Cost: Free
Tip: Don't be afraid of joining others, especially if you see them starting a new game.
Drop-In and Beginner Classes at the Gym
I know you know that the University of Toronto has gyms. But don't skip this point! There are so many drop-in programs you have access to as students. Drop-in programs are good for students who are interested in getting fit but are not used to the gym.
As students who are paying tuition, you also have access to super cheap lessons. Ever wanted to learn ballet or how to swim? Beginner lessons are cheaper (especially when you compare the classes taken elsewhere). Take advantage of these classes to learn skills and be fit — just for the heck of it. I know students don't like doing things unless it improves their GPA, but when you're done school that GPA won't matter as much as doing what makes you happy. Besides, doing something fun and active is doubly good for the brain and body. This will help your overall performance.
Cost: Depends. Drop-ins are free. Beginner classes can be as low as $63.
Tip: Don't hesitate!
Conclusion
I've given you my top activities for fun. I hope you go out and try one of these. You are not wasting time if you enjoy yourself. After all, there's nothing wrong with investing time in self-care and self-development. By allowing yourself to do non-academic activities simply for fun, you understand the things that you enjoy. I've heard too many people tell me they have no interests or hobbies, and this thought saddens them. Let's flip the script! Everything in life needs balance. So long as you keep up with your studies, never be afraid to relax!