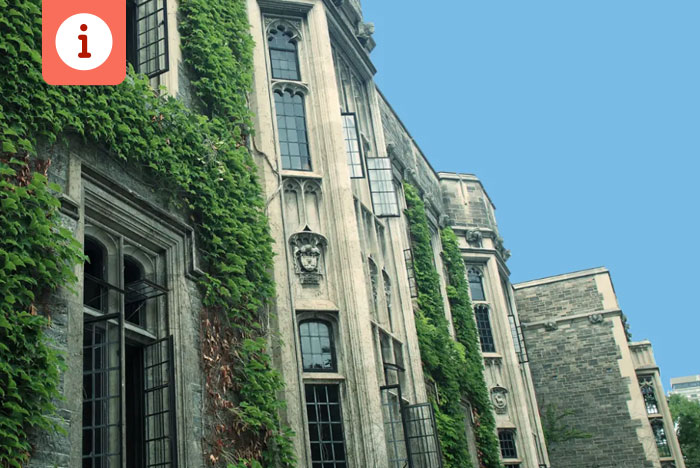 Hart House is the heart of the University of Toronto Campus. If you haven't been to Hart House at least once, you should question whether or not you are a real University of Toronto student. Here is a list of reasons why students love Hart House!
1) Firstly, there's always some fun fitness-related activity to do at the Fitness Centre.
Located downstairs (upon entering the main entrance). Walk straight and turn left until you see the signs. There really is a lot to do down there: group yoga, group cardio, or the gym itself — you will never be bored. Basically, Hart House has almost everything you can think of, and people love that the gym is located in the historic building. It is open every day of the year.
Even more, there is a swimming pool, squash courts, a multi-level gym, and an indoor track. There are courts for basketball and space for archery. Drop-In classes are very popular among students as it's a great way to take an hour break from your work and school-related stress. Additionally, Hart House offers registered classes if you're looking for that: martial arts, yoga, dynamic group fitness, or personal training.
2) Hart House Theatre is the place to go for music and performances.
Moreover, it is a piece of history in itself. If you love orchestral experiences, Hart House has its own orchestra which performs frequently. Be sure to catch them at the Hart House 100th Anniversary Orchestra Event in February 2020. If musicals are your preference, there is a lot of that as well. Jazz choir performances and dancing are also spectacular. Experience the talent! Support the performers by visiting harthouse.ca for schedules and full event details.
3) The Art Museum always has something unique on display.
Comprised of the Justina M. Barnicke Gallery and the University of Toronto Art Centre (located a few steps apart), it is one of the largest gallery spaces for visual art exhibitions in Toronto, with on and off-site exhibitions and events. 2020 is going to be a spectacular year for exhibitions, screenings, and programs. So, stay tuned for updates.
4) Film and photography related endeavours.
Certainly, everyone is encouraged to enter a photo contest or develop their skills. You can visit photo exhibits and play a participatory role in creating one yourself. Bring your camera and meet other photographers through workshops that involve walking through selected areas of downtown Toronto. You learn about the city and hone your photography skills. Alternatively, sign up for a photography or film session to really get into the details. Hart House is also a popular spot for general photography because of the beautiful building itself. Everyone takes a photo under the arches or near the tall rustic windows.
5) Hart House is known for being a central place of dialogue.
Above all, it is an excellent place to visit to gather, debate, and discuss ideas and topics of the world as they unfold. Hart House is a good place to make your voice heard, and engage in constructive discourse. Similarly, justice, history, and activism are some of the topics that are central to these events. Visit harthouse.ca for full listings and schedules.
6) Host or attend events on campus.
At the time this article was written, Hart House was undergoing some construction, but the place is often bustling with activity. Whether groups are practicing their orchestral performances throughout the building or there are displays of art in the hallways — there's usually something. Likewise, people love the scale and grandeur of the architecture, which brings us to the next point.
7) The architecture is beautiful.
You rarely see stonework like this anymore. Fine craftsmanship went into the details of the façade (can you find the intricate carvings and small statues?) and give this building character. If you haven't explored much of it yet, check out the Great Hall and the Quad (especially in the summer when things are in bloom). There are large rooms like the Debate Room, Music Room, and Gallery Grill. Also, there's a Chapel, the Bickersteth Room (oak paneling and interesting old bookcases), and sitting rooms (for reading and writing, if you wish).
8) Hart House has a farm! Yes, a farm.
But as far as we are concerned, there are no farm animals. The farm is located in a natural setting far away from campus in Caledon Hills and offers great trails and creeks. Check it out someday if you are looking for a summer adventure. I remember students in my program spent a week at Hart House building a structure on the farm. There is so much that the property is used for! Hopefully, you explore all that Hart House has to offer!
Also, if you're looking for more events to attend, check out Fun Downtown Events for University of Toronto Students.