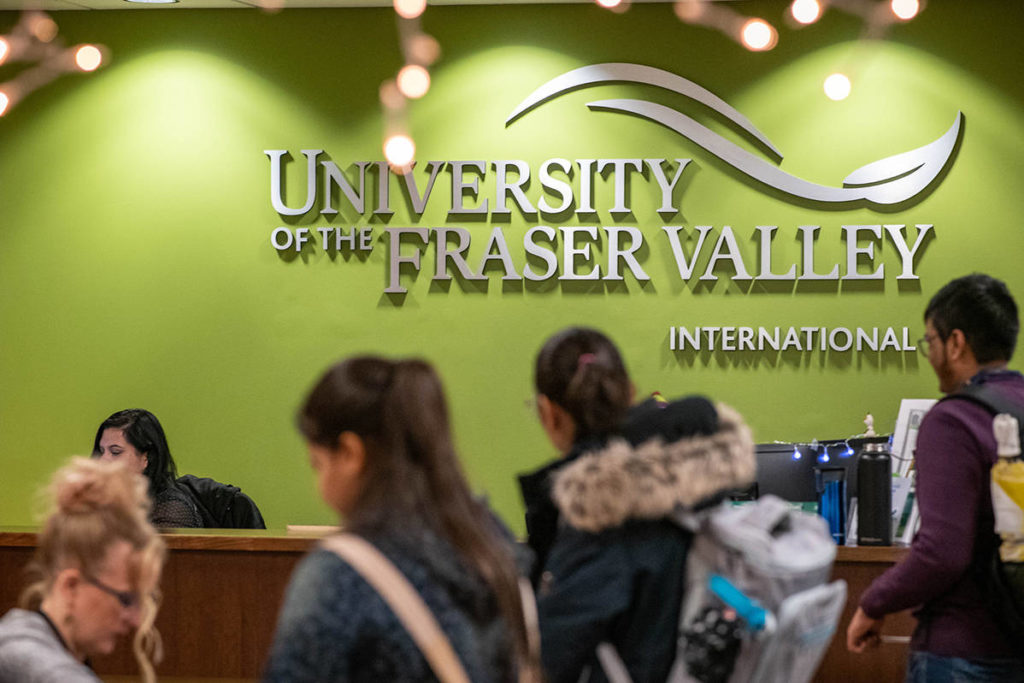 Whether you've taken a virtual tour or have been there physically, it's clear that UFV's facilities are very modern and somewhat new and there is good reason for it. The past decade, UFV has seen a great period of growth and recognition from incoming students and employers who are looking for students with the practical knowledge that some other universities do not prioritize.
The history of UFV came out of the need for a post secondary institution within the Fraser Valley community. The original proposed location was set in Chilliwack on Lickman Road, however, an election for a new government in 1972 postponed those planned. It wasn't until 1974 when the Fraser Valley College (FVC) was established. There were no actual facilities to house any lectures or classes, so teachings were held in church basements, public schools and rented facilities. The first year of FVC had a decent enrollment of about 2,490 students in total. Facilities weren't properly established until 1983, when the first permeant campus had been established in Abbotsford with trades and later agricultural programs offered. The Campus' success towards teaching students the practical skills to join the work force had not gone unnoticed and in 1991, the Fraser Valley College gained university-college status and became the University College of the Fraser Valley (UCFV). The following, UCFV began offering its first bachelorette degrees and they even opened up a health sciences centre in their original Chilliwack location. By 1995, UCFV along side other university colleges within BC were given the right to grant degrees.
UCFV continued to build it reputation along with adding more courses and programs to supplement the growing community of Fraser Valley as well as attracting international students to attend the university college. This all culminated in 2008 when the provincial government amended the University Act and upgraded UCFV to what we know it today as the University of Fraser Valley. By the fall of that year, they were officially operating under the name of UFV. Over the course of the past decade UFV has continued its pursuit of creating more and more programs and facilities to accommodate the growing number of students.
In their part of creating a better university experience, the University of Fraser Valley has attracted some interesting and famous personalities and persons along the way. Here are some notable and possibly infamous alumni of UFV.
Notable Alumni From UFV
#1 Lauren Southern
First things first, Lauren while technically not being an alumni she did rightfully study in the halls of UFV studying political science and leaving her studies in the pursuit of right-wing journalism. Lauren has sparked controversy over her opinions and ideas about race, gender equality and social movements. She does not represent the opinions and views of UFV but it's undeniable that she almost graduated from there.
#2 Sage Testini
Child actor Sage Testini had attended UFV long after his glory days, however, you may recognize his younger self in the films Augusta, Gone, Dead in a Heartbeat, and the Christy film series. He has done some guest work in the recent past but has yet to land any major role as of late. Nevertheless, his early media stardom lands him the number two spot for notable Alumni.
#3 Mark Village
Lasty, we have a local alumni and soccer player Mark Village. Mark attended UFV around the early 2010s and was a goalkeeper for the UFV Cascades. In his first and successive seasons he was given the title of MVP for his team.His career in the UFV Cascades lasted him 4 years between 2012-2015, after that he switched to coaching and has remained in that position. He currently oversees the training of all goalkeepers in Pacific Football Club (Pacific FC). Mark earns second place for having an impact on his local soccer team as well as coaching his current major league team.
While the history of UFV may be recent and the alumni list may be short, the education and the countless other ways UFV provides for its community and students are important. The next generation of students can also very well be the next famous alumni to make it on the list. Evidentially they can also be the next advocate for a new program or building for other students to enjoy and make us off. The possibilities are endless when it comes to UFV.