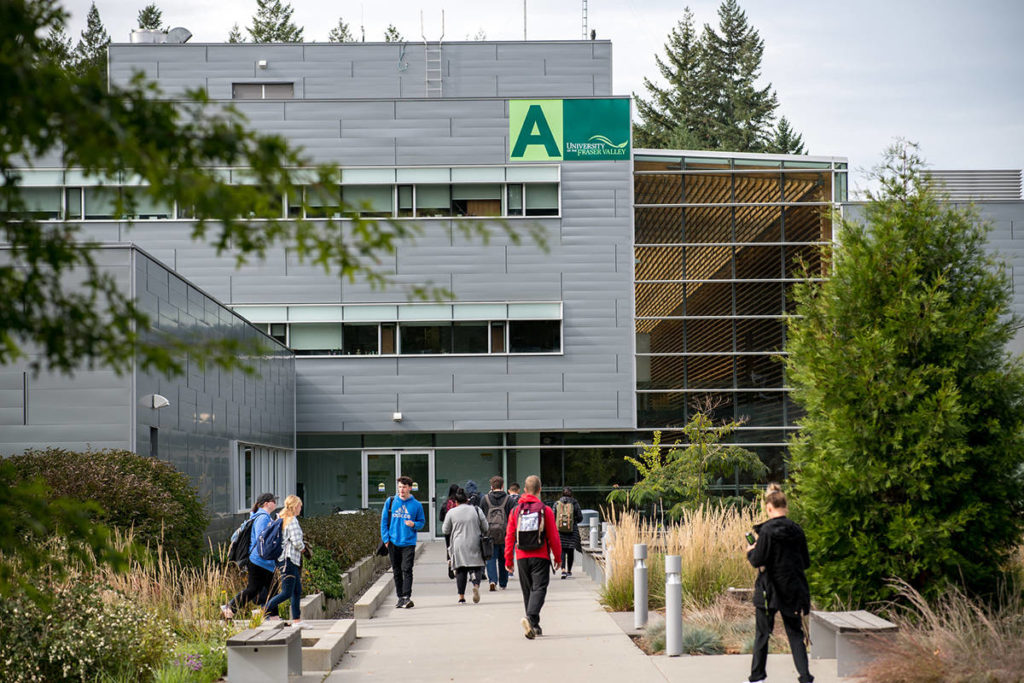 Living in Residence is Okay; it's cheap and affordable. However, you lose the ability to cook, hang out or even wash yourself in private. If that's not a turnoff, the building can only house around 200 residents at all times, and priority always goes to first years. Thus, finding an alternative place to call home for the next 4 years or so should be your top priority before moving into the Fraser Valley. With that in mind, here are the top 3 neighbourhoods you should be looking out for when finding a place to rent in Abbotsford.
UFV Neighbourhood
Right beside UFV is a couple blocks of suburban neighbourhoods that have some affordable bachelor suites, around $1200 in some of the apartments there. You can possibly find some houses to rent around the area, but that's few and far between. Public transportation in the area is few and far between, so relying on the bus may take longer than walking there or biking. Driving, however, is only a 5-minute drive at best and is the most reliable option for those who can afford to do so.
The perks of living near the campus speak for themselves, close proximity with food, restaurants, and entertainment options. However, the nearest grocery store is located across Highway 11, so taking a bus or using a car is the best option next to biking. Recently there has been some development around the campus. Hence, houses and apartments are relatively new for those that prefer newer housing. In addition, the community next to UFV is relatively peaceful because most of it is suburban neighbourhoods behind that. Beyond the suburban community are farmland and giant properties, so you won't be kept up at night.
Downtown Abbotsford/ Mill Lake
Finding an apartment or duplex in the centre of Abbotsford is the best option for living away from school and wanting to stay in a place with convenient access to all the essentials and more. However, taking the bus takes an average of 30 minutes without traffic, and times and frequency vary by day as well, so that's something to keep in mind if you don't have a vehicle.
Living near the centre of Abbotsford will give you plenty of options for restaurants, fast food joints, grocery stores, etc. Stores like the Real Canadian Superstore and even a Save-On-Foods are essentially right next to each other, as well as a Scotiabank. In addition, you'll be living fairly close to Mill Lake Park, a peaceful place to reflect or take a walk around if you need a break from the city or school. Housing around the area mainly consists of single and/or bachelor suites, and prices are on the higher side at around $1500-1900 and month for said apartments; finding a duplexed home that's renting out to students may be a bit more difficult, so be aware.
West Clearbrook
Living in this West Clearbrook can be relatively cheaper, with bachelor pads starting around $1000.The apartments here are somewhat older than compared to apartments near UFV and near the town centre. The centre of West Clearbrook has some more practical conveniences with a Value Village, Rona, and a plethora of Fast Food options and Restaurants to fill your heart's content. A plus side to West Clearbrook is that it's another Suburban neighbourhood so expect to have peaceful and quiet roads in the afternoon and night with some green spaces and parks to switch it up. Lastly, taking public transportation can take up to 40 minutes without traffic. This is due to the nature of the neighbourhood having slower maximum speeds. Furthermore, there aren't as many bus routes that go directly through West Clearbrook to UFV. However, those with a car or faster means of transportation can enjoy a relatively short transit time since you can cut through the highway to get to campus.
For many, affordability is often more important than the living conditions of the place you wish to rent at. It is a huge problem that is rarely addressed. Luckily enough, Abbotsford and much of the Fraser Valley have been experiencing a decent population boom, leading to more affordable housing and apartments relative to Vancouver. Suppose you can find a decent looking apartment in these locations. In that case, you'll more likely than not be living comfortably for the rest of your time in Abbotsford.