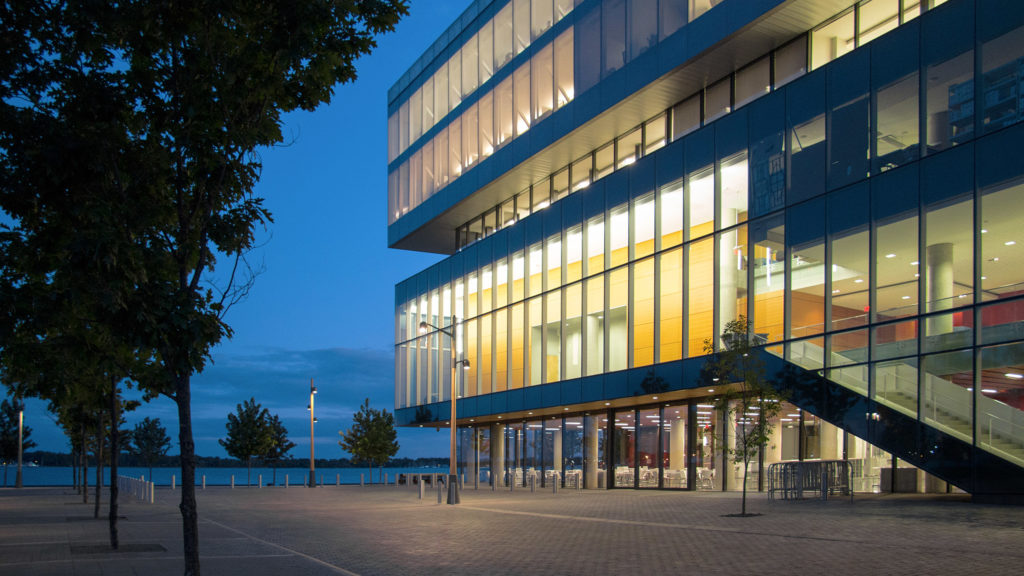 As a student from George Brown College's St. James Campus, you start to pick up habits as you immerse yourself into campus life from the first day on campus during orientation week to your present self now. Here are some common things and experiences you probably can relate to as a student at George Brown!
You're Immune to That Canadian Cold Weather
Commuting to school and through downtown Toronto during the winter at first was like walking through the trenches but now that 10-inch snow trail you're walking through does not phase you. After rigorous days of experiencing all the public transit delays due to the weather, you just want to get from one point to another quickly, ignoring every obstacle in your way. You are plowing through the snow and practically skating on the icy floors all the way to your class's building like it's an ordinary day. Even so, downtown fashion is also another reason for your immunity. Sometimes you don't even need to wear gloves or scarves because it doesn't go with the long coat you're wearing and it gets in the way of your morning coffee. And it's not like you'll catch any frostbites because your skin cells have adapted to this regular life. Overall, public transit and downtown commuters are some of the strongest people during the winter season. Someone might even catch you drinking an Ice Capp when it's -20 degrees outside!
Are You Going to Compete in Food Network Canada's Cooking Competition Shows?
Now, this is for students in George Brown's Chef School. You're making brilliant dishes for your friends and family now that you're learning it from culinary school! A common compliment you'll hear is that you should compete in Chopped Canada. You'd likely get asked by people who aren't in the culinary arts about whether you would consider competing in cooking shows. However, a response you'd probably told them is that you simply can't. A lot of cooking competition shows are for amateurs/home cooks so your application, as a culinary student and soon-to-be chef, could be tossed away and disqualified because you're TOO qualified. Overly qualified. I think that's a compliment as well! But the question still holds, for shows with professional chefs competing, would you compete? That's up to you. However, there's no saying that you can't be a judge on these shows in the future!
You've Became a Farmer!
Not only are you a chef in training, but now you've had the opportunity to be a once and a while farmer! What started from trying to grow an apple tree as a kid has now led you to help out with growing vegetables at school! If you're not necessarily familiar with it, visit the second-floor patio of building A to see the action! On this patio, students in the Chef School have the opportunity to grow herbs, vegetables, edible flowers, and microgreens. Included in the farming process is being able to harvest them! These are used as ingredients for dishes made at the school's restaurant, The Chef's House. Now when you're making or consuming food from here, you'll know that these ingredients were probably grown and harvest locally with love from the George Brown students!
Endless Cooking and Eating
This will probably apply to you whether you are in the Chef School or not! Culinary students are cooking up meals and dishes regularly for their learning and practices. Even so, you're probably now known as the chef of your family and friends group and they are constantly wanting to try out your dishes! Now if you're not in chef school but are friends with a culinary student or active on the campus overall, you probably have an endless amount of food! Whether it be being the test subject for your friend's dishes, or you're first in line when culinary courses are giving or selling their dishes on campus. Either way, although you may get bloated from all these food tastings, everyone you know is probably jealous that you're exposed to such great foods all the time!
Conclusion
As you can tell, George Brown College is famous for its culinary program and it sure shows from on-campus doings. As a student on the St. James campus, if you don't know the culinary department, or never tried to seek out their foods, are you really a student at the campus? Or are you just getting to your classes and leaving campus right away? I mean hey, it fits the criteria of getting in and out of places quickly as a downtown Toronto student! However, George Brown has such a reputation for a reason, and it'll be a great opportunity to enhance your time on campus by delving into its culture!