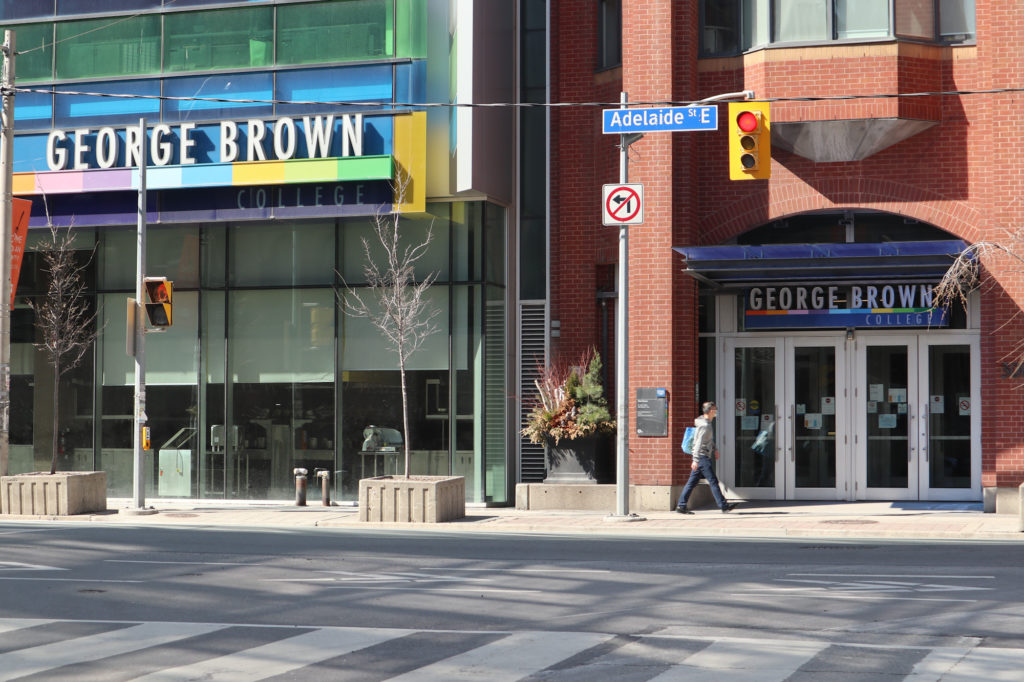 Are you about to graduate from George Brown College's St. James Campus and haven't had the opportunity to explore as much as you'd like? Being in downtown Toronto also means that there are a plethora of places to see and things to do before you depart. The St. James Campus is surrounded by a number of historic sites and is located near a number of famous Toronto attractions. Here are just a few of the many places you can visit near campus before you graduate:
Distillery District
A 10-minute bus ride away from campus is the Distillery District which operates year-round with unique shops and restaurants to visit. The ambience is the greatest aspect of this site. It's worth a wander around just to soak in the atmosphere of one of Toronto's most popular hangouts. The Gooderham and Worts Distillery, Canada's largest distillery, was once located on the site. Today, the monument is alive with art galleries, entertainment venues, cafés, restaurants, and a brewery. This is the place to go if you want to get a deep sense of Toronto's history. Throughout the year, there are festivals and outdoor displays to enjoy. You would have to go in person to see and experience it yourself!
The Christmas Market at Distillery District
One of the events held at the Distillery District, which makes it even more special, is the annual Christmas Market. All of the Christmas lights and attractions make for the perfect photo opportunity. In addition to the stores and delicacies previously existing, the Christmas Market introduces a number of new market vendors with special menus, including Eva's Chimney Cakes, DAS KARTOFFELHAUS' Tornado Potato, and fresh caramelized Liège inspired waffles at Wafel Bar (the last time I went there I got free hot chocolate!). The prices usually range from free to $12 depending on when you go and when you buy your ticket.
St. Lawrence Market
The almost 200-year-old St. Lawrence Market is within a few minutes walk from campus. The St. Lawrence Market is frequently cited as one of the city's top food marketplaces. There are 200 merchants selling everything from fresh pasta to local mustard, crab to handmade bread. It's a historic market where you can buy fruits, vegetables, seafood, meat, baked goods, and sandwiches, among other things. You can smell great cuisine as soon as you walk in, so be ready to have your tastes pampered. Farmers bring their seasonal food to the market on Saturdays, while antique vendors may be found on Sundays. It is a popular tourist attraction in Toronto. Writing this makes me realize how much I miss it! During elementary school, I would always go here on field trips but I had no money to buy all the things I wanted to try. I'm definitely going to visit it soon now! Don't miss out on the opportunity as well.
Market Gallery
The Market Gallery is a small, exhibition located on the second floor of the St. Lawrence Market displaying the city's history. There are exhibition displays that draw on the City's rich collection of fine art, historic relics, and archaeological specimens, allowing you to see the history of Toronto and its evolution. You may travel through the chronology of what formed Toronto the city it is now using records, film, photography, and artifacts. Market Gallery exhibits, in addition to presentations, excursions, and workshops to let you immerse yourself in the city's culture.
Bahn Thai Spa
Looking for some good relaxation after all the endless days of studying and attending classes? The Bahn Thai Spa located 3 minutes away from campus can help you with just that with their traditional Thai massage and wellness services. They want your spa time with them to be unforgettable. From the time you step in the door, they go to great efforts to assure your comfort. While you wait to be transported back to their Zen Zone, sip on Lemongrass tea. Snuggle up on their bamboo sheets and pillows. Warm yourself up with an Infrared Sauna and let the tension slip away. To make your time there even better, take some of that organic Lemongrass oil-infused Epsom Salts home with you to as a souvenir. You can book a traditional Thai massage session for 60 minutes and up. As a student, you catch their student discount, so be sure to try it out before you graduate!
Conclusion
These were only a few of the many possibilities available to you while you're a student at the St. James campus. Make a habit of visiting as many locations as possible around you before you're no longer in the area. If you're looking for more places to visit, see where your fellow students are going and enjoying through George Brown College's Instagram highlight stories "Campus Spots". Spend your time on campus having fun and discovering new places before your time as a student there is up!