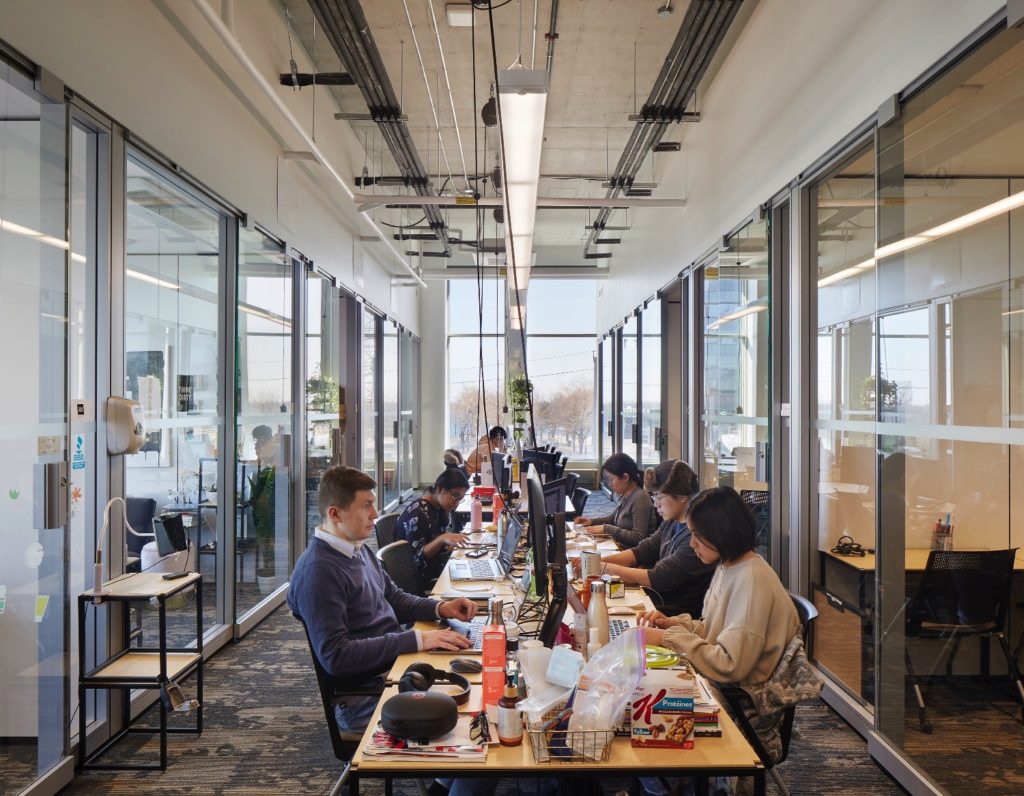 Not everybody gets the chance to see Toronto's harbourfront and lakeshore everyday like George Brown College Waterfront Campus's students do. It's time to make the most of your time in the area before you graduate and rarely get to see it anymore. Before you graduate, check out these awesome activities to do near school!
Ride the Centre Island Ferry to Centre Island
A 13 minute walk from campus along the waterfront, you can find the Centre Island ferry terminal and head off to Centre Island. Riding a huge ferry, swimming at the beach, and renting bicycles are just some of the few things you can do here with your friends! For your trip on the ferry, you can buy your ticket ahead of time online or line up for the in-person ticket booths. When your ferry arrives, it's time to board! The ferry consists of both the lower level and upper level. Both levels have a nice breeze, however, if you want to feel the strong breeze with the sun over your head, standing on the upper level will do just that! When you arrive to the island, you can do all sorts of things! You can ride up to 30 rides which includes things from merry-go-rounds to water rides like the Log Flume ride. You can also visit their Far Enough Farm and meet up to 40 different animal species including pigs, horses, sheeps, donkeys, rabbits, and more. One of my personal favourite things to do here is rent bikes! Their bike rentals ranges in a variety of bikes such as single bikes, 2-seater quadricycle, and 4-seater quadricycle. Not only would this be a great thing to do with your friends, but now you can enjoyably explore the island as well as going through their William Meany Maze. Be sure to visit or even revisit the island when you can!
Visit Sugar Beach
Just a 2 minute walk away from campus is the Sugar Beach park! Don't let the name fool you, however, you can't actually swim here since it isn't actually a beach. This is a plus for people who just want to enjoy themselves at a beach's sand but don't want water splashing all over them! At the Sugar Beach park, you can enjoy the sun play in the sand, or have a nice relaxing beach picnic under one of their many pink umbrellas! Other than the sand itself, there is seating everywhere so you can sit back, relax, and watch the lake and sunset. There is a splash pad nearby if you were looking to have some fun in the water. If you're looking for a stunning and peaceful place to just sit and relax after all that school work, this is the place to visit! Don't forget to apply your sunscreen!
Enjoy a Show at the National Ballet of Canada
A 30 minute stroll along the waterfront is when you will find the National Ballet of Canada. This organization presents you a series of brilliant ballet seasons with new stages. Some past examples of their shows includes The Nutcracker, The Sleeping Beauty, and Swan Lake. Besides the buildings beautiful structure itself, the National Ballet of Canada brings top-notch performances with mezmerizing choreographies, professional ballet dances, stunning sets and costumes, and outstanding acoustics and sound systems. This will be a fantastic event to watch. Now, I know what you might be thinking, 30 minutes of walking can be a lot! However, you'll be walking down the boardwalk seeing the beautiful sites of the lake and downtown Toronto. Just think of it as the pre-show to the ballet show you're about to attend! Be sure to get the full taste of downtown Toronto while you still can!
Enjoy the Toronto Buffet Dinner Cruise
What's the purpose of being near the lakeshore and not taking advantage of all it has to offer? It's time to live out your yacht dreams and reserve a dinner on the Toronto cruise. The City Cruises allows you to do just this to create a memorable evening. You may have a wonderful buffet meal while taking in stunning sunset views of Toronto's skyline that you wouldn't see otherwise. There are a variety of meals to select from, including roast beef, grilled chicken, fresh seafood, and more. A live DJ is also there to keep you dancing all night long with a bar alongside it to keep you hydrated. This would be a great place to wind down with your friends and enjoy a great meal with an amazing view–you know, unless you get easily seasick.
Conclusion
Being on the Waterfront campus provides limitless opportunities to immerse yourself in Toronto's downtown and waterfront culture. You can enjoy a great time with your friends, or even enjoy a nice relaxing time for yourself. Regardless, these are some of the great places to visit near campus before you depart from it! Enjoy it while you can!