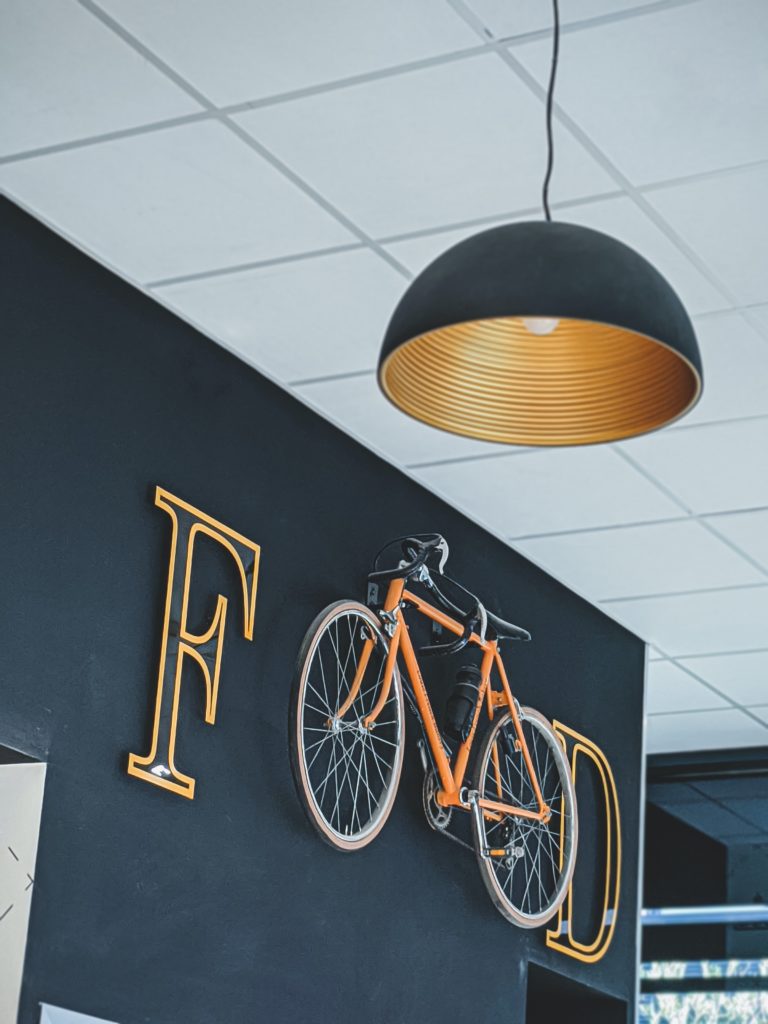 The Casa Loma campus is surrounded by restaurants and local businesses that make the community great. Whether you're looking for a place to grab some food and go or a place to sit down and share a meal with your friends, there are plenty of options both on Campus and off. For a student at GBC Casa Loma, here is a brief overview of what restaurants and sorts of cuisine you may find around the area.
If needed, please refer to the Casa Loma Campus Map while reading.
Foods on Campus
First and foremost, if you don't want to leave the school grounds, there are several food vendors housed within the Casa Loma Campus buildings. These include selections for a quick cup of coffee, snacks, and also meal options. Here are just a few examples of what you can find:
Main Cafe
Located on level 2 of Building C includes a dining/cafeteria area with multiple food vendors. These include Bento Sushi, Grill & Co, Pizza Pizza, Tim Hortons, and On-The-Go. You can come and buy some sushi, pizza, burgers, or coffee and take a seat at the cafe seatings or take your food on the go.
La Dolce Vita
Building E also features multiple food vendors, however, located on their first floor includes a dine-in eatery, La Dolce Vita. The restaurant, seating up to 30 people, provides Italian cuisine, with their excellent lasagna being a student favourite. If this seems like a good fit, stop by La Dolce Vita for a meal after class!
Casual Dining Restaurants
These restaurants give an eating-in experience with your normal waiters and servers, whether you're with friends, family, or on your own. Feel free to visit these locations with a group of friends or even for a special occasion (just remember to phone ahead if you have a large party)!
Nord Bistro
Located at 406 Dupont Street, Nord Bistro is a 3 minute walk away from Building D. This business, local to the neighbourhood, serves up French, European, and Canadian cuisines. Depending on your budget, it can be a bit pricey for a regular visit as their mains range from $25-$33. However it seems pretty reasonable as their food quality is no joke! I mean, check out the pictures and their Yelp and TripAdvisor reviews. Almost all reviews are 4 stars and up with only good things to say about their meal orders. This spot is a great place to visit with your friends to sit down for a fancy meal!
Chadwick's Craft Kitchen & Bar
Located in the same area around the corner at 268 Howland Avenue, Chadwick's Craft Kitchen & Bar offers a multicultural menu showcasing the taste of East & South East Asia, Latin America and more. Providing a dinner, brunch, and lunch menu, some of their dishes include but are not limited to Queso Frito, Birria Beef Taco, Way Southern Fried Chicken, 3 oz Burger, Fish and Chips, and big sides like salads and tortilla chips. Similarly, their dishes can be quite pricey. However, their cuisine looks too delicious not to try out, it wouldn't hurt to dine-in once in a while (and their portions are huge)!
Vesta Lunch Restaurant
A five-minute walk away from Building D sits Vesta Lunch Restaurant on 474 Dupont Street. Vesta emulates the retro breakfast diner vibes. The diner is arguably one of the biggest landmarks of the community as it has operated 24 hours a day since 1955. Offering all-day breakfast, burgers, sandwiches, and other classic diner foods on the menu! If you're looking for a simple meal and a chance to immerse yourself in the community, this is the place to visit!
Annex Social
Also in the neighbourhood is Annex Social on 1078 Bathurst Street. Given in the restaurant name itself, Annex Social is a great place to eat at and socialize with friends. Their menu is inspired by Mexican and Californian cuisine which can be consumed with their famous craft and foreign beers, fresh cocktails, and well-priced wine on the side. However, it is the lively and social environment, as well as the cozy seating and laid-back interior, that distinguishes this restaurant. This is the place to go if you're searching for a spot to mingle and network while enjoying your meal.
Conclusion
The Casa Loma campus is situated in a neighbourhood that values being a part of the community. The Casa Loma campus is situated in a neighbourhood that values being a part of the community. Don't be afraid to visit these places and maybe become a regular! The list I've provided is only a small taste of what's available near campus, however, there are many more amazing places to visit and enjoy with your colleagues and friends or new people you may meet along the way. Finally, please check the restaurant's websites and menus ahead of time if you have any dietary restrictions. Enjoy your meals!