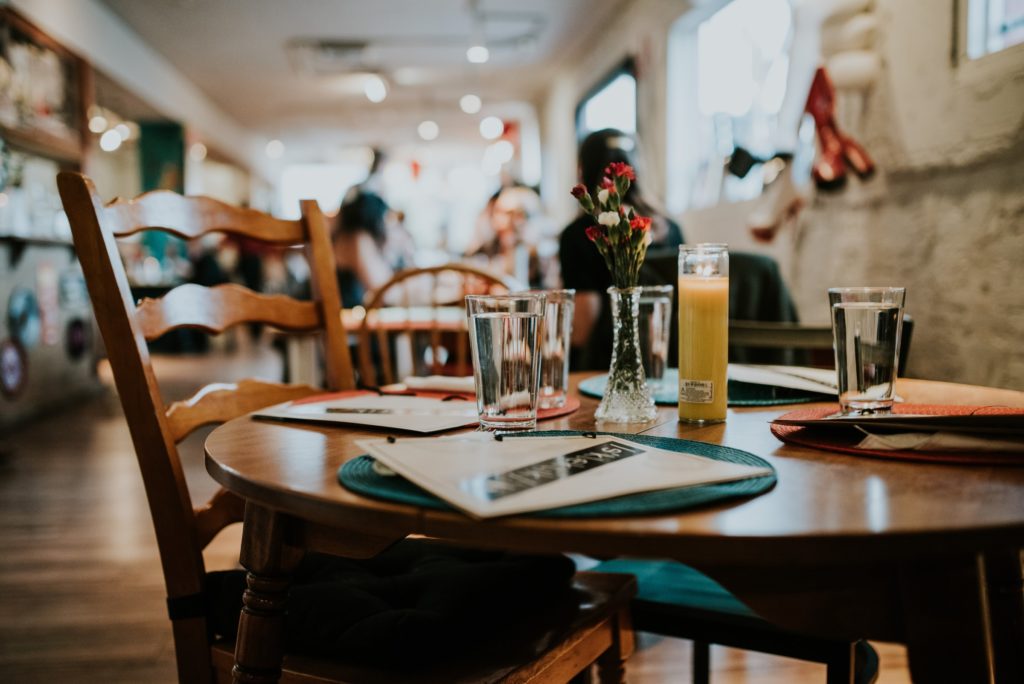 Located in Downtown Toronto, the GBC St. James campus is surrounded by numerous restaurants of all types of cultures and cuisines. Whether you want to grab a bite to eat on the run or sit down and share a meal with your friends, there are plenty of choices both on and off-campus. Here's a quick rundown of the eateries and cuisines you can find around GBC St. James if you're a student there.
If needed, please refer to the St. James Campus Map while reading.
Foods on Campus
To start, there are many food vendors situated within the St. James Campus buildings if you don't want to leave the school premises. You can grab a cup of coffee, buy some snacks, and enjoy some meals. Here are a few examples of what you could come across:
The traditional cafe options
St. James Building A includes a cafeteria on the lower level with vendors such as Bento Sushi, Pizza Pizza, Fusion Asian Cuisine, Tim Hortons, and Chef Inspired. On the fourth floor, the cafe consists of Starbucks and On-The-On with prepackaged products ready to be picked up and bought. The Kings Lounge area (room 150), also located in building A, has Fit for Life, and Subway.
Student-run eateries on Campus
George Brown's Centre for Hospitality and Culinary Arts being located at St. James also comes with a lot of cafes and eateries ran and led by students. Be sure to drop by the following shops and try out their dishes to support your fellow students!
The Chefs' House
Located next to Building A, G, and D on 215 King Street East is The Chefs' House. This innovative restaurant actually includes many dishes made and put together by your fellow George Brown students in Hospitality & Culinary Arts. Mentored by George Brown's professional team, students implement their skills and learning by presenting thousands of dishes annually. Trends in the food industry and student ideas all have an impact on the changing menu.
GBC Café
Located on the second floor of building B is the GBC Café, a student-run café. Daily specials at the GBC Café include fish tacos, mac and cheese, and fried chicken. Pizza, sandwiches, and salads are also available as well as a pleather of pastries, smoothies, coffees, and teas to choose from.
Chef On The Run
Chef On The Run located on the main floor of building B is a shop ran by George Brown students selling pre-packaged foods, pastries, and desserts created by its culinary students in class. The foods are sold limited as they are all sold on the day of. They are also priced relatively low around $6 for full meals and desserts (including cakes!). If you're planning to visit, be sure to get there early because there are often lines and the foods sell out fast!
Kings Lounge Bar and Eatery
The Kings Lounge Bar and Eatery is run by students, serving cuisines such as fries, chicken wings, burgers, and pizza with vegetarian and gluten-free options. Their bar provides drinks such as soft drinks, beer, and coolers. They are located in building A, room 150.
Restaurants near Campus
Now if you're looking to explore different foods in the city, these are some options you can find and visit near campus on your way or after class.
Shawarma House
Located around 5 minutes away from building D is Shawarma House on 222 The Esplanade. The store serves fresh and affordable falafel, shawarma and a large selection of other Middle Eastern foods.
Khao Hakka
Khao Hakka located at 37 Sherbourne St is a block away from building D and H serving Indian-style Chinese cuisine. Their menu includes stir fry, seafood, ramen, wings, fried rice, and fried noodles including a lunch deal and meal for 2 deal (subject to change).
Tacorrito
Located next to building H on 263 King St E is Taccorrito. Tacorrito is a fresh new twist on Mexican food, combining tacos and burritos while using fresh ingredients for the topping and fillings. However, their menu also includes the regular burrito, tacos, quesadilla, nachos, poutine, and more!
Gabby's
A few minutes away from building A on 189 King St E is the local family-run restaurant, Gabby's. They provide a casual dining space with a sports bar area, selling foods such as chicken tenders, wings, steak, pizza, burgers, and much more. This would be a great spot to enjoy a meal and socialize.
Biagio Ristorante
About a 10 minute walk away from building C is Biagio Ristorante, an Italian restaurant on 155 King St E. With a stunning dining area and patio, the restaurant offers a wide selection of pasta dishes which can be quite pricey however, the restaurant in itself provides a fancy and fine dining environment.
Conclusion
There are tons of places to eat around the St. James Campus. Don't be afraid to explore the endless options, whether it's student-run restaurants, local restaurants, or even well-known chain restaurants like Subway. This is only a sampling of what's available on and around campus. There are many more incredible locations to explore and enjoy. Finally don't remember to check-in before hand if you're inviting a large party or have any dietary restrictions. Happy eating!