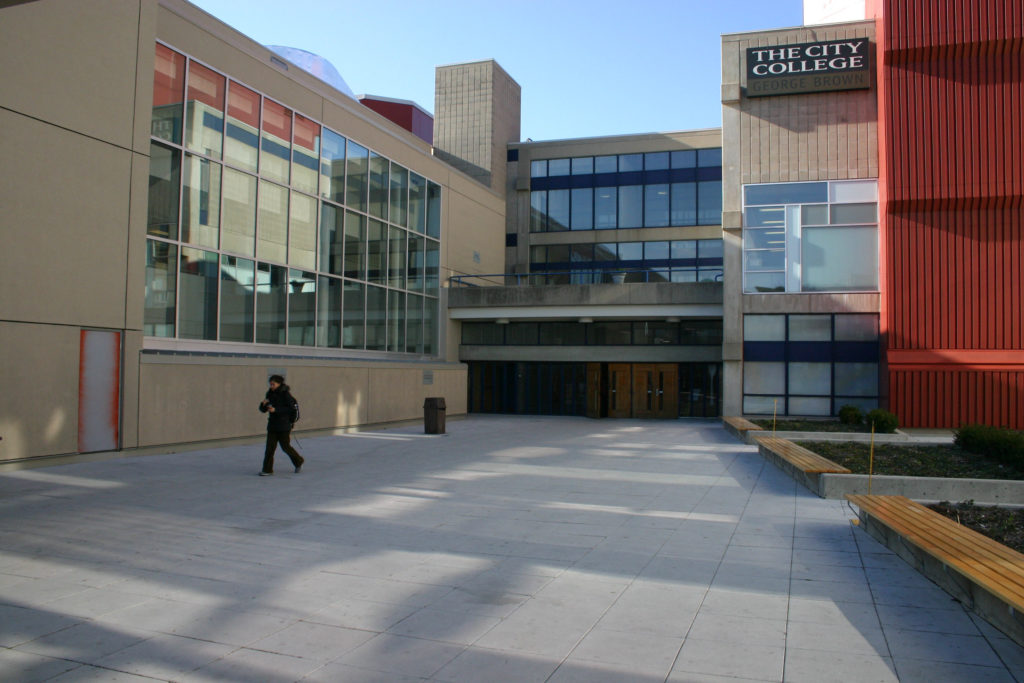 George Brown College offers a combination of theory and hands-on experience in their academic programs. They place an emphasis on real-world and experiential learning by giving students the chance to collaborate with industry professionals on applied research and field education projects. Now let's take a look at how George Brown's academic offerings started and how they developed.
George Brown
George Brown College was named after the late Scottish-born Canadian Liberal Politician, George Brown (1818-1880). He is one of Canada's Fathers of Confederation as well as the founder of "The Globe", or as we now know it as the Canadian newspaper, "The Globe and Mail". When naming the soon-to-be-launched college of applied arts and technology in 1967, Bill Davis, the Ontario Minister of Education at the time, suggested using George Brown's name. Davis thought this was a fantastic way to honour George Brown for everything he had done for the country as a Canadian politician and journalist, especially because Brown was a firm advocate of public education.
George Brown College officially opens its doors
On March 1, 1968, the college opened its doors to 2,009 students and 187 teachers across five buildings on the Nassau Street Campus in Kensington Market and the Dartnell Campus by Casa Loma. In its early stages, the institution offered programs including early childhood education, dentistry, construction, culinary arts, signwriting, marine engineering, and watchmaking. In 1969 George Brown welcomes 4,000 students and staff from four Adult Training Centres to its College Street Campus. Initially offering programs for ESL, commercial courses, and academic upgrading, the College Street Campus continued to develop its program availabilities. This includes the additions of courses such as retail merchandising, pattern making and design, offset printing, truck driver training, and more programs.
The start of Casa Loma Campus
In 1973, the Dartnell Campus was renamed "Casa Loma Campus" and s new building was added on 160 Kenal Avenue, which is currently known as building C. The campus was initially designed to offer technology and applied arts disciplines such as computer systems and networks, construction, jewellery making, and dance. Furthermore, the school of nursing programs at the Toronto General Hospital, St. Michael's Hospital, St. Joseph's Hospital, the Atkinson School of Nursing, and the Nightingale School of Nursing were all transferred to George Brown College.
Presently, the Casa Loma Campus has a total of four buildings harbouring the academic centres: Centre for Construction & Engineering Technologies, Centre for Preparatory & Liberal Studies, Centre for Arts, Design & Information Technology, and Continuing education.
The start of St. James Campus
In 1976, George Brown College launched a campus in downtown Toronto called "St. James Campus" on 200 King St E. Its start-up included academic programs in community services, work preparations, business, and deaf & deafblind studies. In 1987 on 300 Adelaide St E, the campus opened its famous Centre for Hospitality and Culinary Arts building followed by the addition of its student-focused restaurant The Chefs' House in 2008.
Today, the St. James Campus has a total of seven buildings in downtown Toronto, being the home to the academic centres: Centre for Business, Centre for Arts, Design & Information Technology, Centre for Community Services & Early Childhood, Centre for Hospitality & Culinary Arts, Centre for Preparatory & Liberal Studies, and Continuing Education.
The start of Waterfront Campus
Their most recent campus, the Waterfront Campus, opened in 2012. At 51 Dockside Dr, the Daphne Cockwell Centre for Health Sciences was launched offering programs in dental health, health services management, health & wellness and nursing. In 2019, George Brown extending its campus by adding the new building School of Design at the Daniels Waterfront, offering programs and industry projects in arts and design.
George Brown Today
Today, George Brown College is the home to over 5300 employees and 30,000 post-secondary students with more than 240,000 George Brown alumni. In 2019-2020, George Brown offered 172 full-time and career-focused programs with 44 Centre for Arts, Design & Information Technology programs, 26 Centre for Business programs, 12 Centre for Community Services & Early Childhood programs, 29 Centre for Construction & Engineering Technologies programs, 25 Centre for Health Sciences programs, 17 Centre for Hospitality & Culinary Arts programs, and 19 Centre for Preparatory & Liberal Studies programs.
To this day, George Brown continues to provide quality education and endless opportunities to enhance students' lives. George Brown College's future holds a variety of exciting possibilities as it prepares students for a world that is always changing. They plan to do this by continuing to turn learning into opportunities for their students.