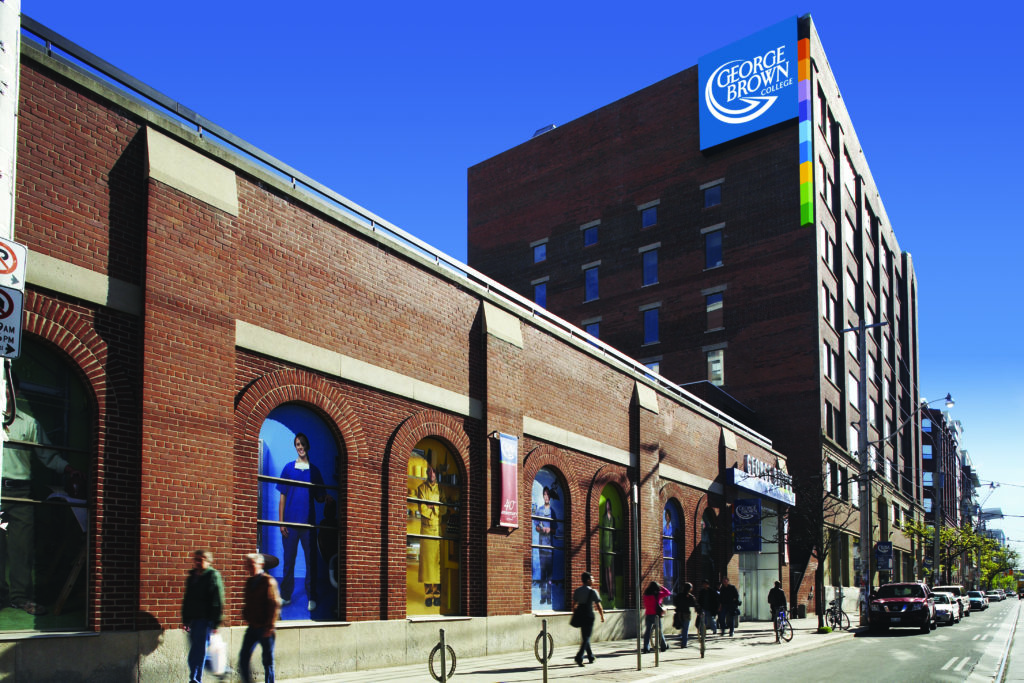 It's not a secret that George Brown is famous for its culinary and pastry programs. However, seeing the list of Canada Food Network stars may bring you back on a trip down memory lane. Relaxing on a Saturday afternoon as your parents turn on the Food Network channel. You just might recognize these celebrities chefs. But don't worry, chefs aren't the only ones on this list! I promise there will be at least one George Brown alumnus you didn't know walked the same paths you will or have walked at George Brown.
Lynn Crawford – Chef
The Pitchin' In queen herself. With her appearances on Food Network Canada's Restaurant Makeover and Top Chef Masters, the former Four Seasons executive chef launched her own show in 2010 to tour the world in hopes to find the best and freshes foods. Prior to this, she was in George Brown College's Culinary Arts program. To this day, "Pitchin' In" (2012), "At Home with Lynn Crawford" (2013), and the award-winning "Farm to Chef" (2017) are three of Chef Lynn's best-selling cookbooks. She is also the 2017 Gourmand World Cookbook Award winner and the 2018 Lifetime Achievement Award recipient from Canada's 100 Best. You can catch her on her most recent works, as a judge on Food Network Canada's Junior Chef Showdown.
Roger Mooking – Chef and Musician
The next famous graduate is both highly reputable as a Canadian chef and a chair at George Brown. Chef Roger graduated from George Brown's Culinary Management program with top honours in 2001. You may recognize him from his television show Everyday Exotic on Food Network Canada in which Chef Rogers uses one new item to give ordinary meals a great exotic twist, extending the delight of flavour and bringing an adventurous thrill to everyday cooking. He is also a recurring judge on Chopped Canada with 9 other TV show credits to his name. Currently, Chef Roger is still very active at George Brown, serving as chair of the Program Advisory Committee for his department. On top of his culinary career, Roger keeps a steady music career as a JUNO award-winning artist for his hit "First Impressions for the Bottom Jigglers" om 1995.
Mark McEwan – Chef
One of the most notable Canadian Chefs, Mark McEwan is a 1979 graduate of George Brown's Culinary Management program, conferred with an Honorary Bachelor of Applied Business Degree in Hospitality Operations Management and a red seal award scholarship. To this day, he is a Director at George Brown, however, he is still booked and busy with his television show appearances as the head judge on Food Network Canada's Top Chef following the end of his show, The Heat with Mark McEwan.
Katherine Barrell – Actress
Some of Canada's popular tv series include Murdoch Mysteries, Wynonna Earp, and Good Witch. Can you guess who stars in all three? Katherine "Kat" Barrell! She is best known for her role as Officer Nicole Haught on Wynonna Earp (2016) and Stella Grimes on Star Trek: Discovery (2017). George Brown Theatre School's Kat Barrell has graduated from George Brown in 2010 after studying Studied filmmaking and acting at the School of Media & Performing Arts. To this day, she has 24 filmography credits to her name, taking on major and supportive roles in some of Canada's award-winning shows! Kat even plays the female lead in the movie My Ex-Ex (2015). Her upcoming movie, "Cabin Connection", is set to drop in 2022!
Conclusion
Whether your an aspiring chef, actor or creator, the opportunities at George Brown can push you into Canadian Greatness. The diversity of these persons and their interests is striking, yet they all have the George Brown spirit and pride. You too can follow the footstep of these reputable alumni, and maybe even run into them on campus. What are the chances? This article might be in the eyes of the next Canadian icon.
Honourable Mentions
Now here are some honourable mentions of those who have studied in George Brown, but either dropped out or deemed their degree useless to pursue their desired careers! These two were too good to leave out of the article!
Choi Yeo-jin – Actress
Choi Yeo-jin is a famous K-Drama actor with 25 credits to her name. She is best known for her work on Emergency Couple (2014), My Holo Love (2020), and Sorry, I Love You (2004) for her heart-wrenching performances. At George Brown, Yeo-jin was a Hotel Management graduate, however, she went onto Korea to study Theater and Film at Hanyang University to pursue her career in acting.
Gigi Gorgeous
If you keep up with online personas, you probably recognize Gigi Gorgeous! She is, as she describes herself on her YouTube channel, "a creator, personality, model/actor, lover of beauty and fashion". At George Brown, she studied fashion but dropped out to focus on her YouTube career. To this day, Gigi has won multiple awards including the Shorty Award 2017 for YouTuber of the Year and Streamys Social Good Awards 2019 for Uniter Award for her works in advocating for LGBTQ+ rights.