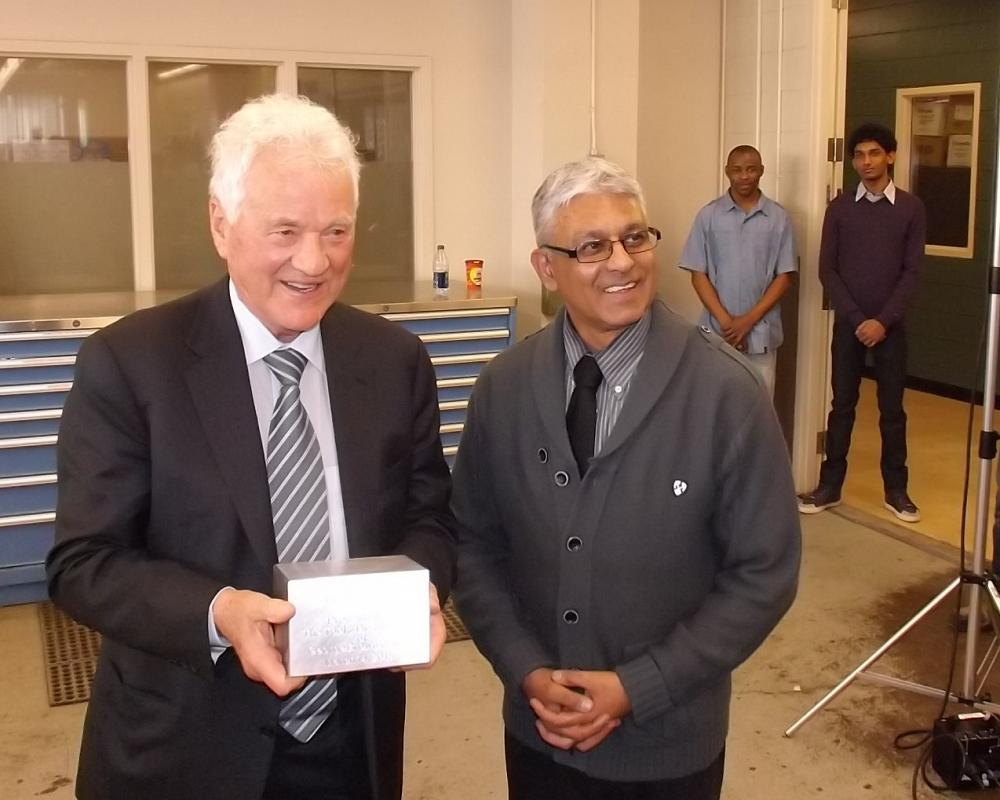 Why is the Casa Loma location for George Brown College known for its construction, engineering, and arts, design & information technology programs? One of the biggest reasons why is because they have amazing knowledgeable professors that are passionate to teach these topics. If you want to learn more about professors that students at this campus enjoyed taking class with, keep reading this article and maybe you will find a professor that resonates with your learning style.
Professor Blagomir Blagoev
The Centre for Construction & Engineering Technologies is a big and important department at the George Brown Casa Loma location. So, if you are interested in construction and want to learn from someone who is very experienced in the construction industry, you may want to consider joining in on Professor Blagomir Blagoev's lectures. Blagomir has 10 years of teaching experience at George Brown, with 7 of those years specifically teaching in the Angelo DelZotto School of Construction Management at George Brown. The best professors are ones that understand the course inside out, and Blagoev can definitely prove that as he has actually been actively involved in developing the construction curriculum and courses at George Brown. One of his many areas of expertise includes construction law so he really does know a lot about the topic. Students who have had him have said he is always willing to help students and provides group projects that stimulate learning. If you want to take courses with him, he teaches courses including BLDG1193 and BLDG3108.
Professor John Gatsis
Another amazing professor teaching at the Angelo Del Zotto School of Construction Management for 9 years is Professor John Gatsis. As part of the construction management program, students take mathematics and physics courses as well, and these are the courses that Gatsis teaches. Not only does Gatsis have an abundance of teaching experience at George Brown, but he has also taught at University of Toronto and was the VP at an educational software company. Calculus and physics tend to be hard concepts for students to grasp but Professor Gatsis is very enthusiastic about those topics and aims to teach it in a way that is easy for students to understand. He always tries to make the topics in his class relevant and updated with current mathematical advances. His areas of expertise include Aerospace Engineering, Aerodynamics, and Structures. Some of the courses he teaches include MATH1151 and MATH1181.
Professor Cynthia Givens-Sanford
The School of Fashion & Jewellery is unique to the Casa Loma location which allows all the fashionistas to learn design techniques to excel in the industry. The best way to learn is from an expert, and expertise is definitely something that Professor Givens-Sanford provides. Professor Givens-Sanford has a Diploma in Fashion Studies from Sheridan College where her amazing performance rewarded her with a Board of Governors' Silver Medal for Academic Excellence. She has professional experience in the garment industry, including working with design and pattern drafting positions at Lindzon, Kira, Marilyn Blumer and Lady Western. Not to mention, she has 24 years of experience teaching at George Brown's School of Fashion & Jewellery. Professor Givens-Sanford has helped mentor students through international design competitions so if that is something you are interested in, definitely get in contact with her. She believes that a competitive environment will help you learn best and will push you to outdo yourself while being there to help you along the way. She teaches courses including FASH1113, FASH1115, and FASH1117.
Professor John Camarda
If you are looking for a great professor for engineering courses, you may want to look into joining Professor Camarda's class lists. Not only is he a professor at George Brown College's School of Engineering Technologies, but he is also a Program Coordinator of the T121 Mechanical Engineering Technology program. He has over 10 years experience teaching at the program, also has experience coordinating machining labs programs at the University of Toronto and even the Formula SAE race car manufacturing! His areas of expertise include Product Design, Precision Manufacturing, Rapid Prototyping, and Rapid Manufacturing. Students have said that Professor Camarda can teach complex concepts in a simple manner and pushes students to strive for excellence. If you are going into your first year and are going to take an engineering course, he teaches MENG0001.
Conclusion
As you can see, the Casa Loma location at George Brown ranges a lot in program offerings. Rest assured, that no matter what program you are in, there are great professors who are passionate in what they teach and will help you get through undergraduate and into your dream industry.