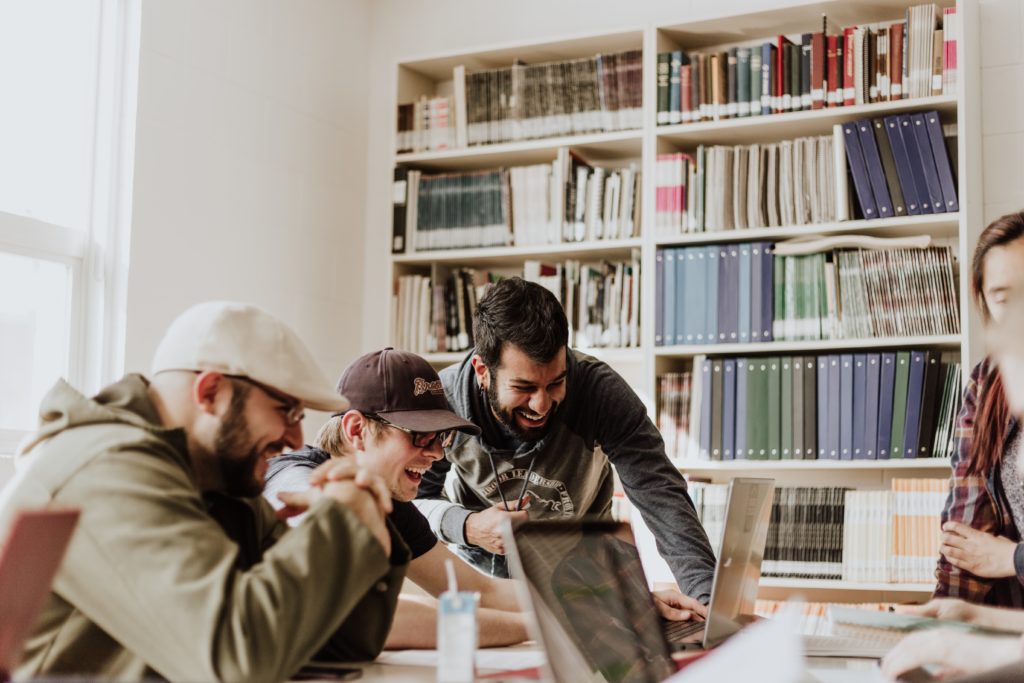 At Mount Allison there are over one-hundred and ten student-ran organizations to choose from. MtA's student union takes pride in uniting students, while seemingly promoting diversity among all. During students' first week on campus each organization is represented at the Clubs and Societies Fair. Here students can explore interests, sign-up on the spot, or even take the first steps in starting one's own club / society. Many, like the Physics Society, Commerce Society, and French Society, relate to specific fields of study. While many others focus on social issues, interests, or athletics, such as global brigade, creative writing, or dance. Below are a few of MtA's most successful organizations.
Bioscience Society
The Bioscience Society represents a vast amount of MtA's Biology community. This society is devoted to bringing like-minded students together through interactive events such as; barbecues, off-campus socials, a department mixer, biology appreciation week, an honours party and a biology formal. Academic assistance is also available through various student-lead help sessions.
Chem/Biochem Society
The Chem/Biochem Society leads in the organization of events for all chemistry and biochemistry students. Various interactive gatherings are available to members, as well as academic assistance through help sessions and best-fit tutor referrals
Math/Computer Science Society
The Math/Computer Science Society aims to bring together students with vague or deep interests in Mathematics and/or Computer Science. Various interactive/social events are available, as well as devotion from the Math and Computer Science society to strive to provide any other services a student may request.
Physics Society
The Physics Society works to promote the love of physics throughout the department. This student-lead organization takes priority in infiltrating information, while helping guide first year students. Various facilitating sessions are available, as well as tutor organization/recommendations.
Psychology Society
The Psychology Society provides social and academic services for students enrolled in the psychology program, or those solely interested in the field of psychology. The society provides its members with engaging events, assistance with tutors, and various help sessions.
Commerce Society
The Commerce Society leads in the organization of events for students within, or interested in the field of Commerce. In particular, and at large, the commerce trip and career fair. Provided are various discussion based help sessions, and assistance with any other commerce needs.
Fine Arts Society
The Fine Arts Society is a group open to anyone interested in the participation of art-related activities, events, and gatherings. As well as the exploration of art culture amongst Sackville, NB.
Creative Writing Society
The Creative Writing Society is an informal group of aspiring writers with a wide range of interests — poetry, prose, plays, novels, etc. The group meets weekly to carry out thorough discussion, and practice within the various disciplines of creative writing.
Debate Society
The Debate Society encourages influential, good-spirited discussions, while teaching formal outlines for competitive debate. The society occasionally participates in competitive tournaments, although most meetings are primarily for practice, and held on campus.
Drama Studies Society
The Drama Studies Society is designed for drama minors, majors, and/or anyone with an interest in theatre. Members will practice and engage in the learning of various aspects within theatrical drama.
Bands Society
The Bands Society holds the responsibility of representing ensembles offered at Mount Allison. Additionally, this society promotes music within the community, while also helping raise money for music programs within elementary, and secondary schools.
Global Brigades MtA
Global Brigades is the world's largest student-led global health and holistic development organization. Over the past eight years Mount Allison volunteers and professionals from surrounding areas have travelled to Honduras during the Winter reading week to deliver much needed medical services, as well as assist communities in efforts to improve overall quality of life.
Change Your Mind
The Change Your Mind organization strives to promote mental health awareness across campus. The society's main goal is to provide a safe, and welcoming environment for all.
Eco-Action
The Eco-Action is an organization which focuses on environmental activism, and its accessibility to students. The group as a whole holds interest in creating a space where students can discuss environmental issues, and thus take action on said issues by spreading awareness throughout campus, and within the Sackville community.