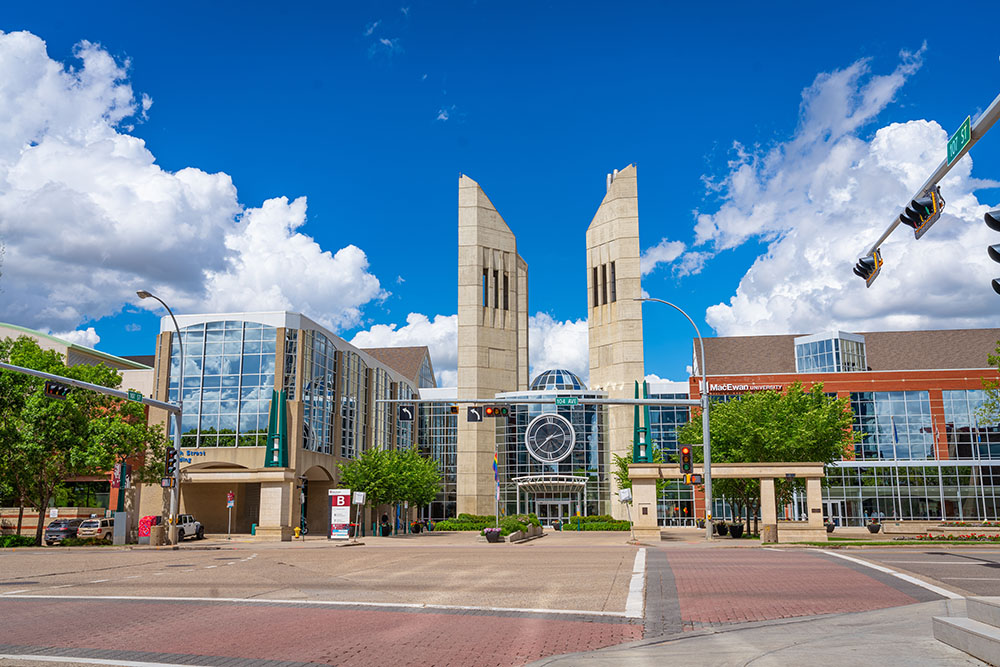 Fondly referred to as the little university in the middle of the big city, MacEwan retains its small time roots while blending in with the big city vibe. From its history and alumni to location and navigating campus, here's everything you need to know about MacEwan University.
History
MacEwan opened as Grant MacEwan Community College in 1971, offering diploma programs and professional development courses. It is named after the former lieutenant governor of Alberta, J. W. Grant MacEwan. Gaining reputation through decades of good results, they were approved for degree-granting status in 2004 and officially became a university in 2009, becoming the Grant MacEwan University of today.
Location
MacEwan University is a single campus in downtown Edmonton. There were previously three other campuses throughout the years and all have been incorporated into the main city centre campus. MacEwan is located on the northern edge of the downtown core, near the Legislature and river valley. It spans 7 city blocks along 104 Ave from 105 St to 112 Street.
MacEwan University sits on traditional Treaty 6 lands. MacEwan sits at a great spot, you're near the heart of the city without being right on top of it.
Notable Alumni
MacEwan has had many graduates go on to do amazing things, both inside and outside of Edmonton. Perhaps the most recognizable graduate is Shannon Szabados. Shannon is a 3x Olympic medalist and 2x world champion ice hockey player, playing goaltender. While she was training and playing with Hockey Canada and the Canadian Women's National Hockey Team, she attended MacEwan and played Griffins hockey for 3 seasons from 2007-2011.
In more recent years, another notable alumni is Muriel Stanley Venne. Muriel is a human rights advocate and brought national attention to the crisis of murdered and missing Indigenous women and girls. Muriel was the first Metis woman to receive the Order of Canada, getting the honour in 2005. She received a Distinguished Citizen Honorary Bachelor of Arts Degree from MacEwan University, in 2010
Athletics
MacEwan University participates in college- and national university-level athletics. Both men's and women's teams are known as the Griffins, playing in maroon/burgundy and white. MacEwan participates in all the major sports – basketball, hockey, volleyball, soccer, cross country, curling and golf – except for football. MacEwan has achieved great success in their mens and womens hockey program, with both teams being provincial college champions (ACAC) for 3 years straight from 2016-2019. The 2021-22 year will mark the first year that all MacEwan sports will be played at the university level in the USports league.
Navigating Campus
MacEwan's city centre campus is very easy to navigate. As mentioned previously, campus is a series of buildings in a single row along 104th Avenue. That means there are no confusing building numbers or tucked away buildings to search for. Best thing about campus is that all the buildings on campus (except for Residence) are connected by an indoor pedway system. This is great because when winter weather hits, you don't have to go outside to cross campus. Stay nice and toasty warm inside as you walk between your classes.
Buildings are labelled with a number or letter, such as Building 7 or the SA Building. As long as you can count from 1 to 10, you can find your building. The building numbers get bigger as you head west along 104 Ave. Classrooms are easy to find too, with their simple numbering system. Classrooms are labelled with building, floor, and specific room numbers. For example, classroom 7-243 is in Building 7 on the second floor.
It's super easy to find your way around MacEwan, a big incentive over giant universities like the University of Alberta and the University of Calgary.
All of MacEwan's buildings have specialised use classrooms and general (unofficial) program designation:
Building 5 – This is where you'll find most of your business and math related classes, as well as the Math and Stats Help Centre. You'll also find the CN Theatre, used for special lectures and events.
Buildings 6 and 7 – These two buildings are the heart of the University. Connected by a giant spiral staircase known as the clocktower (for the giant clock outside above the staircase), here you'll find various University offices including the Office of the Registrar and MacEwan International, Library, bookstore, the campus bar Towers, and the cafeteria. The main cafeteria here in building 6 has lots of seating, a Tim Hortons, Subway, Booster Juice, and other little food stands providing hot food and snacks. There are also classrooms in these buildings, most of which are allocated to the Bachelor of Arts and Bachelor of Science classes.
Building 8 – This is the Sports and Wellness building. It has the pool, fitness studio, gym, basketball courts, and a handful of classrooms.Best part of this building though, has got to be the 2nd Tim Hortons!!
SA Building- This the brand-new student's union (SAMU) building. Its a 5 story building with tons of study space, all of the SAMU offices, dedicated club space, a third cafeteria with new food options coming for the 2021-22 school year, and a RBC on-campus bank branch.
Building 9 – this is the Robbins building. It is dedicated to MacEwan's nursing and healthcare students, with lots of seating, healthcare simulation labs, and the program offices for the various degrees and diplomas. It also has the second cafeteria, tons of study space, mixed-use classrooms, and MacEwan's forensics simulation lab.
Building 11 – This is MacEwan's state-of-the-art fine arts building. It has tons of basic mixed-use and specialised classrooms, rehearsal spaces for both music and acting, performing arts theatres, an art gallery, art studios, a recording studio, and so much more. For being a small university, we have an amazing music and fine arts program that MacEwan takes pride in.
So that's MacEwan 101. How to get around campus and find your classroom, a breakdown of what classrooms you'll find where, a quick history and a couple of the notable alumni.