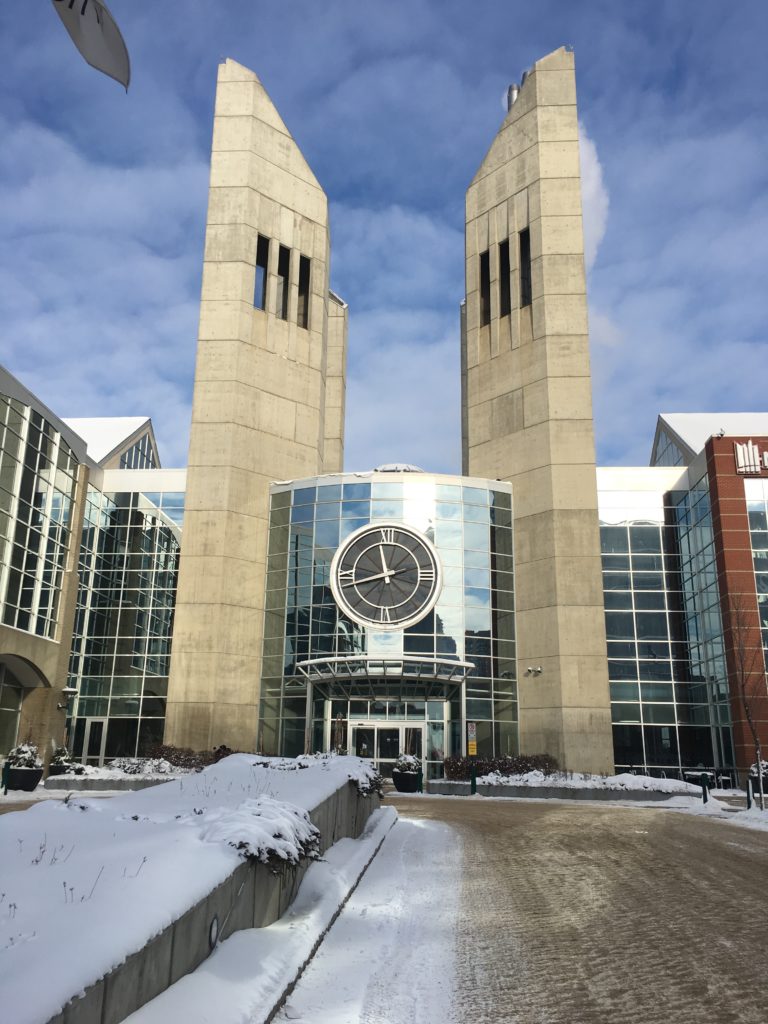 When choosing a university, you want one that supports you in your academic journey. Whether that's with academics (yeah, duh), mental health and wellness (yes please), or even spiritually. MacEwan has got all your needs covered. Keep reading to learn about some of the awesome resources and services MacEwan provides to all its students.
Breakfast Club
Nobody likes to get up early in the morning to cook breakfast before rushing out the door. Most of us don't. The folks over at SAMU want to break that cycle and make sure students have the proper food to kick-start the day. Breakfast Club offers free breakfast every week during the fall and winter terms. Every week they hand out free coffee, juice, toast, yogurt, muffins, and fruit. And once a month or so, they put out a free hot breakfast! That's right – eggs, sausage, pancakes, and more on top of the stuff they always offer! Keep an eye out around campus and on social media for upcoming Breakfast Club days. Who doesn't love free food!
The Writing Centre
Perhaps the most useful of services for your academic career, the Writing Centre is an amazing place. The Writing Centre is a division of the Writing and Learning Services department and the John L. Haar Library. It's an amazing free resource to all students, Canadian and international alike. They provide lots of resources like time management techniques and useful study skills. The best part about the Writing Centre is their essay feedback service. Submit a draft, or even a few paragraphs, of a paper and the Writing Centre's tutors will help you improve your paper, providing structural feedback and areas to improve on. All within 1-3 weekdays! Need even more help? Can't figure out how to start a paper? You can book an individual online meeting with a Writing Centre tutor, and they'll help you get on the right track.
Wellness and Psychological Services
Really struggling with your mental health? Wellness and Psychological Services is here to help. Through this department, MacEwan offers all students (internationals too!) free, professional counselling with psychologists and clinical social workers. This department is here to make sure that you are your best self, offering both individual and group therapy. With COVID and everything, they've introduced video therapy so you can take advantage of this awesome resource even if you aren't on campus. Need something more informal, to just talk? The student's union offers Peer Support, a student-run drop-in service providing a safe and confidential place with a trained listener ready to listen to what's bothering you.
StressLess
Provided by the awesome people over at the student's union (SAMU), StressLess is one of their more popular programs. StressLess provides resources, stress relief, and support student wellness in a variety of different ways. StressLess events occur in both fall and winter semesters, and especially around midterms and finals. Past events include free coffee and snack stations, yoga and wellness animals. You read that right. They bring in puppies and kittens for students to play with! Who doesn't love playing with cute fluffy puppies and kittens? Click here to see all the awesome resources and tips from the latest round of StressLess events.
Careers and Experience
Formerly known as Career Development and Experiential Learning (CDEL), this is perhaps MacEwan's unknown gem of student resources. Not sure what kind of career your degree will get you? Need help with a resume or cover letter? Looking for a summer job or internship? No worries, Career and Experience has got you covered. They offer tons of amazing services like resume and cover letter writing workshops, interview prep, individual sessions on finding the right job. They've also got a job board called MacEwan Life with dozens of job opportunities for students and recent graduates. Yes, you guys too. Recent graduates can take advantage of the awesomeness of Career and Experience, helping to find the perfect job after graduation.
Math and Stats Learning Centre
Every student at MacEwan has to take at least one math or statistics course. And for most of us, that's a scary thought. If numbers aren't your thing, don't stress. The Math & Stats Centre is here to save the day! Located in building 5, the Math and Stats Help Centre is the best place to go when you get stuck or don't understand a concept. Staffed by professors and outstanding 4th-year students, the Math and Stats Centre provides drop-in support to students in a first- and second-year math or statistics course. Algebra? Linear Mathematics? No matter your problem, they can help. Write down the room number – 5-103E – and never forget it. Math and Statistics are a breeze with help from the Math & Stats Learning Centre!
Study Buddies
Last, but certainly not least, is Study Buddies. Study Buddies is SAMU's newest program and is here to give students a supportive working environment to provide motivation and accountability. Study Buddies is a moderated virtual study space, where volunteer monitors help you set a goal/goals for the session, and check in with you to make sure you're following through. With Study Buddies, say goodbye to procrastination and say hello to getting stuff done!