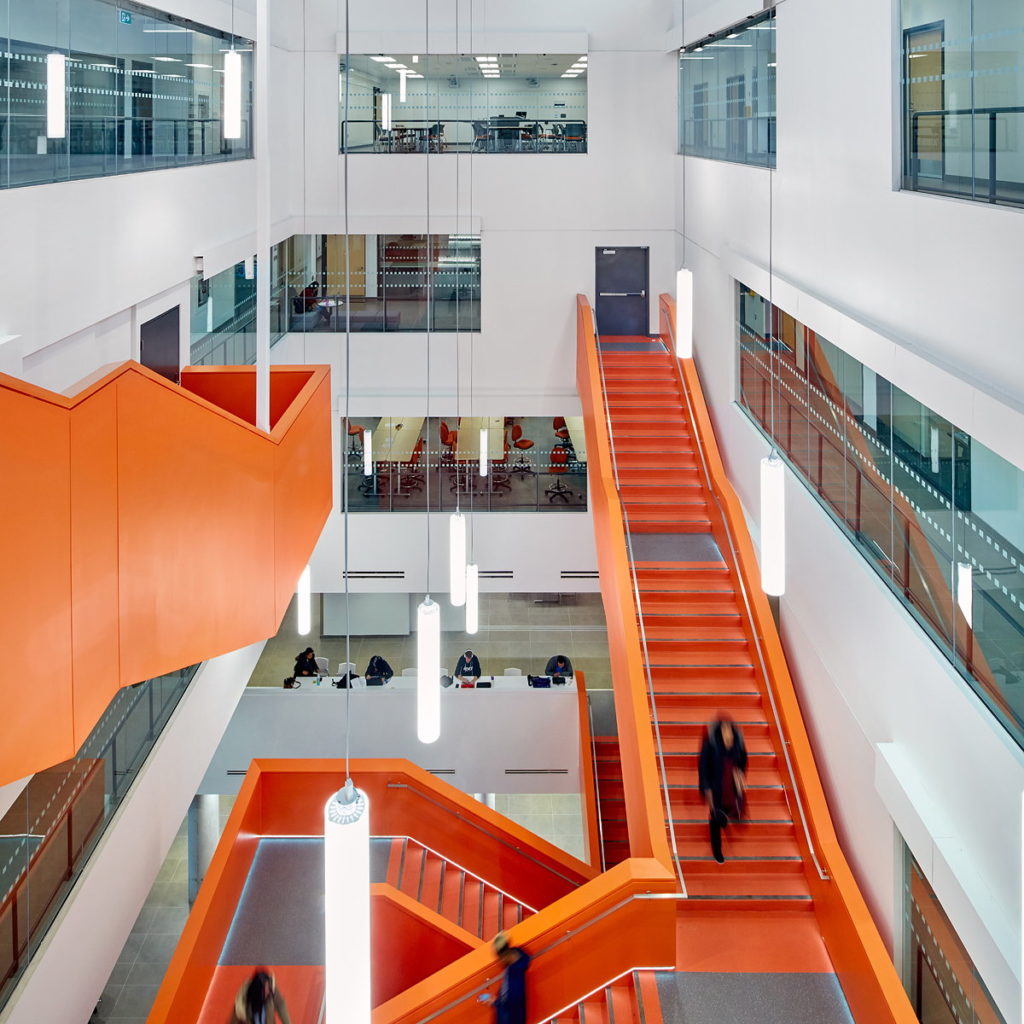 We've all heard the words, "But mom! I wanna move there for the experience!!" The truth is, moving away from home is, for many students, a big part of their post-secondary experience. If you're planning on attending Sheridan, you'll definitely have the option of staying in residence. Unfortunately, the Mississauga campus doesn't currently have a student residence, but Sheridan's Oakville and Brampton locations have tons of living and studying spaces for students, ensuring your college experience is the best that it can be. Are you studying at the Trafalgar or Davis Campus and not fully aware of Sheridan's residence? Read along as we tell you all about it, along with what you can do in each city!
1. OAKVILLE CAMPUS
Sheridan's Oakville Campus houses the most students of all of Sheridan's campuses. With 824 spots available between two buildings, you will be part of a huge community of students dedicated to having an amazing college experience and creating wonderful memories.
Your Room
At Sheridan college, you'll be living with a roommate in a 2-bedroom furnished suite with a shared kitchenette and washroom. The average room is approximately 16 feet by 9.4 feet and includes a double bed, a desk and chair, a two-drawer dresser, closet space with storage, Wi-Fi, cable T.V., a phone and air conditioning. Sounds nice eh?
Your Bed
Your room includes an XL double bed that measures approximately 54 inches by 80 inches. Two sheet sets, two pillows and a double comforter come with the dorm, but you can of course bring your own things in if you want (a lucky pillow maybe?).
Your Desk
Your study space comes with a desk measuring 4 feet in length, 2 feet in width and 2.6 feet in height. And yes, a simple chair is also included. However, we recommend you invest in a high quality ergonomic one. If you're spending lots of time on your chair, you'll thank us later!
Common Areas
Although students receive their private dorms and rooms, common areas are super important for student activities and building bonds with others! Trafalgar's residence includes an entertainment room, a games room, a fitness room, a study lounge and an outdoor BBQ area. One of the buildings even has a multi-purpose common lounge with an adjoining full kitchen. Potluck anyone? With all of these amenities, you'll have a blast!
What can I do in Oakville?
Although residence is fun, you'll have some days when you just wanna get out and see the city. Luckily, Oakville is a beautiful lakeside city full of restaurants, galleries, parks and other facilities. The following are all a maximum of 10 minutes away by car!
Hike at Bronte Creek Provincial Park
There are a TON of parks in Oakville, but Bronte Creek Provincial Park has got to be one of the most iconic. A short drive from Campus, you'll be immersed in nature like none other. Go on a hike, have a picnic, or if you have a few days off, you can go camping with some residence friends 🙂
Go to the Lake
Oakville's lakeshore is one of the most beautiful in the GTA. Get real close to lake Ontario, grab a drink and walk along the shore. Watching the sun rise over the lake is another surreal experience. It's hands down worth waking up early.
Visit Downtown
Also known as Old Oakville, Downtown is full of little shops, boutiques, restaurants and ice cream spots. If you're into performance art, check out Oakville's centre for the Performing Arts. The children's choir will definitely de-stress you before your final exam.
Float in the air at iFly
Wanna skydive but you're scared of jumping from a plane? iFly is the place to be! Visit one of Canada's two indoor recirculating skydiving simulators and feel what it's like to freefall at 200km/h.
Wanna learn more about Sheridan's Oakville residence? Click here.
2. BRAMPTON CAMPUS
Housing 350 students, the residence facility at Davis Campus is a little smaller. However, the experience is the same! In fact, if you like more tightly knit groups, you might enjoy this one more! Like the Trafalgar campus, you will be staying in a 2-bedroom suite. Your room, along with everything in it is the same as the Oakville Campus. All the common areas at Oakville are also at Brampton with the exception of a fitness room. But not to worry, if you've read our Top Resources at Sheridan College article, you'll know that the Brampton campus has a robust athletic facility for student use! So then the question becomes, what can I do in Brampton?
What can I do in Brampton?
While Brampton isn't a lakeside city, it still has a lot to offer! When you're tired of your room or you want to do some exploring, check out these places:
GlowZone
GlowZone is your go-to place for laser tag, mini golf and more! Gather some friends and go crazy!
Gage Park
Opened in 1903, Gage park is Brampton's oldest park. As the city's main park, it hosts a ton of events and activities! In the winter, its circular path is turned into a skating rink! What a great place for some destressors before your winter exams.
Peel Art Gallery, Museum and Archives
If you want to learn more about Peel Region (a part of the Greater Toronto Area), this is the place to be. Full of art, archives and other monuments, you'll certainly leave knowing much more than you did walking in! It's also just a really stunning building.
Professor's Lake
To be honest, this one's a little longer of a commute, but it's totally worth it. Professor's lake is a man-made lake where you can go hiking, canoeing, and much more! Did we mention it also has a little beach?
To learn more about Sheridan's Brampton residence, click here.
ARE YOU MOVING OUT?
Well, there you have it: a rundown of Sheridan's residence facilities and the best things to do around them. Think you're ready for the move? There's only one way to find out!