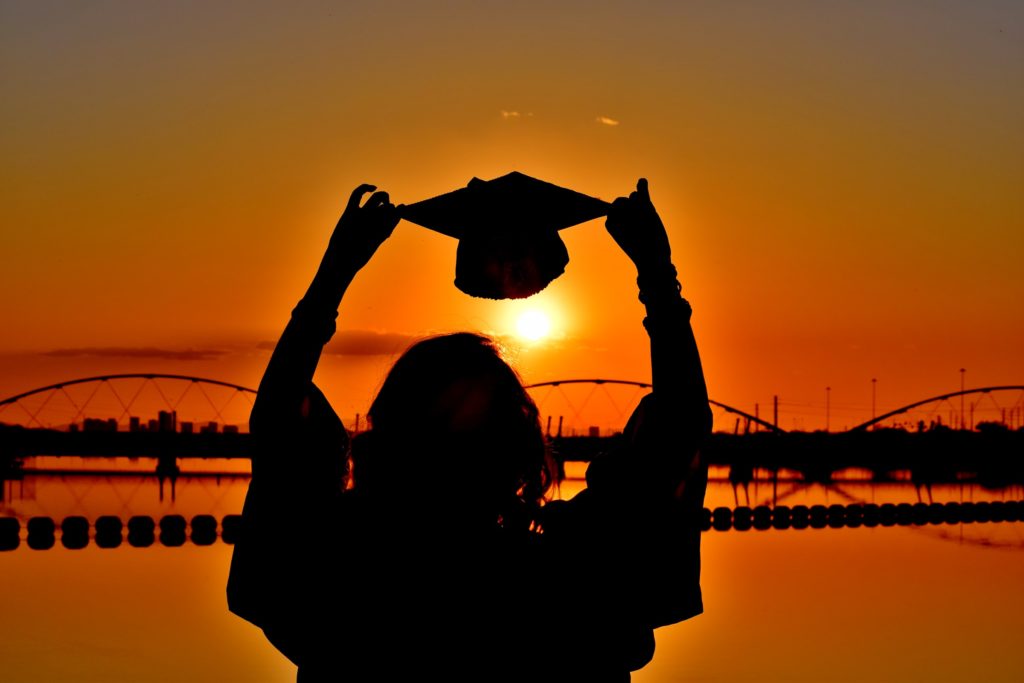 Every school has its own culture. The students, campus, and city are some key factors in determining what goes on at each school! If you've just been enrolled into Waterloo or you still have a few years before your degree, read along as we tell you the top things that you need to do at Waterloo before you graduate. Think of this as your UWaterloo Bucket List!
1. TAKE YOUR HEADSHOT AT THE E7 BRIDGE
Completed in 2018, The E7 (Engineering 7) Building is one of Waterloo's newest additions. As a result, its materials and finishes are quite luxurious and stand out among the campus.The bridge that connects E7 to the E6 (Engineering 6) building has become the quintessential location for a student headshot. The bridge receding in the background creates the perfect backdrop for that LinkedIN profile picture 😉 Maybe that's the secret for landing a co-op job. Just do it, you'll thank us later.
2. BE AN O WEEK LEADER
Word goes around that Waterloo Orientation is not one to miss! But while incoming first years have a blast, upper years have just as much fun, if not more! The University of Waterloo puts on a massive orientation week for its students, and as a leader, you'll get to experience it with your friends, while showing first years around. What goes on in orientation really depends on the faculty, but one thing's in common- it's a heck of a fun time (pre-covid at least).
3. JOIN INTRAMURALS
If you love sports (but not enough to be on one of the university's teams), intramurals are for you! The University of Waterloo has a ton of intramural sports where students can just hop in and play. So forget about that exam tomorrow and go burn some calories for a few hours- best thing is, there's absolutely no pressure to be good! In fact, most of the time it's just for fun!
4. FIGHT A GOOSE
The University of Waterloo's Campus is pretty much home to all of Kitchener Waterloo's geese. There are hundreds of stories about students being hissed at or attacked by geese while walking around campus. So at some point in your five years of education at Waterloo, you'll most definitely have a violent encounter with one. The geese have become such a large part of the university that WUSA (Waterloo Undergraduate Student Association)'s merch features geese. There's even a website that lets you track goose nests around campus. Don't believe us? Check it out here.
5. VISIT UPTOWN
A short drive east of campus is Waterloo's Uptown. Uptown offers hundreds of stores, boutiques and restaurants and hosts many festivals during the summer, like the BUSKERS festival where the roads are shut and filled with carnival rides, and the BUSKERS, local performers, perform. Other popular places include Princess Cinemas for indie movies and classics and Leather + Oak for some good thrifting. If you're feeling artsy, Clay&Glass Art Gallery always has something to show!
6. EAT AT MEL'S DINER
Who doesn't like diner food? Offering all-day breakfast, hand-pressed burgers and several blue plate specials, Mel's Diner is a must-visit for all Waterloo Students. Whether you've just finished an exam, or you need a break with your roomies, this is the place to go. It will definitely satisfy your cravings, all in a cute retro setting.
7. VISIT ELORA GORGE
Elora Gorge is a GORGE-ous conservation area only 30 minutes from the Waterloo Campus. Situated in the spectacular valley of the Grand River, the tourist attraction features swimming, canoeing, tubing and much more. If you're feeling brave, you can go cliff-diving, and if not, hiking trails are where you'll enjoy your time. So next time you're not sure where to go, gather some friends and take the 30 minute drive up. Those midterms can wait. You will not regret it!
8. EXPLORE THE TUNNELS
The city of Waterloo has many bridges and underground tunnels. Waterloo's Campus is no exception. Using these tunnels and bridges can save you a ton of commute time, not to mention that in the winter, it's the perfect way to avoid the snow and cold temperatures. It can be tricky to find them, but once you've spotted a few, you won't be able to go back to the road. Apart from getting around, the tunnels provide a fun opportunity to see some of the underground services that keep campus running.
9. VISIT ST. JACOB'S FARMER'S MARKET
Located on the north edge of the city, St. Jacob's Farmer's Market is a great way to exchange the same old campus food and ramen packages for some farm fresh produce and local goods. So skip the grocery store trip and opt for a nice Saturday morning stroll at the market with your roommates. The food will definitely keep you energized for your week's worth of course content and evaluations!
10. CELEBRATE ST. PATRICK'S DAY ON EZRA AVENUE
It's no secret that students know how to have fun. And on St. Patrick's day, Waterloo students go all out. Ezra Avenue usually gets packed with thousands of students wearing green everything! If you're in school in the winter term, you can't miss out on St. Patrick's Day Celebrations!
WHAT ARE YOU WAITING FOR?
There's way more to the UNiversity of Waterloo than just academics! Check off this list to make the most of your university years. They're gonna go by incredibly fast!