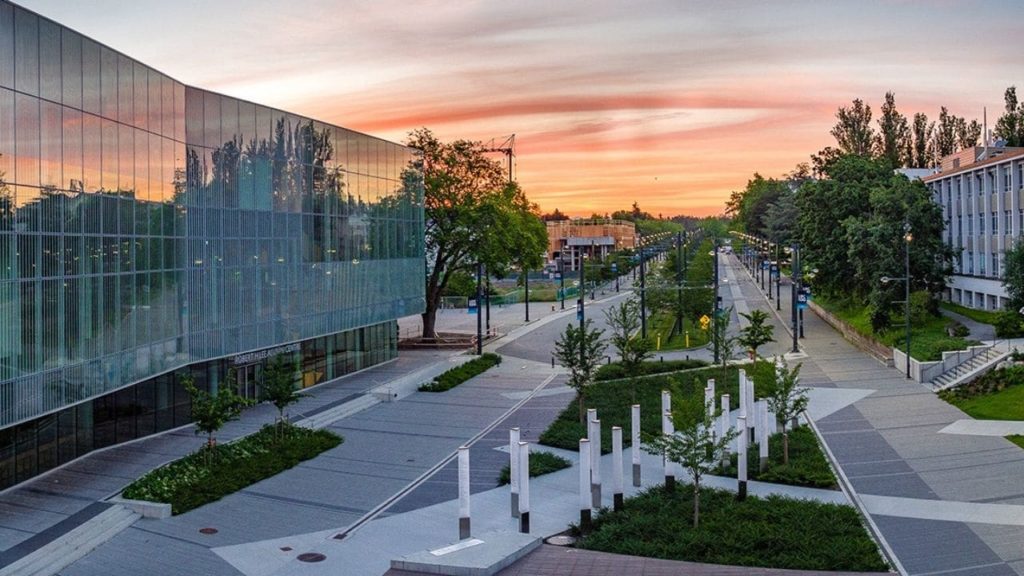 In university, professors are one of the main factors in defining a university student's experience in a course. The courses you register for and the class timetable depend on you- not an academic adviser managing your schedule and assigning a professor. Freedom in university includes choosing which professor's course to attend. Fortunately, UBC has collective and talented professors fueled by professional expertise, new research areas, and expansive knowledge.
Michael Byers
Michael Byers is known for his POLI 369B: The Politics and Law of Outer Space course, which explores security issues and international law regarding space activities and treaties. With most of his research focusing on climate change, outer space, and arctic sovereignty, Byers utilized his Ph.D. in international from the University of Cambridge to showcase new insights on political arrangements and reforms in such research areas. He even published a journal article with his teenage son regarding the challenges and issues surrounding toxic splash and asteroid threats from outer space. From 2017 to 2019, he was appointed to the Brenda and David McLean Chair in Canadian Studies at UBC, an extremely remarkable and prestigious achievement in bringing McLean lectures.
Joel Bakan
While a professor at the Peter A. Allard School of Law, Joel Bakan is also a jazz musician and filmmaker. His lectures examine the economic, political, and social dimensions of law- providing law students the benefit of alternative thinking. His most acclaimed work includes The Corporation: The Pathological Pursuit of Profit and Power, which was adapted into a film and analyzed corporate actors' evolution and contemporary behavior.
Stanley Coren
Stanley Coren is a professor at the Department of Psychology, whose work focuses on neuropsychological, mental abilities, and history of dog behaviors and relationships with humans. His notable book The Intelligence of Dogs (1994) analyzes adaptive intelligence and canine IQ tests between different breed types. All in all, it is his engaging story-telling methods and charismatic persona that make him a professor on top of everyone's favorites list.
Suzanne Simard
While a famous Canadian ecologist, Suzanne Simard, is a professor of Forest Ecology whose work has inspired key elements of the film "Avatar." Her work has discovered how trees' utilization of their fungal webs can connect and communicate with each other. Due to her influential accomplishments in the ecology field, in May 2021, it was announced that her life story would be converted into a film adaption, starring Hollywood A-listers Amy Adams and Jake Gyllenhall.
As university students, it is important to network and listen to fascinating stories from alumni. UBC is a component that will forever be part of every students' identity; thus, connecting with alumni is not about creating connections with the outside world but integrating oneself more into UBC's community. Universities also rely on alumni to provide mentorship, internship offers, and career opportunities to undergraduate and graduate students; thus, alumni serve valuable roles in the university's brand identities. Since its establishment in 1908, UBC has thousands of alumni; thus, we have compiled a few of the most notable alumni.
Rick Hansen
Rich Hansen is a Canadian track and field athlete and philanthropist for people with disabilities. Through an accident that caused a spinal cord injury, he is an inspiring figure in conquering challenges with a physical disability by conquering his Man in Motion World Tour, which follows similar aspects to Terry Fox's dreams of the Marathon of Hope. Within a 26 months trek, Hansen circled 34 countries with his wheelchairs, logging 40,075 kilometers of distance traveled. In order to commemorate his achievements, Hansen was chosen as one of the final torchbearers in the 1988 and 2020 Winter Olympics.
Ian Crosby
Ian Crosby is one of the founders and current CEO of Bench- North America's largest bookkeeping service. After graduating from Sauder School of Business's Bachelor of Commerce in Finance and Economics, he was driven by the desire to eliminate financial challenges faced by startup founders and small business owners. Since the launch of Bench, Crosby has raised $53 million in funding with 350 employees in its Vancouver headquarters and is still looking for more!
Evangeline Lilly
Before she starred as Hope van Dyne/ Wasp in Avengers: Endgame- the all-time highest-grossing film-and as Mirkwood elf Tauriel in the trilogy film adaptation of J.R.R. Tolkien's The Hobbit, Evangeline Lilly was an undergraduate in UBC pursuing a Bachelor of Arts in International Relations. Her interest in humanitarian causes and world development is showcased through her active participation with several non-profit organizations, such as the GO Campaign, which facilitates help to lost street children of Brazil in need of secure homes.