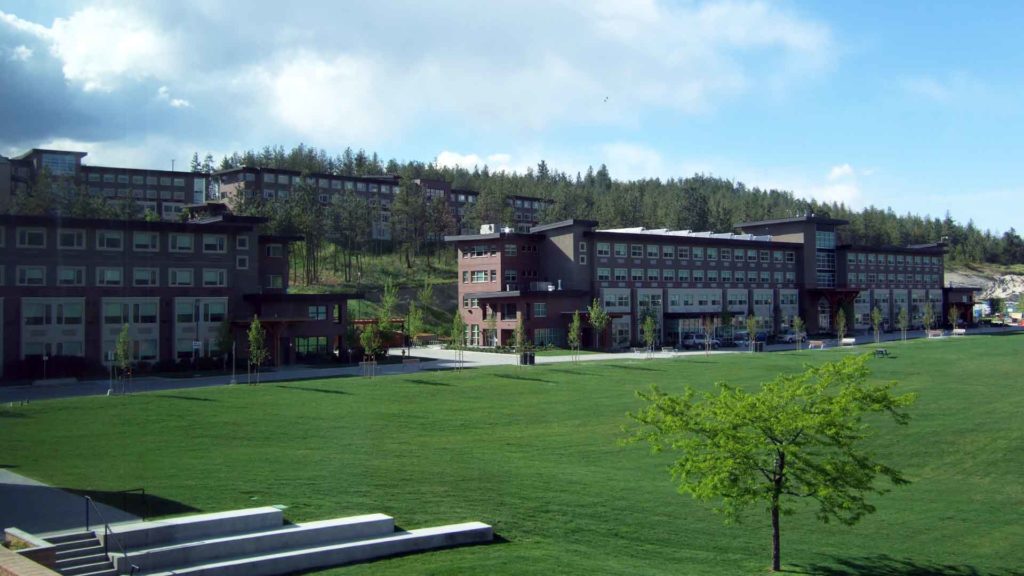 The number one benefit of living in Okanagan's community is the proximity of several dormitory buildings and apartments to campus. With a dormitory space only guaranteed if students are first-year, upper-year students are often apprehensive with the thought of finding a new place to rent. However, in reality, Okanagan is always developing brand-new apartment-style buildings around the Cascades – an ideal and safe environment for students. Moreover, several corporate real-estate developments are erupting in the Northern Glenmore area of Kelowna, such as University Heights. University Heights offers a dream lifestyle with several amenities, including shopping and dining and living luxuriously.
Cassiar, Kalamalka, Nicola, Purcell, Valhalla, Skeena, and Nechako Residences
At first-year, the majority of students will have to live in a single-connected room in either Cassiar, Kalamalka, Nicola, Purcell, Valhalla, Skeena, and Nechako residences. Therefore, students can experience the luxury of having a private space while having access to communal spaces to meet new, interesting friends. In addition, meal plans are included in the package; hence, students can have their breakfast, lunch, and dinner cooked by professional staff without dealing with a personal kitchen.
If you are interested, check out this website for more information!
Similkameen Place
Get ready to immerse yourself with stunning mountain views in your dormitory room at Similkameen Place. This dormitory building is the only place that offers fully furnished single rooms with accommodated wireless internet access and meal plans. Each floor consists of 40-55 residents and two single-gender communal bathrooms.
If you are interested, check out this website for more information!
Lower and Upper Cascades
The Lower and Upper Cascades is an ideal environment for students looking to be part of a close and tight-knit community. The residential rooms are placed in four-bedroom suites in a townhouse-style unit, with wireless internet and utilities included in residence fees. Moreover, students can freely enjoy their space even during the summer term.
If you are interested, check out this website for more information!
Monashee Place
Monashee Place is located in the middle of the UBC Okanagan campus- hence, campus buildings and facilities are only a short distance away. This dormitory building offers various rooms, including a studio, one-bedroom, and four-bedroom suites, with a residence convenience store inside. Like the other dormitory buildings, Monashee Place is a great place to connect with friends and become involved with residential extracurricular activities.
If you are interested, check out this website for more information!
After reading all of this, you must be thinking about how to apply to live in residences? Before beginning your application, it is important to check the eligibility requirements and determine you qualify for chances to secure accommodation. Next, review important deadlines, rank your room preferences and check fees and payments to better prepare yourself once a residential offer arrives. It's really that simple! If you're a current or incoming UBC Okanagan student, click this website to begin the application process to Student Housing and Hospitality Services.
With the limited space available on campus, several opt to live in off-campus apartment buildings in different neighborhoods, such as Lake Country, Ellison, Glenmore, and Rutland. Several of these students choose to live with other roommates to save on rental costs. Before students sign the contract agreement for the apartment, students must consider the rent of the place and additional costs, such as security deposit, utility bills from Fortis BC and internet provider, tenant insurance, and apartment furnishing. The UBC Okanagan Student Union offers an "Off-Campus Housing Registry Bulletin Board" where students can find off-campus rental advertisements. Before any ads can be officially published, all ads must be checked and approved to prevent fraud and scams.
Before signing a lease, students need to inspect the apartment and determine whether appliances are working, the apartment is well-maintained and clean, and any extra utility bills not mentioned under the contract. Ensure you and the landlord both have a copy of the signed documentation and agreement in case of emergencies. Often, apartments will come unfurnished; therefore, students will often need to buy basic furniture, such as a bed, desk, chairs. There are several Facebook groups available in which students can purchase affordable second-hand furniture from other students. Moreover, UBC Okanagan is supported and served by UBC Transit; therefore, students can freely commute from place to place at limited costs. Living off-campus can enable students to fully experience new aspects of adulthood that are not easily attainable when living in a dorm. Students can also gain more independence, freedom, and privacy.
If you are interested in finding more information on finding off-campus housing, click this link!