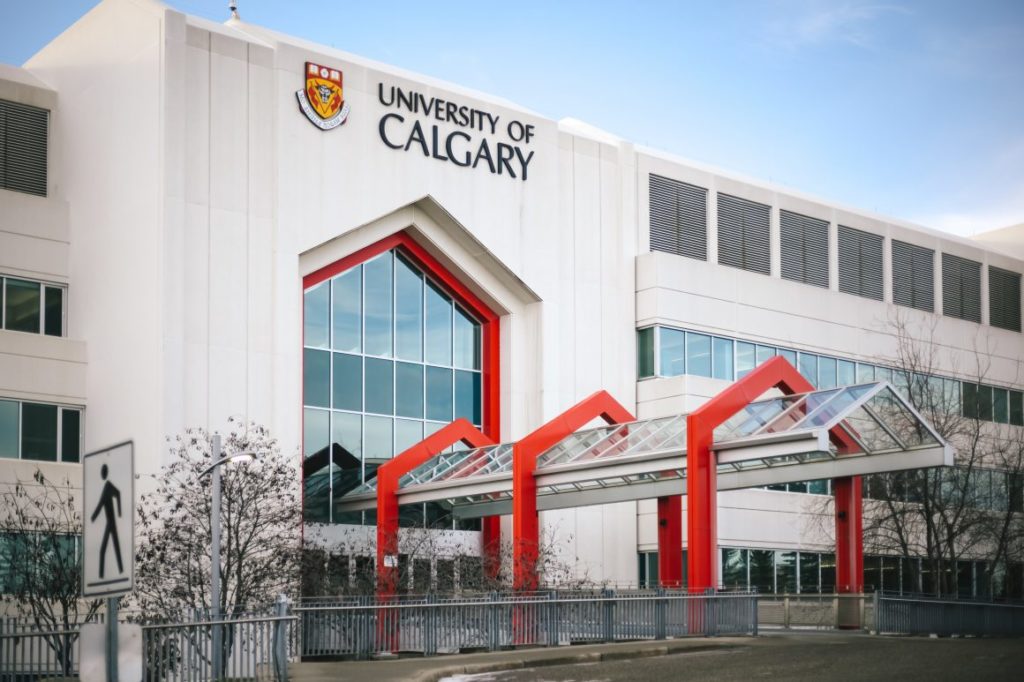 Whether you are considering the University of Calgary as a post-secondary option, or have already been accepted and are deep diving into the details of your new university home, it is important to familiarize yourself with not only what current campus and student life is like, but also how this has been shaped over the decades of the institution. Like many success stories, UCalgary has one of its very own – a dynamic and celebratory story that has paved the way for all UCalgary students today!
Brief History of the University
Founded in 1945, the University of Calgary celebrates the rich history of its institution's determination to host a post-secondary school as part of building a great city. When the University of Alberta was founded in 1908 in Strathcona of Edmonton, it was initially set that UCalgary would be created as a "branch plant" concept university. While this provided a steady stream of educators for a new city eager to grow and advance quickly, Calgarians were disappointed with this notion and lobbied for decades for an independent institution of their own.
With great passion and commitment, students, faculty, staff, alumni, donors and volunteers joined together to support the community cause. Alas, their dedication was finally rewarded on April 29, 1966 when the University of Calgary was granted autonomy. As the new campus took shape, a growth spurt took place for the university. With a little more than 4,000 full time students in 1966 to an enrollment of more than 30,000 students in 2016, UCalgary has grown by leaps and bounds. As the face of the campus population continues to grow, it becomes more diverse and international with each passing year.
From the establishment of McMahon Stadium in the 1960's to the Oval in 1988, UCalgary has long been the epitome of elite sport in Calgary. These Calgary landmarks are not only a home field for the University of Calgary Dinos, but a home for the various professional and amateur football teams of Calgary and a wide range of other sports and cultural events held here. From the stadiums' ever changing roles in the community, the McMahon Stadium and the Oval are cornerstones that bind Calgary and its university together. With 50 years of excellence in the domain of high level athletics, champions like Carl Tilleman, Catriona Le May Doan, Mark Tewsbury and Hayley Wickenheiser have all honed their competitive edge at this institution. 1956 officially marked the first year of courses offered toward a Bachelor of Physical Education Degree, thus beginning a long tradition of athletic excellence at UCalgary. As the university continued its expansion into athletics, great strides were made in 1961 when the Physical Education building was completed on the new campus; this new and exciting addition to the facility contained a swimming pool, diving tower and gymnasium. Later, in 1987, the Jack Simpson Gymnasium featured its grand opening with three gymnasiums, three basketball courts, five volleyball courts, and an indoor football/soccer field. While these are only a few fun historical facts that contribute to the success and growth of elite sport at the university, the UCalgary Dinos have since achieved numerous athletic achievements and continue to uphold this legacy.
Since these beginnings, the University of Calgary has embodied a welcoming, hospitable spirit that is reflected in its innovation and open-door policy on differing ideas and points of view. These characteristics are what have shaped their scholarly image and continue to attract a wide array of leading thinkers who are drawn to the prospect of contributing to the culture and personality of the university.
UCalgary Notable Alumni
From visionaries, to scholars, researchers, innovators and activists, this university has produced over 170,000 alumni who reside in 152 countries. These former student-graduates serve many valuable roles, even past their active time at the university. For instance, these alumni help to build and grow the University of Calgary's brand as a top institution through word of mouth, and provide mentoring, internships, and career opportunities to students. The most well known and notable alumni that have come from UCalgary are surely ones that you have heard of – does Lululemon, the show Property Brothers, or Uber ring a bell?
Ever thought about creating a global industry? Well, Chip Wilson did, and has been widely successful since. University of Calgary alumnus Chip Wilson, BA '80, founded athletic-apparel retail giant Lululemon nearly two decades ago. As an entrepreneur, philanthropist, loving husband and a father to 5 boys, Wilson is largely considered to be the creator of the athleisure trend that has spirald from the iconic yoga pants of the Lululemon brand. With an undergraduate degree in economics that took seven years to complete, Wilson viewed university as a tool in life to help drive him towards his ideas, take brilliant risks, and find inspiration and learning opportunities in every failure.
Television personalities Drew and Jonathan Scott are known best for their work on the home renovation show, Property Brothers. If you haven't heard of them, together these twin brothers co-host the home renovation program which features Drew as the realtor and Jonathan as the contractor – think of the show as a "love story" for your home. The brothers enrolled at the University of Calgary, one studying Kinesiology and the other majoring in business management. Despite having an interest in going into entertainment, the twins did not want to be "starving artists", thus they embarked on their UCalgary journey while simultaneously testing the waters of home renovations during the time of their studies.
A homegrown success story and very notable UCalgary graduate, Garett Camp, BSc '01, MSc '06, is a Canadian entrepreneur, designer and alumnus who is best known for his part in creating Uber. This app-based, on demand car service was co-founded by Camp out of his negative experiences waiting for taxis in San Francisco, where he now lives. Through his passion and excitement to provide a solution to a problem that he saw himself and many others stumble upon daily, Uber now operates in 65 countries and is said to be valued at approximately $50 billion.
Aside from these three examples, other most notable graduates of the university's alumni worth mentioning include Canadiam Prime Minister, Stephen Harper, computer language inventor, James Gosling, and astronaut, Robert Thirsk.