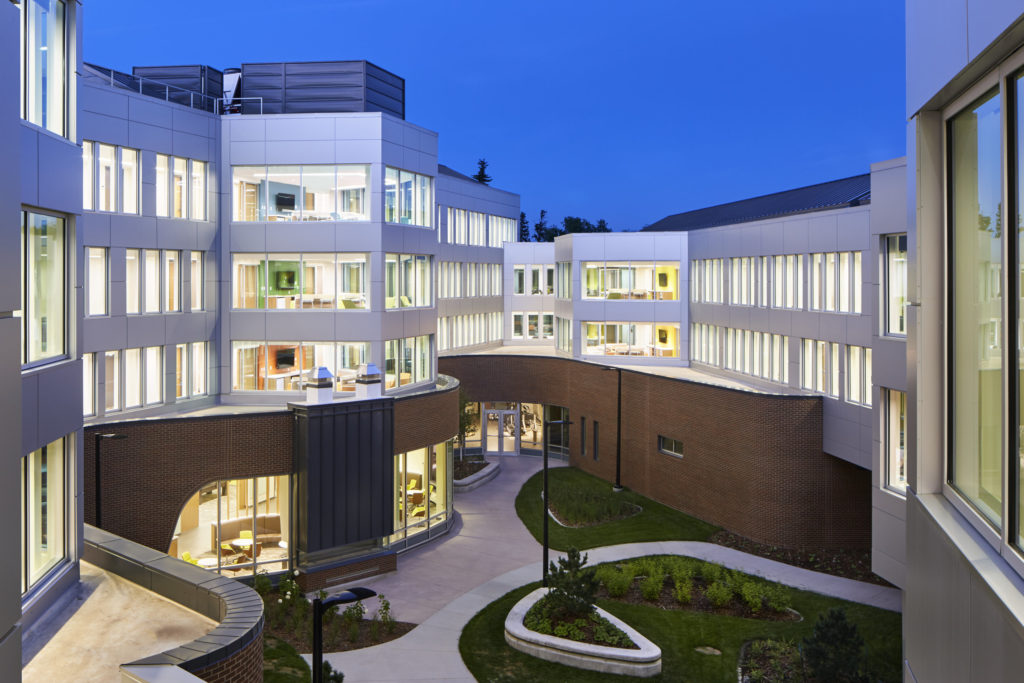 Each year, thousands of first year university students choose between living on or off campus. We get it, it's a huge decision and can be difficult to make it on your own. Here are some of the top places to live on campus, and the top places to live that are near campus (if on-campus-living isn't for you)! Choose housing that best suits your lifestyle and get more out of your university experience.
Lister Residence
It can be debated that Lister Residence for students is one of the best, and most desired on-campus housing options for students at the University of Alberta. This residency consists of four Halls – Schaffer Hall, Henday Hall, Mackenzie Hall, and Thelma Chalifoux Hall. Lister is the U of A's traditional first-year dormitory residence with five towers branching off the central building, and is newly introducing an exception of returning and delayed second year students.
These student residents are from Canada and around the world and are supported by student staff members in upper years of study. Some live on specialty floors with students in their faculty or with others who prefer quiet or substance-free floors. If you're interested in customizing your residence experience, you can even apply to live on a themed, academic cohort or lifestyle floor in Lister! In each of these residencies, students play campus intramurals, learn to write papers, watch movies in floor lounges and grab meals together all within their residence home. Lister students are immersed in a community atmosphere sharing their day-to-day lives and connecting to others with the same interests, classes or program. To ensure that each student receives the support they need, service at Lister Hall also includes a team of resident assistant staff for after hours on-call duties and individual resident support. Other amenities include The Marina Convenience Store and food court, dining hall, study libraries, communal kitchens, laundry facilities, exercise facilities, music room, gymnasium, tv lounges, and more. Overall, Lister is a great place to make friends that become a family and can last a lifetime. 
Peter Lougheed Hall
If you're looking for a more contemporary housing option, Peter Lougheed Hall offers a vibrant East Campus Village community located on Saskatchewan Drive. As a home to more than 140 first-year student residents and student leaders, Lougheed provides one and two bedroom-style units that are furnished with a semi-private washroom – two private bedrooms which share a washroom. Residents of this hall have access to engaging social spaces, a large inviting dining hall, fitness and recreation spaces, and more. Other services include an unlimited access meal plan, laundry facilities and outdoor amenities. Residence Life programming at Peter Lougheed Hall also provides students with access to robust leadership building opportunities like skills workshops, guest speakers, networking events, and service-learning opportunities – all right in their residence! Needless to say, the Lougheed Hall experience is one that is quite exceptional.
St. Joseph's Residence
St. Joseph's Residence is located at the heart of the U of A main campus, half a block away from the city transit hub and just a short walk to all main campus classrooms. Each resident has a private, fully furnished room that includes a bed with drawers, desk, chair, bedside table, closet and free wifi. St Joseph's offers separate men's and women's resident buildings that have overnight security and resident living areas that are not accessible to the general public, to ensure the safety of all residents. 
Off-campus housing

As for off-campus housing options that are independent of the University of Alberta, neighbourhoods surrounding the campus area that are worth considering are the Whyte Ave area, the Garneau area, and the Mckernan area – Whyte Ave is a lively and energetic scene where night-life thrives, and has tons of options for apartment living; the Garneau residential area neighbours the expansion of the adjacent U of A campus, and has good access to services and commercial areas; the Mckernan residential area is a popular neighbourhood for students with its direct access to the LRT transit system and modern properties. When deciding upon renting spaces, it is important to first know what you should be looking for. Walking distance to campus is most obviously ideal, and secondly, accessibility to public transit is non-negotiable. Easy access to grocery stores and restaurants in close proximity is also helpful for an optimal day-to-day experience. Basement suites are a good option for lower rent costs that can offer more privacy for those looking to live independently. Conversely, there are many housing options within the U of A surrounding area that are owned and rented out specifically to university students that are seeking to rent a singular room and be housed with roommates; living with roommates is a great way to build a sense of community and familiarity of shared experience.