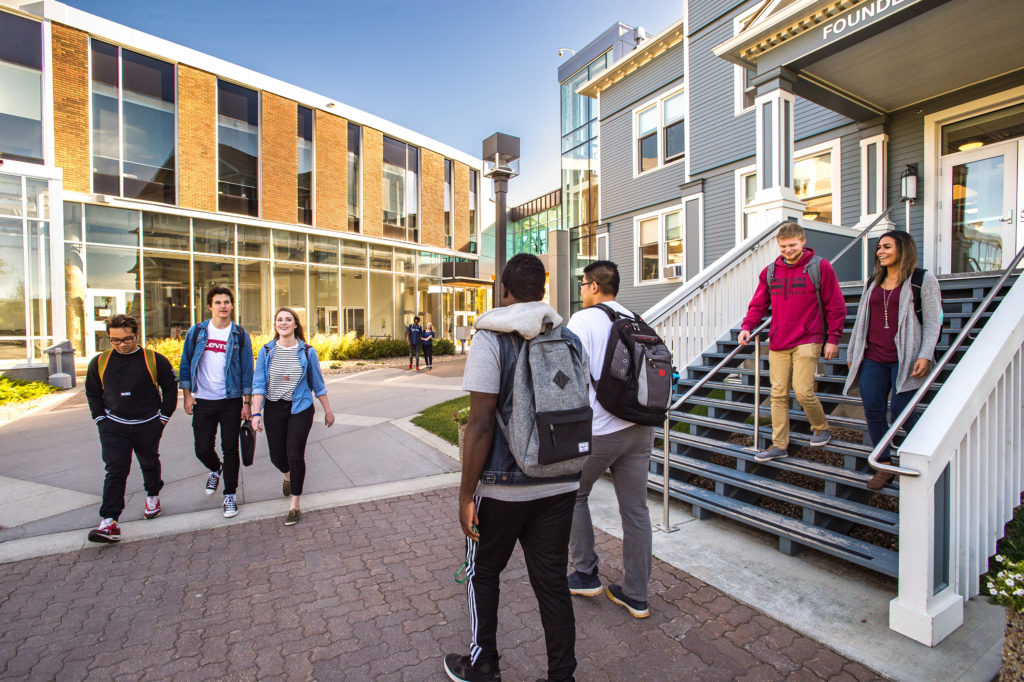 The best way to introduce yourself to the University of Alberta student life is by engaging in the exciting events that the campus hosts every year. These events give you the opportunity to meet fellow students in your faculty, program and general campus peers, while helping you learn the lay of the land while navigating the student community!
Week of Welcome
Celebrate your first week back to school with Week of Welcome! WOW is an experience that connects students to life on campus, and is an opportunity for students to ease the transition into university – participation will definitely help make this campus feel like home. It's a fantastic experience to be a part of to make new friends and meet incredible, passionate people in a high energy environment. 
Fall Clubs Fair
When September rolls around, it's time once again for the U of A's Fall Clubs Fair. With over 450 unique student groups on campus, you're bound to find a group that shares your interests! Join fellow students in the main QUAD during the first week of of the semester for a large exhibition of registered #UAlberta student groups. This event is open to all, and is free of charge to attend!
Beer Gardens
Nothing connects university students better than the shared experience of sipping on an alcoholic beverage. Gather your group of friends and head to the U of A Beer Gardens for an afternoon of relaxed outdoor fun! This event is held in the main QUAD of campus during the first week of the fall semester, and is a great spot to take a load off after class. Join in on the fun for a cold drink from one of the many alcoholic beverage tents, play the many lawn games and win some prizes, or simply lay back in the grass and enjoy the live music playing from the stage. It's guaranteed to be a great time – just don't forget to bring your ID!
Movie Night
For a perfect way to send out summer, bring your blanket and settle under the stars for an outdoor, big-screen experience with the U of A Movie Night during the fall semester. This movie night hosting is an outdoor event that takes place at the Botanical Gardens (so don't forget to dress for the weather!). Enjoy the Garden Bar where you can purchase drinks like craft beer or wine, snacks and popcorn, or if you'd prefer, take a seat at the Patio Cafe for sandwiches, hot dogs, ice cream, coffee and other light fare. You can come with your pals, your family, a date, or if anyone you'd like – or, if you prefer the company of solitude you can do that too. Movie Nights at the Garden are popular so make sure you register in advance to assure your spot!
Campus Cup
Campus Cup is the annual, university-wide dodgeball tournament put on and run by the Students' Union. It's an event that is open to everyone connected to the University of Alberta, including students, staff or alumni. With this tournament, 120 coed teams compete against each other over one weekend as they each strive to win the elusive Campus Cup. Despite there being only one final victor, this event is founded in the intentions of fun, fair pay, sportsmanship, and campus community. Whether this is your first Campus cup, or you're a returning player, this is sure to be a weekend that everyone can enjoy. 
RATT
Done your midterm? Your final? Just need a beer between classes? Go to RATT (Room at the Top) for delicious weekly food specials, or join the party on Wednesday nights after 9PM for karaoke, good eats, drinks, and make friends with awesome people. Or, if you're a sports fan, RATT is basically the unofficial U of A sports bar. This is a top spot for a ton of fun events throughout the school year so be sure to keep an eye out!
Red Eye Games
The Red Eye Games is an overnight recreation extravaganza pitting 22 teams against one another across eleven events! This is a Co-Rec event that requires teams to play with sport-specific gender ratios with a minimum 10-person roster. All teams entered will be entered into a lottery and selected at random for the tournament; teams that are not selected will be added to the waitlist. Some of the games during this tournament will surprise you in the best way – this event is seriously like no other!
Imaginus Poster Sale Event
Poster Sale Alert!! If you're looking to find a wide variety of posters to spruce up your dorm rooms, offices, or any space at all, this is the place to do it. The Imaginus Poster Sale Event hosted at the U of A gives students the chance to get their hands on posters and prints that are carefully selected from a constantly evolving collection of high quality pop culture posters and reproductions of famous artwork, for an unbeatable price. The poster sale will be held in the lower level of SUB (Students' Union Building), and as one of Canada's largest touring poster sales, this is an event that you do not want to miss.