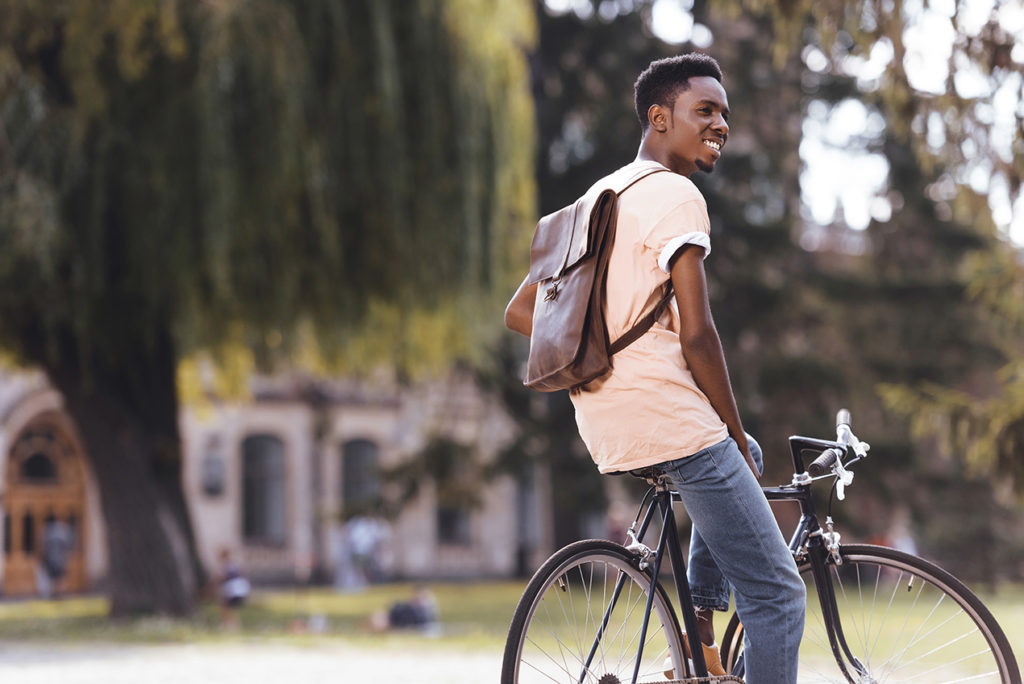 Bicycling is a great way to get around busy downtown Toronto. It's a major transportation method for a lot of students at the University of Toronto. Here are some important resources when it comes to being a bicyclist and student at U of T.
DIY with Bikechain
There is an important Do-It-Yourself bike maintenance and education service known as Bikechain. Professional mechanics are on site to provide guidance and non-judgemental training. Bikechain emphasizes the importance of respect and dignity in the processes of bicycle repair. They believe that every individual should have access to a safe environment where they can learn important skills on repairing and riding.
For a lot of people, going to a bicycle repair shop can be intimidating and expensive. You can also borrow a bike or a bike lock if you need to. Bikechain serves the University of Toronto community. Beginners and experienced bicyclists alike are welcome to join. They will develop your confidence and skills for a lifetime. You can make an appointment or sign up for a workshop on how to fix your bicycle. The main goal is to be able to fix your bike on your own someday, so be ready to learn! You can purchase high quality parts, and receive quality service, from Bikechain. It is a trustworthy location that provides reliable parts and repairs to help you get on the bicycling bandwagon.
For more information on this awesome initiative, visit bikechain.ca.
Bike Shares
If you need quick access to a bike, there's always Bike Share Toronto. With several stations throughout the city, Bike Share allows you to have a cost-effective, convenient experience. As of 2020, there are over 400 stations across Toronto! It's a three-step process. First, locate a station near you. Second, enjoy an unlimited thirty minute trip during your active membership or pass. Third, return your bike to a station until it securely locks back in. If you're about to reach the 30 minute limit of your bicycling trip, simply dock the bike and unlock another one to avoid the overage fees. There are so many great benefits to using Bike Share. It's a little less than eight dollars a month. You can also buy an annual membership. To find stations closest to U of T, visit bikesharetoronto.com.
Picking a Lock
Know where to park your personal bicycle on campus, and make sure it's secure.
As a general rule, don't purchase bike locks from the dollar store. Cheaper locks tend to be useless. For officially designated campus locations to park your bicycle, you can visit map.utoronto.ca/access/bicycle-racks.
If you need to report a missing bike, you can contact campus police.
Parking your Ride
Practicing caution when choosing a spot to lock your bike in public places is important. You need to ensure everyone is safe, and that paths remain clear. Don't even try parking your bike on a stairway, foyer, or corridor at U of T. If it's not a designated bike spot, you will likely be violating a code, and will lose your bike to the campus authorities. Also, don't leave your bike in the same spot for over 30 days consecutively. It might be deemed as an abandoned bike, and will be removed.
If you want to protect your bike from harsh weather, theft, or vandalism, you can park indoors. Toronto has several official indoor bicycle parking stations that will give you peace of mind. These stations are monitored by 24 hour surveillance cameras to prevent anyone from tampering with your bike. You can select a station that is located conveniently near public transit stations, making your transition much more efficient. You must first register to use a bicycle station. Do this by visiting the City Hall Bicycle Station or the Union Station Bicycle Station. The City recommends you purchase a one-time membership, which will provide you with full access to any City of Toronto bicycle station for a lifetime. Long-term parking plans are also discounted. Visit toronto.ca for more information!
If you want to add extra protection, you can purchase a designated bicycle locker through the City of Toronto. You fill out an application form, and select three locations that you'd want to place your bike. Due to the popularity, you might be put onto a waiting list. Residents of Toronto get priority over other users. For students who are trying to decide on a station, there's one on the southeast corner of Bloor Street West and Spadina Avenue.
Staying Safe
There are some excellent educational resources on how to safely ride. For starters, you could visit Bikechain, which will proudly educate you on how to be safe on the roads. Sharing the roads with drivers and pedestrians can be challenging when bicycling in Toronto. It's important to be alert, communicative, and predictable when using your bike. There are different types of cycling-related infrastructure, which will vary based on road width space. Look at the difference between trail systems and paved paths specifically for cyclists. You can also learn how to interpret important road signs and know when you have the right of way. Another great resource is the City of Toronto.
Have fun and be safe on your bicycling endeavours.