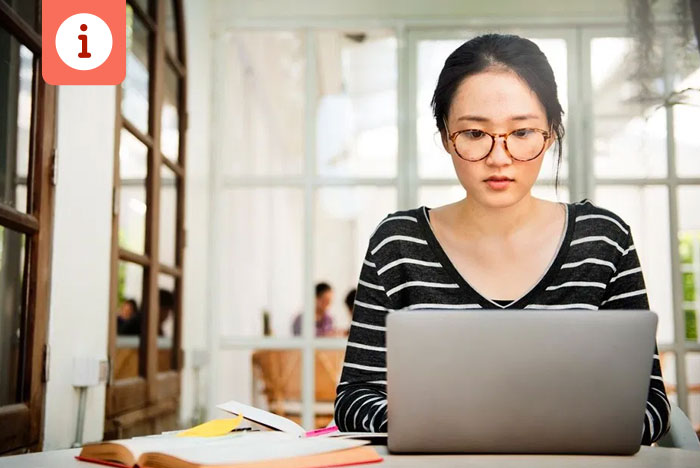 We get it–selecting courses can bring on a lot of overwhelm, confusion and questions. But it doesn't have to if you do some research and show up for registration prepared and informed.

However, before getting into course selection, let's pause for a second to celebrate what you have already accomplished. At this point, you chose a school and were accepted into a degree program. That is no small feat!

The big decisions are done, and now it's time for the next step. Picking your courses can be fun and exciting. After all, you're at university because you've decided to study something that interests you and prepares you for your future–whatever that might look like.

Course selection is essentially choosing how you spend your time at university, what you will learn, and what you are going to accomplish. Of course, there are often some limitations depending on your program requirements but usually, you have some wiggle room with your electives and that's where the fun happens.

Here is everything you need to know about selecting your courses as a Carleton University student. From knowing which courses you need, how you can diversify your experience with electives, connect with like-minded students (and profs), and the important details like course codes and requirements, which will make registering for your selected courses much easier.

What Courses Do I Even Need Though?

Two words: undergraduate calendar. Carleton's undergraduate calendar is about to be your new best friend, no matter what your major is. Carleton has developed one of these for every program that they offer and it is truly so helpful. In your undergraduate calendar, you'll see a list of all of Carleton's undergraduate programs, so go ahead and pick yours. If your major is Journalism, click on that. If it's Biology or Architecture, select that. You can find your undergraduate calendar here.

An undergraduate calendar is essentially a road map for your academic experience, helping you know what courses you need and where you can select courses outside of your major and program. It's important to note that not every course you see is one you have to take. You've got options!

When selecting your courses, you'll want to pay attention to the number of credits you need, as well as the weight of each course. For instance, if you need one credit worth of journalism courses in the first year, and two courses are each worth a half credit you will need to register for both to achieve the full credit. Now you might be thinking, 'Okay, two courses but what about my other ones?' Don't worry! This is where electives come in (more on these in a bit).

Diversify Your Courses

Scrolling through your undergraduate calendar isn't the most exciting thing you will do as a university student, but it can help answer a lot of the questions you likely have about selecting courses. Once you do, you'll have a better understanding of what courses you need to take and where there is room for electives.

Interested in a course that's not related to your major? That's okay. Diversifying your course load by choosing interesting electives is a great way to explore new interests and discover new passions. In case you didn't know, Carleton has a course all about dinosaurs, and that likely doesn't relate to your program if you're a journalism student or an architecture student, but it doesn't have to and that's the point.
So go ahead, look outside of your major and choose electives that excite you, if you want to take the dinosaur course, go for it! The course code is ERTH2401 by the way. You can thank us later.

Do Your Research and Find Community

Carleton's website offers a ton of information about registration, selecting courses, and your program and major requirements, but your learning shouldn't stop there.

For example, one of the best ways to learn about what courses to take is to talk to other students. You can gain so much information about the course material, the professor's teaching style and more just by talking to others who might be a year or two ahead of you or took the course in a previous semester. Insights like this can be valuable, especially in the first year where the same course is often taught by more than one professor. If one prof comes highly recommended and their class works with your schedule, then you have yourself a decision made.

So how do you talk to other students when you're new to the school? Many Carleton students find community and friendship through Facebook groups or other online forums. Online groups are an accessible way to find more information about your course options. Search Facebook for groups like "Carleton University Journalism Class of 2020," or you can even try searching for previous years to connect with more senior students in your program. Shoot them a friendly message and ask them about the workload, the assignments, and the kind of subjects and topics that were covered in the course. Sharing is caring, right?

Reach out to Professors

Talking directly to the prof will allow you to better understand the course, as well as their teaching style and personality. Of course, you won't always be able to decline a course if the prof and the course subject don't light you up, but making an introduction to a potential professor as a student is never a bad idea.

You can almost always find out who the professor of a certain course is before you register. The professor's name is usually included in the details of each course and with a little online research, you can find their email address or even their current office hours. Try reaching out through email first with some of your initial questions about the course and don't be afraid to ask to meet them in person.

Another way to get to know professors in your program is to take a look at your faculty's website. Each professor typically has a photo and some information about their interest areas, academic backgrounds and their careers, which can be helpful to learn as a student.

Meet with an Academic Advisor

As a Carleton student, you have access to incredible academic advisors. These are people who are there to guide you through the course selection process and help you build a schedule that makes sense with your current interests and future career goals. When you meet with an academic advisor you can discuss your program requirements, ask questions about certain courses and anything else you might want to chat about so that when you log on during your time ticket (more on that soon), your registration is as smooth as can be.

You can drop-in at 302 Tory Building to meet with an academic advisor to discuss your course selection and be sure you're making the right decisions.

Course Codes are Your Friends

Every course at Carleton has a course code and it's incredibly useful. A course code is a combo of letters and numbers that usually coordinate with the program and the year of study. Remember that dinosaur course we mentioned earlier, ERTH2401? That's an Earth Sciences course, for second-year students, which you can tell by the first four letters (ERTH) and the number 2. Pay attention to course codes and write them down!

Another pro tip is to type Carleton University along with the course code into Google and find a syllabus or a course outline. It might be from a previous year but it will still give you a great idea of what to expect from the course. Being able to see this information before the first class or lecture is super helpful.

You get a time ticket, you get a time ticket, everybody gets a Time Ticket!

Congratulations! You have won a Willy Wonka golden ticket, except this one was easier to find. It was probably sent directly to your Carleton email. It also doesn't come with a chocolate bar and every Carleton student gets one. That's right, we're talking about your registration time ticket.

Time tickets are assigned based on your year of study, and your student number. You can go ahead and find out your specific registration time here. Your time ticket is extremely important. It's unique to you and you can't register for your courses without it, so don't forget it.

When it comes time to use your time ticket and register for your courses at Carleton, you'll be happy to know that all your time spent researching courses, meeting with profs, talking to fellow students and writing down your course codes is about to pay off at this very moment. You've made the hard decisions. Now it's time to enroll in your courses and build a class schedule that's both exciting and intentional.
Good luck and have fun!