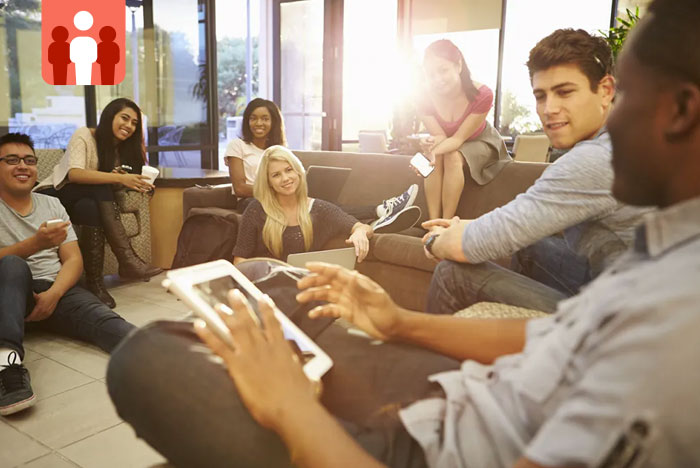 Bishop's University may be a small school, but it has over 100 on-campus clubs for you to join.
Dipping your toes in different clubs is a great way to get the full BU experience and meet likeminded peers.
Extracurriculars are recorded on LEAP (The Leadership and Extra-Curricular Activity Profile). The LEAP certificate is an official document that can help you build a portfolio of volunteer experience, which will look great to future employers.
Best Buddies
Do you love working with kids? Best Buddies gives students the chance to spend time with individuals from the Sherbrooke area with intellectual disabilities and special needs. After filling out a characteristic form, you are paired with a child for the duration of the semester. Eight fun, adventurous, crafty events take place, where you and your buddy participate together and create life-long bonds.
Jack.org
Jack.org is a part of the youth mental health movement in North America. Their goal is to educate students about mental health in addition to providing helpful resources. Jack.org clubs foster conversations regarding all aspects of mental health. They host events on campus, and there are also opportunities for students to volunteer with Jack.org throughout the year.
Fashion Show
The Bishop's University Charity Fashion Show is an annual fundraiser put together solely by students. It's the school's largest charity event, therefore, it requires more than 100 student volunteers. From event organizers to models, Fashion Show brings together students from all walks of life. Funds support a different charity each year. Moreover, all proceeds go to the charity missions.
The Campus Newspaper
Calling all writers, editors and aspiring journalists. The Campus Newspaper is an editorially and financially student run newspaper that covers all events at Bishop's and in the town of Sherbrooke. Since 1944, issues come out bi-weekly throughout the fall and winter semesters. You'll walk away with valuable experiences–interview skills, leadership, time efficiency and delegation. The Campus is home to generations of Bishop's University writers and journalists.
BU Snow
BU snow is a gathering place for ski fanatics and snowboarders. As a member of the club, you have access to a discounted Jay Peak pass, BU snow apparel, tuning and waxing services and are welcome to all BU Snow events. With Bromont, Jay Peak and Sutton all within diving distance of Lennoxville, Bishops' draws snow lovers from all over. A tight-nit club, you will always have access to a carpool heading somewhere snowy. Grab your skies and boards and check out BU Snow Club.
Athletic Clubs
Various athletic clubs are also available to join at Bishop's University. Try a new sport or continue one that you love. Some of the non-varsity club sports include the Bishop's Rock Climbing Club, the Bishop's Running and Triathlon Club, the Bishop's Dance Club and the Bishop's Cheerleading Team–who cheer at football and basketball games and compete in cheerleading competitions.
Whether you are drawn to academic clubs, religious clubs, chess club or athletic clubs, there is a place and community for you at Bishop's University.