By Edo Odozor
You've heard it over and over again. Grocery shopping is the most cost-effective way to eat as a student. Maybe you're a grocery shopping virgin and have no idea how to even begin. Or perhaps you know the tricks of the trade and prefer picking out your food from the local store.
Or perhaps, you're a student on a budget who loves the idea of saving money, but maybe you're looking for more ways to maximize your dollars.
Maybe you're a curious onlooker who doesn't grocery shop but simply likes to know a little bit about everything.
Wherever you stand (or sit), this blog will share tried and tested methods of saving money, legally finessing the system (whatever that means) and getting the best bang for your buck.
Let's not forget, living in Toronto means living in one of the most expensive cities in North America. Saving money should be a priority for most folks.
So let's dive in, shall we?
TRICK #1 – PC OPTIMUM, THE GREATEST MERGER OF ALL TIME.
I'm a bit of a business nerd, so I like to read about different collaborations between companies and all that jazz. One of the best ones I have experienced in my long lifetime of 20 years, would have to be the PC Optimum Merger. Additionally, PC Plus merged with the Shopper Optimum loyalty program.
What is PC Optimum?
PC Optimum is a points system that allows consumers to earn points on their purchases at Loblaws, No Frills, Shoppers Drug Mart, Joe Fresh, and Pharmaprix. If you drive, you can even earn points at Esso and Mobil.
For every 10,000 points you earn, this equals $10 you can use toward a purchase. That's. Free. Money.
The best part is, it's reeeeaaaalllly easy to get 10,000 points. If you're going grocery shopping anyways, you MIGHT as well earn points. Am I right?
Also, you can earn rewards in-store with specially marked items, or you can download the PC Optimum app and collect points on items that are marked for that week.
Let's break it down even further into actionable steps.
Firstly, you'll need to register on the PC optimum website.
Once you make an account set up your location preferences, you can see the items that are specially marked for extra points. For example, let's say that if you buy bananas, you can receive 500 points. Bananas were already on your list so add them to your cart once you're at the grocer!
When you check out, just scan your card and just like magic, five hunnid points are added to your account.
Do the points ever expire? Nope.
TRICK #2 – FLIPP, THE APP THAT WILL PUT $ BACK INTO YOUR POCKET
You read that right.
Read it again! Once more!
Our phones can be money-making and money-saving machines.
Believe it or not, they aren't just there for Instagram and sharing memes through iMessage group chats.
What is Flipp?
Flipp is an app that will show you all the flyers for different grocers in your area. They will also share coupons, deals, and will allow you to create interactive grocery lists. You can personalize your list of grocers by adding filters and digitally clip or save items from grocers to your shopping list.
But WAIT, there's more. With Flipp, you can price match with select grocers, such as Food Basics, FreshCo, and No Frills.
But what is price matching? I'm glad you asked!
Let's say you open the app and see a box 341 grams of Special K cereal at Food Basics for $7. (Mad expensive, I know.) BUT, you also see that SAME BOX of Special K cereal at No Frills for $3.
However, you do most of your shopping at Food Basics and don't want to take the TTC to No Frills just to save $4. So this is where the magic happens.
You go to Food Basics, grab the $7 cereal and show the cashier the No Frills flyer of the $3 cereal. They price match it for you and you pay $3 for the cereal at Food Basics. You just saved yourself TTC fare and then some.
TRICK #3 – DROP, AN APP THAT GIVES YOU GIFT CARDS FOR THINGS YOU WERE ALREADY GONNA SPEND ON
Yup, I'm drop-ping (pun intended) gems.
What is Drop?
Basically, Drop is an app that will give you points for every dollar you spend on grocers, retailers, and other stores. You can redeem these points for gift cards to Amazon, Tim Hortons, Starbucks, Uber Eats, Foot Locker, Indigo and yada-yada-yada.
This one isn't limited to groceries and you can actually earn points basically everywhere. All you need to do is link your debit and/or credit card to the app and it will auto-magically deposit the points into your drop account.
Once you get enough points for a reward you can big money cash out and get your gift card.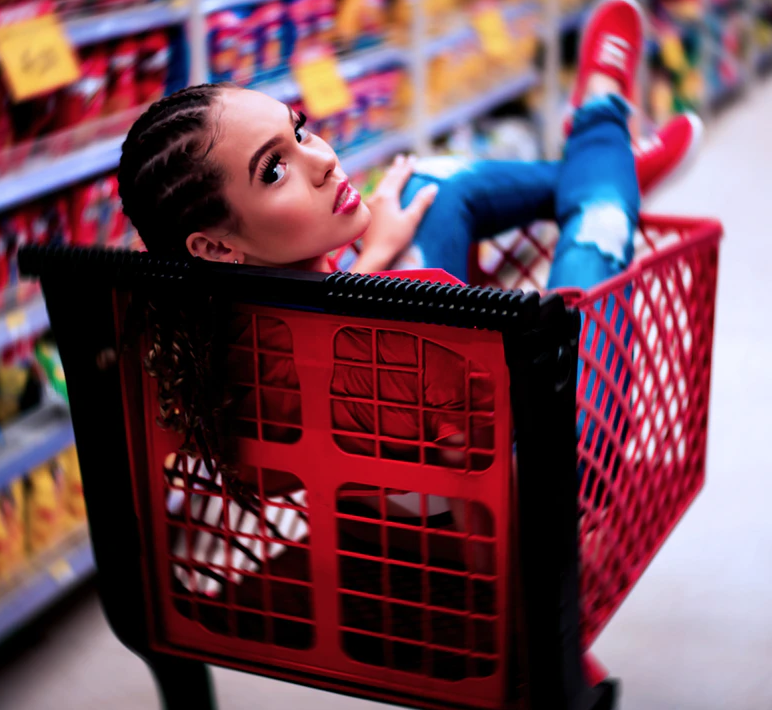 TRICK #4 – METRO AT CHURCH AND GOULD
If you have been on the Ryerson campus, at least once, you may have seen the metro on campus. Basically, every Tuesday, Wednesday, and Thursday you can earn 10% off your purchase! All you need to do is show your One Card and you get the discount.
Hey man, it might not seem like a lot, but any money saved is money you can keep. Or you can blow it on Iced Capps at Tim's at Victoria and Dundas.
Your choice.
TRICK #5 – AIRMILES. NOT JUST FOR FLIGHTS
"dO YoU hAvE An AiRmILeS cArD?"
You may have heard this at LCBO, Rexall or Metro. If you have politely declined this question, you've also politely declined saving money. Yep, you left money on the table.
BUT I'M NOT HERE TO SHAME YOU!
Furthermore, all you need to do is register for an Airmiles card online and you'll get a digital copy and a physical one sent to your address. Basically, you can rack up points for every X amount of dollars spent at different grocers or various retailers. Also, there are tons you can get points at on online stores too!
So when you hear "dO YoU hAvE An AiRmILeS cArD?", you know that you are getting closer to getting $$$ off future purchases.
Just scan the card. It's money un-left on the table.
____
So, these are my grocery shopping tricks on getting the best bang for your buck. When being a student, you have to be creative when navigating university. Also, let's not forget that students CAN eat healthy too, even on a budget. I hope this helped! If you have any other tricks or just want to leave some love, add a comment down below. Or, share this with a friend who could benefit from this grocery shopping knowledge.