In these frighteningly authoritarian times, history is more important than ever. All of you history buffs who plan to major in History will have to help the rest of us remember. If that's you, here's a list of the best Canadian universities for History students. I'm primarily using the QS Top Universities list and the Times Higher Education World University Rankings indexes for this list. These are large, comprehensive and well-respected indexes. While they aren't without their flaws, it's a great place to start examining where you should go. So, shall we?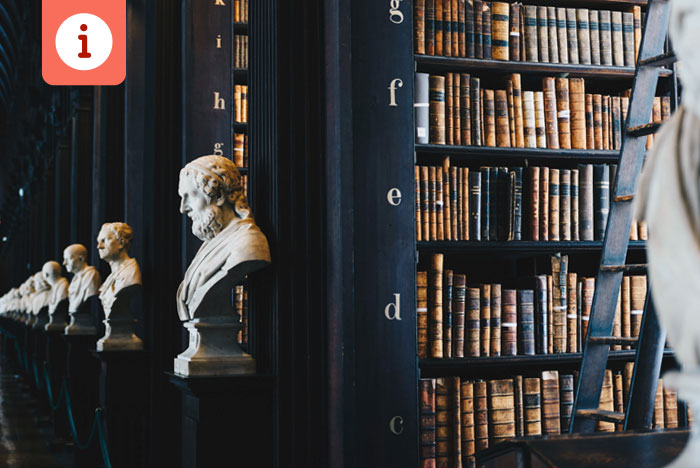 The University of Toronto
The first Canadian institution to show up on both lists makes this Toronto boy proud. The University of Toronto is ranked 14th by QS and 21st by the Times Higher Education. While the University of Toronto has a reputation for tough classes and busy schedules, it's extremely well-respected. The University of Toronto is an institution that can almost promise students some measure of success after graduating. Plus, it's right in the heart of this great city. What more could you want?
According to their website, "Each year, our internationally renowned faculty guide more than 7,000 talented students through the fascinating realm of historical study. Undergraduate courses encompass the globe and span the ages, while the unmatched range and quality of our highly competitive graduate program attracts the most dynamic young scholars. Active in local, national and international research and public affairs, faculty, students and alumni bring perspectives that enrich dialogues on the most important issues of our time."
The University of British Columbia
In second place, we go all the way to the west coast. QS gave UBC the 24th spot in the world while Times Higher Education gave them 37th. Niche.com has over 400 reviews of UBC and the vast majority are positive. Students praise the location in Vancouver, diversity, natural and peaceful campus, and how helpful the professors are.
According to their website, "Our faculty study and teach about the history of Canada, East Asia, Europe, the United States, Latin America, Africa, South and Southeast Asia, and the Near East as well as in the history of science. The History Department offers a complete range of degree programs at the undergraduate and graduate level. Talented and motivated undergraduate students can join our two-year honours program which offers one of the best and most intensive programs of its kind. We offer graduate training in the history of all parts of the world from the medieval period to the present. The Department has special strengths in East Asian history and the history of science. Historians of indigenous history constitute a smaller contingent within the Department, but one that builds on a long and important UBC tradition. Environmental history is a fourth cluster of real significance."
McGill University
In third, we have McGill University in Montreal. They took the 36th spot in the QS index and earned 44th from Times Higher Education. With over 400 positive reviews on Niche.com, students seem to agree! Students mention positive factors like the campus, a push for academic excellence and the cheap and artsy city of Montreal.
According to their website, "Today it is one of the largest History departments in Canada, composed of 47 full-time faculty members, as well as a strong complement of visiting professors, faculty lecturers, and post-doctoral fellows. This array of dedicated teachers and scholars supports high-quality instruction and research across the periods of history and regions of the globe. The department is also home to programs in Classical Studies, which offer training in Greek and Latin languages and literature as well as a stimulating array of courses in ancient history. A minor concentration in Neo-Hellenic Studies has recently been added to the programs administered by the department."
McMaster University
The two indexes diverge here. The QS index has McMaster in the top 150 while the Times Higher Education index places this Hamilton institution at 77th. Niche.com has fewer reviews for McMaster, but it's still a similar or better ratio of positive to negative. Students mention the supportive and welcoming environment, enjoying the food, and a wealth of athletic options to complement mental workouts.
According to their website, "We offer a broad range of courses at the undergraduate and graduate levels to challenge your perception of the past and the present. Whether you are interested in the medieval or the modern world, national or global history, our diverse and flexible programs will suit you. Our courses are designed to foster key skill sets: how to ask probing questions and seek thoughtful answers, how to read critically, write effectively and speak persuasively."
Université de Montreal
The two lists differ once more here. However, being within the top 150 (according to QS) and tying for 90th (according to Times Higher Education) is still very reputable. The Université de Montreal does come with one potential issue, though: French. Obviously, in a country with two official languages, learning or practicing both will give you various benefits. However, if your French is rusty, you might not get in. Keep in mind that all undergraduate programs require meeting a French admissions requirement. StudentReviews.com has positive things to say about experiences at the institution. They do reinforce what I said above, though, so tread carefully if your French isn't strong.
According to their website (with a little test to see if it's the right place for you!), "Le Département d'histoire de l'Université de Montréal s'impose comme un acteur clé de la recherche historique au Québec et au Canada. Il se distingue par l'ouverture de ses programmes, le caractère cosmopolite de son corps professoral et une perspective interdisciplinaire marquée… L'essor qu'a ensuite pris le Département a commandé l'intégration des autres domaines de spécialisation. La programmation s'est alors décloisonnée et équilibrée, visant à assurer une couverture aussi large que possible, dans le temps et dans l'espace, du vaste champ de la connaissance historique."
Now, Conduct Your Own Research!
No ranking can completely cover what's best for a specific individual. I encourage you to do your own research. There are many factors that will affect your choice. Perhaps you wish to enroll at UBC but also worry about homesickness. Think hard and do your best to dive into the right education for you. Best of luck!